Mahabala Maarla - A pro-active leader
Mangalore Today News Network
Mangalore, March 31, 2014: Finally, Mangalore has a new Mayor after almost over a year since the civic body elections were held. Mahabala Maarla, the first Mayor of the five year Congress term in MCC is a known name in political circles. He represents the 22 Kadri Padavu Ward and is a three time Corporator. His Deputy Kavitha represents the Hoigebazar ward.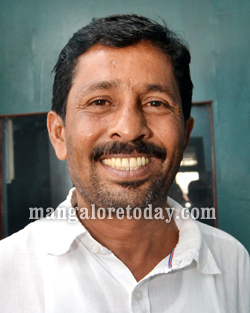 Known for his pro-active approach and a thorough knowledge of the ins and outs of the Mangalore City Corporation, Mahabala Maarla is also adept to deal with and tackle several of the problems that have been dogging the city of Mangalore since long.

An experienced politician, he was first elected to the MCC in 1997 followed by a re-election in 2002 and 2013. He had lost once in the 2007 elections. He has served as Chairman of Town Planning and Development Standing Committee in 2000-2001 and Chief Whip of Mangalore City Corporation in 2004-2005. Maarla has also served as Chairman of Public Health, Education and Social Justice Standing Committee in 2006-2007 and as Member of DK District Planning Authority the same year.

As a Mayor now, he has assured to work towards the fulfilment of the promises made and assurances given by his party in its election manifesto prior to the MCC elections. Being well aware that the Model Poll Code of Conduct will be in force until mid-May, Maarla says he would utilise the time to draw an action plan for the overall development of the city during the period, while he would ensure the implementation of the same during the remaining ten months of his tenure.

In the words of political observers, the city finally has a Mayor whom Mangaloreans can rely upon, after a gap of several years. There is no denying that Mangalore's new mayor, more than being a politician is known for his genuine concern towards the well being and progress of the society.

Belonging to the Bunt community, Mahabala Maarla though was capable of handling the post of Mayor even during the earlier terms of the Congress in the MCC, never got an opportunity to rise to the post, probably because his straightforward words were not acceptable to many. That he has the support of a large bandwagon of corporators is another plus point and he on earlier occasions has even ensured that two of his loyalists got the top post.

A post graduate in political science, Mahabala Maarla is a builder by profession. He is a happily married man. His wife Mamatha Maarla is a housewife and the couple is blessed with a son and daughter.

Known for his social service activities, he is the President of Shree Ganesha Seva Trust for Exceptional Persons and Saanidhya Residential School and Training Centre.

He is also the President of Sports and Cultural Academy for Mentally Challenged, Bangalore, City Cricketers, Mangalore (Affiliated to KSCA), Vice President of DK District Amateur Kabaddi Association, Joint Secretary of Dakshina Kannada Cricket Association, Member of Karnataka State cricket Board and Director of Special Olympics-Bharath-Karnataka State Committee for the year 2007-2010.

A good orator, Mahabala Maarla has always been vociferous while making his points clear at the MCC council meets. He ensures he has a thorough knowledge on the subject and presents his point effectively and with a fair amount of firmness.

It is true that Mangalore isridden with several longstanding problems right from drinking water problem to waste management. Also there are complaints of rampant corruption in the MCC office. There is the problem of street vendors, unauthorised constructions, parking woes etc etc and more importantly the city's bus terminus project at Pumpwell is in the limbo. The new Mayor has an uphill task ahead of him and has to deal with the problems tactfully keeping in mind the best interests of the people.

It is true that all these longstanding problems cannot be solved at one go by a mayor during his short term of one year.Still, Mahabala Maarla can prove himself as well as his efficiency by functioning in a pro-active manner and march ahead after feeling the pulse of the people. The people want some change and something afresh and hope the new Mayor Mahabala Maarla will be able to bring the change they want to see in Mangalore.