B.K. Deva Rao: Passionate Paddy Conservationist
Mangalore Today News Network
Mangaluru, Oct 1, 2023: B. K. Deva Rao, a diverse paddy cultivator and ardent conservationist from Mittabagilu village near Ujire in Dakshina Kannada district is 79 years old. But, his age has never come in his way as far as his undiminished love for the paddy crops is concerned. Even at this ripe age when many would be all the more happy to lead a leisurely life, Rao works hard every hour and every day, thanks to his great interest in conserving different varieties of paddy.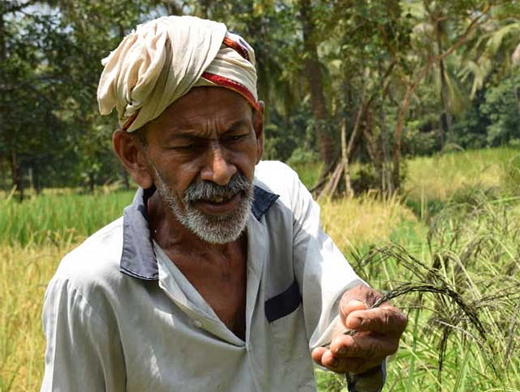 Rao has contributed significantly in preserving 240 varieties of rice including 117 traditional varieties from Karnataka, 25 from Kerala, 15 from West Bengal, five from Tamil Nadu, 10 aromatic rice from Maharashtra and two from Andhra Pradesh. He has also conserved one variety of rice each from Uttar Pradesh, Gujarat, Chhattisgarh, Delhi, Manipur, Jharkand, Assam and Madhya Pradesh.

In his five acres of land in his Mittabagilu village, Rao grows paddy varieties including Kuttikayame, Ubaramunda, Kariyajebi, Sanna Atikaraya, Kayame, Atikaraya, Suggikayame, Masoori, Rajakayame, Jeersaale, Gandhasaale, Kalame, Peetsaale, Hallinga and Kavalakannu.

His efforts in conserving plant genetic resources has earned him the coveted Plant Genome Saviour Farmers Reward 2020-21 which he received from President Draupadi Murmu in New Delhi recently on the occasion of the first global symposium on farmers' rights (GSFR) at the ICAR Convention Centre, National Agricultural Science Centre.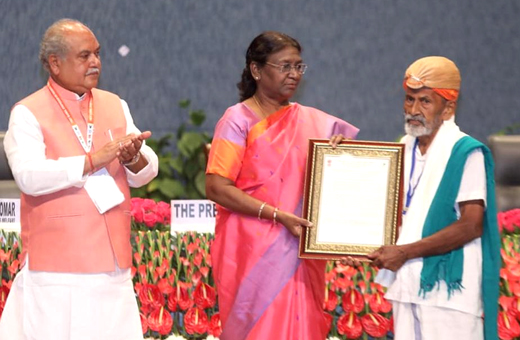 The Award given by the Protection of Plant Varieties and Farmers' Rights Authority (PPVFR) carried a cash prize of Rs.1.5 lakh, a citation, and a memento. The Award was instituted to support and reward farmers and farming communities engaged in conservation and improvement of plant genetic resources.

Rao also is working significantly towards conserving 50 varieties of jackfruit, six varieties of arecanut, four varieties of black pepper, five varieties of nutmeg, six cassava, 25 varieties of Indian yam and 100 medicinal plants.

Rao through his phenomenal efforts has also contributed towards the growth of agriculture. He has shared as many as 30 varieties of rice that he grows, with the Zonal Agricultural and Horticultural Research Station, Brahmavar in Udupi district and Keladi Shivappa Nayaka University of Agricultural Sciences, Shivamogga.

Rao used to grow as many as 40 varieties of paddy till 1970 and was also using chemical fertilizers but later shifted to organic farming after he observed the impact of chemical fertilizers and how it had hardened the soil. Rao is so passionate towards paddy cultivation that profit is certainly not in his mind. However if someone turns up and asks, then he willingly sells the rice he grows. He uses his own machines to turn the paddy into rice.

Most of the paddy varieties that Rao cultivates are indigenous. Rao is also a winner of the Rajyotsava Award. His undiminished interest in paddy cultivation, his zeal to conserve different varieties of paddy and his contributions to the agricultural sector are indeed very much significant and Rao is an inspiration to the present day farmers.