Preventing crime is our greatest challenge: S. Murugan
Mangalore Today News Network
Mangaluru, Nov 28, 2015: City Police Commissioner S. Murugan in a candid interview with Mangalore Today speaks about the Police Department's resolve to deal criminal elements with an iron hand.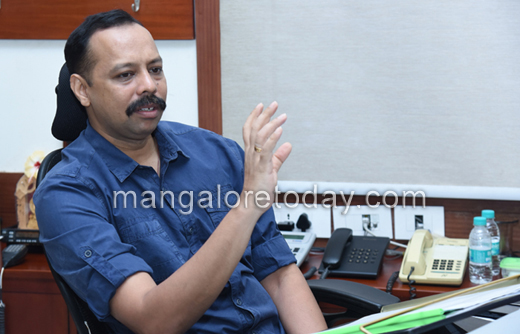 You are here as City Police Commissioner for almost a year. What were the challenges you have faced during this period?
Winning people's confidence and improving law and order in the city are the major challenges and we are continuing our efforts in every way to improve it. I believe that public confidence and cooperation are very essential for efficient policing. Crimes happen. Preventing crimes is the greatest challenge. Bringing the culprits to books within a short time is yet another challenge. We have been able to contain crimes, establish law and order and bring the criminals to book faster than ever.

Of late crimes have increased. What are the reasons?
Actually, crimes have decreased in the city compared to the previous years. The statistics prove it. The number of robbery, murder and other crimes has declined compared to the past few years. Growing urbanization, increasing population and rapid economic development are major reasons that create problems leading to crimes. In a civilized society, police play a pivotal role in maintaining peace and harmony in addition to protecting life and property of the citizens. I think, we have been successful to a great extent.

Public believe that police are most corrupt and are partners in crime. What do you say about this?
If I am corrupt, I cannot stop my subordinates. The leadership makes the difference. There are black sheep in every department; the Police Department is not an exemption. We do keep them under control. Whenever someone is caught, we take action mercilessly. But, the people are also to be blamed. They tempt the officials to get their things done faster or for undue advantages. Public perception has to change. They can bring about a change if they have the will. Don't take short cuts. Follow the rule. Eradicating corruption may not be possible but it can be contained.

Social media usage is growing unprecedentedly ; cyber crimes too. How are you dealing with it?
Well, it is another challenge we are facing. We have a specialized wing to handle such cases. The cyber cell is very efficient and is doing a commendable job. But the conviction rate is too low or nil. It is practically very difficult in enforce law in such cases. We do catch some cyber criminals now and then. We have created some awareness and fear consciousness. I would say- prevention is better than cure. You take precautions in your daily life but don't do that in the cyber world. You are baited and you fall flat.

Mangaluru is notorious for communal clashes, immoral policing and right wing activities including the recent one. How can we prevent it?
The communal situation in this region is very fragile and it can happen anytime. We are alert and cautious too. We do take preventive measures when we smell trouble. Though we waste no time in arresting the miscreants involved in communal clashes and putting them behind bars. they are bailed out within few days by their Godfathers. The actual criminals who plan and instigate the crime are behind the scene. They are the root cause of all problems. They have ulterior motives.

The biggest challenge has been to build communal harmony. We have been handling the issue with firm and efficient policing. We undertake confidence building exercises and hold meetings with community leaders, people's representatives and citizens. The message that we want to convey to each and every citizen is that, as police we do not belong to any caste or community. We are there for every single person without any bias and discrimination. As responsible citizens, everyone, including the media has a responsibility to promote social harmony and peace.

There has been a lot of discussion about 'people friendly police'. What has happened to this idea?
Mangaluru police are far more 'people friendly' than any other place in the state. A lot of changes have taken place over the years in police force. Special training in public conduct and behavior are given to the police force before they are inducted. Periodical appraisal of conduct and competency of the police personnel are recorded in their career book. They are expected to be people friendly.

We have conducted many public contact and information programs. We have been conducting Mohalla committee meetings and public outreach programs in many places and the information about the programs are uploaded in Facebook and our Blog. Online comment and complaint registration have been very effective.

Police need to constantly assure the people that they are for them. Interaction between public and police will bridge the gap between them. Police should also go around and meet people rather than confining themselves to the police station.

What about the underworld activities? What is your strategy to deal with these anti-social elements?
Many of the underworld gangsters have their roots here since decades and Mangaluru is known to be a recruiting centre. The Police Department has built an excellent tracking system and is able to elicit a lot of information on the basis of which timely action is taken against the anti-social elements. We keep a watch on them and their local contacts

Whenever we have received information about any conspiracy, we have swung into action and averted many crimes by arresting the henchmen of underworld elements. I would like to say that Mangaluru Police Department will deal with organized crimes and criminals involved in such crimes with an iron hand.