Akshatha R. Shenoy - Teaching Excellence
www.mangaloretoday.com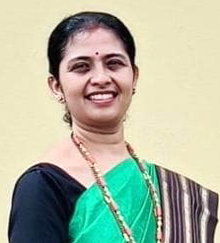 Mangaluru, Feb 15, 2023: She is a keen and passionate educationist who strongly believes that 'Education is the Mother of Leadership.' Uppermost in her mind is the urge to help in the overall development of the personality of every child.

Akshatha R. Shenoy, Principal of Canara High School (CBSE) in Mangaluru is loved and admired by her student community for her diligence and efficient style of functioning.

An alumni of St Philomena College and Swami Vivekananda College of Education, Puttur, she is a Masters Degree holder in Commerce and also has a B.Ed degree. Her teaching career began at the Al-Amana Private School in Sharjah, UAE as a English and Commerce Teacher. After a seven year service she returned to India and worked for various colleges in Mangalore and was appointed Principal of Canara High School (CBSE) in August 2021.

Akshatha Shenoy is an avid traveller and has won many accolades for her excellent service to her profession.