Can Business Survive Covid-19 Crisis: Interview with Rajendra Madiyal
Mangalore Today News Network
Mangaluru, September 18, 2020: Coronavirus pandemic has posed the biggest challenge in history to the survival of economy and business globally. Mangalore Today spoke to leading lights of business and industry to analyse the situation and gain their unique perspectives on the way back to recovery and growth. Excerpts from the Interview with Mr. Rajendra Madiyal, Director - Finance, Nitte University: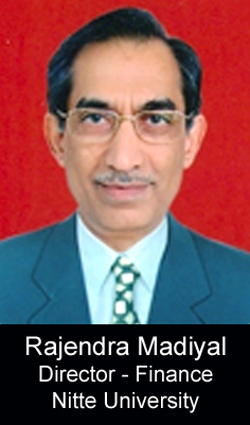 How do you assess the pandemic impact on business, especially Small and Medium Enterprises (SMEs)?
Industries and businesses enterprises, large, medium or small have been badly hit by the Covid-19 pandemic. SMEs are the worst affected due to their already weak financial status. Their sustaining capacity is very limited. Many industries are struggling to come back to normalcy. Most of them are facing the problems of money, market and men.

Entire economic activities in the country were virtually standstill during lock down period. Though the pandemic is not showing signs of decline, lock down is being lifted in different parts of the country at a slow pace. From the point of view of controlling the pandemic, the lifting of lock down may not be the choice. But this step is being taken only to prevent further damage to the economy. In this process probably the number of Covid cases has been increasing. But there is no other way and people have to learn to live with this situation so that both life and livelihood are balanced.

The main hubs of economic activities like Mumbai, Delhi, Calcutta and Chennai are still under the grip of Corona. Many industries were completely shut during lock down period and many are yet to start. Those who have started also are yet to get back to their normal activity. Major hurdle faced by the industries is lack of demand for their products. Since the economic activities are still limping the demand for products is far too low. Except in the case of industries related to food, pharmaceuticals, sanitizing materials, personal protection kits and items of essential human consumption, industries have piled up stocks.

Another problem faced by the industries is the extreme shortage of labour. Large numbers of labourers have migrated to their native places during the lock down period. They are afraid to come back to the work places because the industrial locations have become hot spots of pandemic. Even if they are willing to come back to work the quarantine regulations, though in the larger interests of the population, discourages them.

Generally SMEs are dependent on core industries for their business. Since the off take of large industries is still low SMEs are not in a position to sell their products. Therefore SMEs have to curtail their production making the unit economically unviable. Availability of raw materials has become scarce in certain segments of industries. Industries are inter-dependent for raw materials. End product of one is the raw material for the other. SMEs are mostly dependent on other core industries either for raw materials also. Disruption in supply by one unit affects the production in the other and in the same way the reverse affects the marketing.

Industries are also facing the problem of cost increase. Following the regulations to maintain social distancing, screening of personnel every day, sanitization procedures etc in the factory or business premises results in increased cost. Small industries which are managing with low margins are unable to bear such additional cost and therefore prefer to remain shut. Industries which are largely affected due to economic slowdown are transport, real estate and automobile. These industries being core the industry create further business for many forward and backward chains. Unless the core industries reach their normal activity all connected business establishments are in problem. Service industries like hotel, travel and tourism, hospitality, aviation, etc are completely out of business. They provide direct and indirect business to many. Industrial and service sectors are the highest job creators and today lakhs of people have either lost their jobs or are working under reduced income.

Industries and business enterprises are facing acute working capital shortage due to the losses incurred during last 2-3 months and due to piled up stocks. Government of India has announced many stimulants to the economy by way of infusing liquidity into the system. But finance is only a small part of the line of treatment for the ailing economy. What is important is to create demand. Re-creation of jobs, enabling people to have surplus money in their hands and more importantly getting the industrial and business activities to normalcy will help in generating demand and consumption. During the months of April and May the industrial production index was only 53.6% and 89.5% respectively. June and July also are not much better. The numbers of provident fund registrations indicate large reduction in employment. Because of reduced economic activity tax collection of government has taken a severe hit. Reduced tax collection and additional revenue allocation to Covid related activities affected the government spending on infrastructure. Purchasing power of people depends on the money in their hand. Unless there is huge spending on infrastructure people will not have money to spend affecting the consumption and demand for products.

The banking industry which is the catalyst for a successful economy has been affected by large number of stressed accounts. To overcome the financial problems of the industry the RBI has issued guidelines liberalizing the working capital finance. Banks are permitted to recast the loan portfolios by changing the NPA norms. This will help many industries to overcome the financial problems.

To revive the economy an all-round approach has to be adopted by the government as well as the industries. More importantly controlling Covid by bringing out vaccine early is very important for which both human efforts and God's blessings are needed.

What are the challenges faced by the educational institutions and how are you coping with the situation? Is online education a solution?
Education field has been greatly affected by the Covid-19 pandemic. Probably the pandemic will result in a paradigm shift in the methodology of entire education system. Education delivery system will get a completely new face in the form of blended teaching combining conventional and online teaching.

The pandemic has put the student community in utter confusion. The pandemic showed its ugly face when the students were just preparing for their final examination of academic year 2019-20. The lock down was announced in March when the final examinations were about to start or were in progress resulting in postponement of remaining part. Students were made to continue their study with uncertainty about the future. The most affected ones were the students appearing for SSLC and PUC a crucial stage in students' career.

After lot of roller coaster decisions at the government level the final examinations were held with the fear of Covid in the minds of students and parents. Many students had problems in reaching the examination centers. Uncertainty about the date, transport arrangement, Covid precautions at the centre, quarantine rules etc in the minds of the students must have definitely affected their performance in the examination. In the meantime the students at lower classes were promoted without any examination.

Method of conducting examination in professional colleges is still being discussed at various levels. Different universities are taking different stands. Courts are also made to intervene in this matter. In any case the students are in utter confusion. More confusion prevails with regard to the admission for new academic year. Parents are reluctant to send small children to primary, secondary schools. It is still not clear whether academic year will start at all for the primary level classes or these children have to lose one academic year.

Coming to higher education level the students have to appear for competitive examination to enter into professional colleges. Karnataka CET was held with lot of uncertainties. Students must have definitely tensed till the last minute affecting their performance in the test. NEET examination which is a must for the aspirants of medical course is yet to be held. Counselling dates for professional courses are not yet finalized. Obviously starting of academic year also is not yet decided. How long the process will be delayed or whether the academic year 2020-21 will be lost is yet to be answered.

Challenges faced by the colleges are many. They have to take precautionary steps for the safety of the students when they come to the campus. In the case of residential campus where students from different regions stay in the hostel main challenge is to screen them for affected ones if any, separate them from others and put them on safe quarantine. Students who are not affected also require isolation facility for the statutory period.

In the case of day scholars proper arrangement has to be planned for the transport with adequate social distancing. With the available transport facility providing space for social distancing is a big challenge calling for a very methodical planning. Planning is necessary at every stage like seating in the class room, library, laboratories, canteen etc. Teaching will have to be in multi batches requiring additional teaching resources as well as additional infrastructure facilities.

Colleges have to ensure sanitizing at every place at regular intervals, regularly screening the students and staff and take immediate care if somebody falls ill. There will be major change in teaching methodology. Online teaching which a new concept under Indian scenario will become part of the teaching methods. Lots of research has happened to implement an effective online teaching. Starting from kids in nursery classes, progressing on to primary schools, secondary schools and professional colleges require different methodology of teaching. Online teaching platforms as required for different stages students are being developed.

Though the online teaching has been accepted worldwide, its effectiveness especially in primary and secondary school levels is still being debated. The absorption power of students at their very young age in an online platform is yet to be proved. However for higher classes definitely the system is implementable successfully. The online teaching platform is more or less new in India. Therefore both students and teachers have to acclimatize to the situation. Having introduced this system under a compulsive situation online teaching will remain as part of teaching methodology from now. It is believed that online class as a blended scheme will be very effective.

Any advice to students and parents?
Students should follow all guidelines to prevent the pandemic. We have seen many youngsters without wearing face mask. They mingle with each other closely without maintaining social distance. Many feel that they are not at risk until it affects them. Such attitude of students is not by ignorance but by carelessness. In the interest of self and in the interest of others it is necessary to follow the guidelines. Parents are naturally worried about the safety of their children. Though the risk is same when somebody goes out in the market or in the class room the perception differs. In the college the management has to take care of children of others. So the responsibility is more. Parents should understand that the managements are very serious about their responsibility and will take more than reasonable care to ensure safety.

How can we survive the crisis brought by the Covid-19 pandemic (in general)? What are the steps you advise people to overcome hurdles?
Covid-19 is a crisis prevailing the world over. This tiny virus has proved to mankind that whatever is the scientific advancement achieved by them nature is beyond their reach. Nobody could imagine that the whole world would come to a standstill due to a virus. It was unimaginable that a day would come when people can't see face to face, can't travel as they like, can't meet others in natural way or even have to be cautious while meeting our own family people.

As on today there is no proved vaccine to prevent Covid or drug to treat the victims. Humans claim to be highly advanced in all scientific fields. Countries like USA, Russia or European countries who claim that they are the most advanced nations have completely surrendered to this tiny virus. Unless effective vaccine is found there is no way to control this pandemic. Until that time comes people have to be extremely careful in all their activities and strictly follow the guidelines regarding social distancing, face masks, washing hands etc. People have to be cautious but not fearful. All activities should continue with proper care. Otherwise the nation's economy as well as one's own economy will be destroyed. If anybody faces temporary setbacks in the life due to Covid, face it with courage and with optimism in life.