Premier Mentor & Lady Doctor of Mangalore
Mangalore Today News Network
Mangaluru, December 15, 2022: Doctors, the mainstay of Healthcare and Hospitals, are exclusive life givers and life-savers for humans all over the world from birth onwards, start to end. Mangalore connects and facilitates top class 'Medical Care' to a great segment and a wide cross section of people worldwide and is a recognised hub for super-specialty medical care and renowned education in all fields of medicine and allied studies. Muller's Medical College and Hospital (FMMC) in the heart of Mangalore, is now a state-of-the-art advanced medical institution. Over 140 years old (1880-2022), is a boon looked up to by folks for nearly a century and a half and has made giant strides. We are aware of many angelic medical professionals who have dedicated their skills and lives to human well being and care. Taking cognizance of a rare dedicated and expert medical professional and mentor of Mangalore; in a major key position in the universally well known Fr.Muller's Institutions in Mangaluru.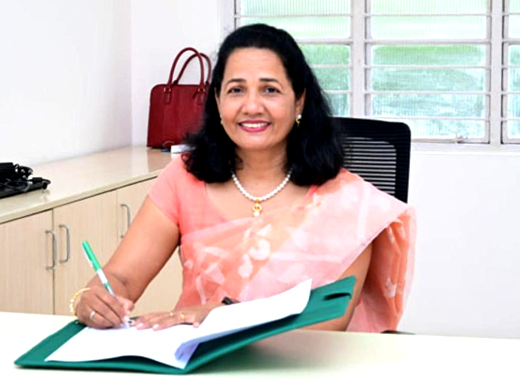 This special unique personality and admired mentor is Dr. Hilda D'Souza (nee' Fernandes). In the month of November 2022, she has been appointed Principal of the Fr.Muller's College of Allied Health Sciences, further to her yeoman role of Professor of Pathology and Lab Director of Father Muller's Medical College Hospital Laboratory, where she has swept all off their feet professionally since 1999. She has contributed a time-tested leading role in her special interest- Cytology and infectious diseases. Research Activity, Publishing 70 research articles in international and national journals. Presented more than 50 papers in National and international Conferences. Published a chapter in textbook ", Recent developments in Medicine and medical research" Organised various conferences and CME s in the department. "Muller path- a tryst with exams" is a national level workshop started in 2019, has become an annual event for exam going MD pathology students. Resource person for CMEs, Conferences and workshops in Pathology, Cytology , Transfusion Medicine and clinical Subjects. Reviewer for indexed journals of Pathology, Cytology and Oncology. For last 25 yrs-Taught Pathology, laboratory science and transfusion medicine subjects to undergraduate and postgraduate students of Medical, Homeopathy, BPT, Nursing and Laboratory technology; Guided many MD pathology students and MSc MLT students to conduct research and submit dissertation. Ph D guide for RGUHS and Co-guide Nitte university students. Helped in preparing and interpreting animal tissues for many PhD students and MSc students at historic St Aloysius College, Mangalore. Her role in the welfare of society is significant - apart from many more that can not fit into this article.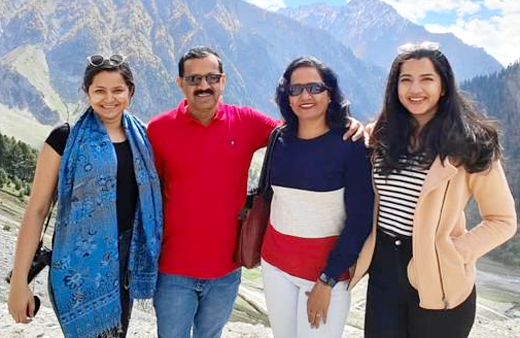 The multi-tasking Hilda, in her home and family where she is the focus and apple of the eye, is known for a balanced role as wife and mother, as well as often as a daughter and sister. Married to Dr Clement R S D'Souza, Prof & Head General Surgery, FMMC and has two achiever Daughters : Dr Frana- pursuing PG in Gen Surgery in FMMC and Ms Frizzell –an Architect by profession, a songwriter and singer based in Bangalore currently popular in music as a career, producing hit numbers. Her 94 year old ailing but positively cheerful mother whom she visits frequently lives in the family home not far from Mangalore cared for by an elder sister and some of the senior children living in the vicinity; she is still the guiding light for the large family and dotes on her children. Dr. Hilda, is the 10th of 13 children of Late Mr Raymond Fernandes & Mrs. Christine (nee' Nazareth) who has been well known in Mudarangadi Parish. Dr.Hilda, like most of her siblings, was educated in Mudarangadi , Kemundel, High School & PUC in Adamar and greatly values her very glowing childhood and home life which led her to her present great heights.

Some of her general interests are cooking, gardening and reading. Her special in-depth interest is in Indian handlooms especially sarees and accessories; promotes weavers; Collects and drapes sarees from every-state culture in different styles and has been a great influencer in saree draping for many including students and staff, in the institution. Her impact through social media and formal/informal shows is significant, understandably her main roles in medical science as a career has diluted other palpable interets for this rare Doctor and researcher.

Going back to Dr.Hilda's mainstream, she has been immensely successful after a lot of work and earning an MBBS: KMC(KIMS),Hubli -1992, M.D Pathology : KMC(KIMS) Hubli-1997, Trained as observer at Tata Memorial Hospital in 1997, Consultant Pathologist- Cancer Hospital Navanagar 1997-1999, Commenced Teaching as a Lecturer: KIMS Hubli- March 1999 to April 1999, Fr Muller Medical College, Mangalore.: 1999- and has made great strides, as can be noted till date. Her passion as a cytopathologist with skills in performing FNAC for difficult and small lesions. FNAC procedural skills and reporting skills learnt by postgraduate students are appreciated by faculty often in India and overseas.

It is amazing that she has earned credit for Conducting at least 15 community breast cancer awareness camps and examined more than 1500 women for breast lumps as a part of a project titled " self breast examination, clinical examination and FNAC in rural women". Conducted research projects on tuberculosis and oral cancer Resource person for community health programmes and given health related talks in more than 50 programmes. Published health related articles in local news papers, weeklies and bulletins

Member of Pathology and Cytology associations of India, Karnataka and local pathology bodies, Member of various committees like NABH core committee, Antiragging committee, Bioethics committee , Purchase committee of Fr Muller Medical College & Hospital , Undergone training in ISO 15189 for NABL in 2010 and 2014. Credited with starting new investigations like Immunohistochemistry, Immunofluorescence and Acetylcholinesterase staining in Hirschprung's disease ,Fluorescent staining for AFB, Toluidine blue staining for adequacy testing in FNAC in the department. Softspoken and elegance personified, she is a hard and precise worker and hard soft hearted taskmaster, makes no compromises in her professional roles, strict in discipline and multi tasking duties at all times.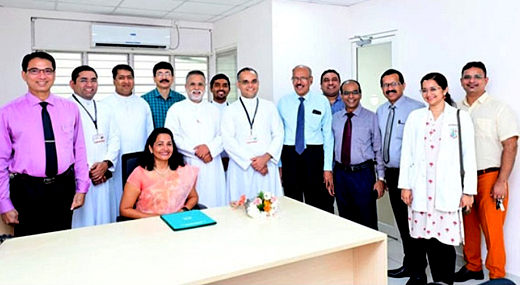 The admired Director of FMCI, the renowned institution, Fr Richard Aloysius Coelho, in his address after welcoming the newly appointed Principal Dr Hilda, into the management committee fold and reminded that the faith and service at the Institutions had caused her to be chosen for the position. Being a lady mentor at the helm and a person who has earned success through hard work and knowledge with confidence and dedication, was commendable and an example for all. Paying tributes, Fr. Director urged the students to support and exhorted them to work with full force to succeed in the subjects they have chosen, like this exemplary mentor. His appreciation in making this choice also went out to the Bishop of Mangalore and the President of the FMCI whose wisdom and support to the Institution's every need is paramount. He wished success and long innings to the new Principal Dr. Hilda D'Souza.

Dr Hilda D'Souza in an informal manner after accepting her new roles on November 16, 2022 said that as the Principal she was anxious and serious about the burden of the largest college of the Father Muller's Charitable Institutions being given to her; at the same time was elated and humbled for the trust and confidence of the management in her. Her long association with the medical college, starting as an 'assistant professor' to the director of the NABL accredited lab of FMMCH has been a fruitful yet learning journey of joy and values. All comes to those who patiently work and wait, yet earnestly work with sincerity and commitment; appreciation to the management and to her colleagues and students who have always nudged her on the path of success was foremost in her approach. She thanked her parents in memory and her siblings who are in responsible positions in many parts of the world too, for their ardent support in all stages of her education and beyond. Though from an earnest Konkani Catholic agrarian background like many of the community, she has achieved dizzy heights and genuine achievement. She expressly thanked her teachers and PU faculty who guided her in the path of science and knowledge in early life. Her particular praise and thanks to her better half, her pillar of support, her husband Dr Clement RS D'Souza, Prof & Head, dept of General Surgery FMMC was fitting. She thanked her children too for being her support and guiding lights in her productive and generous life for the well being of society and humanity. It is inspiring to note that a person, indeed a great human and a medical blessing to all in need is rooted and a good part of our beloved Mangaluru.

Compiled: I J Saldanha-Shet.