Itís shameful that a government should go after a bunch of students Ė Author Kunal Basu
Mangalore Today News Network
By Mahesh Nayak

Mangaluru, February 24, 2016: Internationally acclaimed author Dr. Kunal Basu was in Mangalore on Wednesday, 24th Feb., to participate in a National Seminar on 'Dislocation, Identities, Multiculturism and the Diaspora' organized by the Post Graduate Department of English, St. Aloysius College in association with Pan Macmillan India publishing house.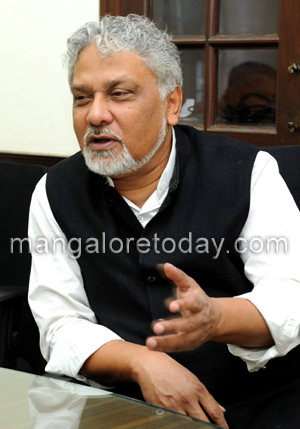 Dr. Kunal Basu was born in Kolkata and educated in India and the United States. He is the author of five critically acclaimed novels, including The Opium Clerk (2001), The Miniaturist (2003), Racists (2006) and The Yellow Emperor's Cure (2011).

His latest novel is 'Kalkatta' which was released in November last year. His short story 'The Japanese Wife' from his collection of stories by the same name has been made into an award-winning film by director Aparna Sen.

Besides being an author, Dr. Kunal Basu is a management educator presently serving as University Reader in Marketing at Said Business School, University of Oxford and a fellow of Green-Templeton College. He lives in Oxford and Kolkata.

Earlier in a separate 'Meet the Press' programme, he addressed the media queries on wide-ranging issues. The following are his thoughts compiled from his interactions with media as well students.

• On his latest novel 'Kalkatta':
This novel deals with an unusual theme as the main protagonist Jamshed Alam is a gigolo – a male prostitute. Writing a novel like this brought me out of my comfort zone. There is also the theme of refugees coming from Bangladesh. This was a dangerous assignment as there was risk of having to deal with gangs. I spent nearly two years in researching this subject with the help of police, NGOs and meeting individuals in the trade.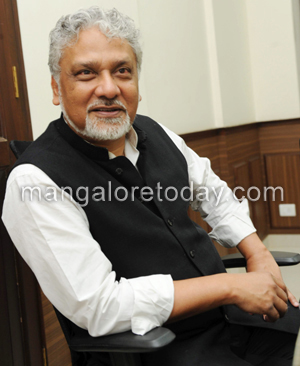 • On what made him pick the theme of gigolos for his latest novel:
The way a story happens is different. If I sit in a coffee shop, for example, my mind goes into story mode. Very late in the night, if you sit in a café on a particular street in Kolkata, you notice these young boys with expensive watches, bikes etc. I learned that a few of them are gigolos. That got me thinking - How do I meet someone who's in this profession? What are their career prospects? So I had the beginnings of a story. Then I went to seek the advice of a very senior Bengali author and he fixed me an appointment with a top police officer. Surprisingly the police officer didn't bat an eyelid on hearing my unusual desire to meet gigolos. He put me on to his anti-trafficking people, NGOs and let me on to pick up joints etc. Gradually I got a few phone numbers. At first they wanted to talk only on the phone and not in person. Eventually the resistance broke after I convinced them I am not a journalist. They dread the thought of being photographed by a journalist as then their world would collapse. Many of them are married and lead a double life.

• On the response to the novel and whether there was any resistance from the public:
You come to know if a novel has worked not from the reviews, but from whether it generates a lot of conversation. Actually there are two dimensions to the response I am getting for this novel. One is there is a lot of curiosity as it is not the typical middle class or upper class story. The other dimension is that it challenges our middle class identity.

As for resistance, there has been none. But there's been a lot of curiosity about how I got to meet the gigolos, how I could meet passport forgers (who are also a part of the story) and whether it's really that easy to get a forged passport.

• On books being made into movies:
Different people have different perspectives on this. To me personally, the real excitement comes from writing for myself and my readers. If somebody wants to make a movie out of it, I am happy. But writing a screenplay is quite tedious. Even in the case of my short story 'The Japanese Wife', which was made into a movie, I never knew the director. I only met her at a party and she mentioned that she was looking for an unusual love story. I told her the story in ten minutes. She was excited and wanted to make a movie.

• On movie offers for 'Kalkatta':
The journey from a book to a movie is long and often accidental. My new novel 'Kalkatta' has been in the book stores for only two and a half months now and there are no offers yet.

• On the book's title 'Kalkatta':
It is Kolkata spelled differently because that's the way these people from U.P., Bihar etc call the city. This is an indication that the centre of gravity of this story is subaltern Calcutta.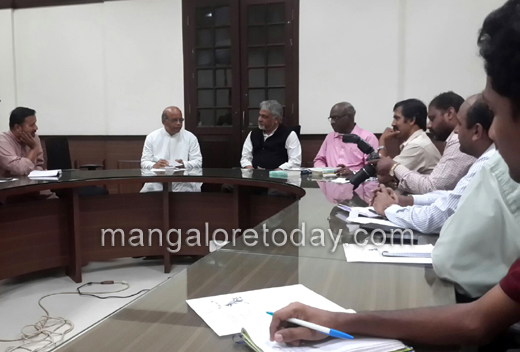 • On the current debate on intolerance:
Okay, here I'm making an invasion from literary life to politics. But I've already gone on record on this issue in my television interviews. I have said, if there is a world cup for 'Tolerance', India would win it. Again if there is a world cup for 'Intolerance', India would win that too. India has always had both intense tolerance and intense intolerance. They complement each other like yin and yang. We are an empathetic country as well as a cruel country.

• On the JNU fiasco:
My position is very clear on this. I think it's shameful for a government to go after a bunch of students. That kills the spirit of youth. They should remember the saying, do anything to me, but if you touch my kids, I will never ever forgive you. I was brought up in a secular democratic tradition and that cannot be compromised.

• On the impact of clampdown on foreign funding on Corporate Social Responsibility of companies:
On Corporate Social Responsibility, Indian companies are far more proactive than foreign companies. People talk of philanthropy of the Tatas, but there are many more companies doing this. I am Indian and I would like to believe that we are characterized by empathy.

• On upcoming projects:
Each of my books has been on a unique theme. I don't write sequels. So I don't know where I'll go next. Writing is a chance to explore new worlds. Every novel poses creative challenges, the chief being how to make it authentic.