Nirupa - Exciting Illustrator
Mangalore Today News Network
Compiled by I. J. Saldanha Shet
Mangaluru, July 11, 2020: In the midst of the fast creeping Corona Pandemic, it is natural to ask why? Is it partly due to serious neglect and abuse of Mother Nature and the environment the world over - the answer is without doubt, positive. Take our abused Western Ghats, one of eight 'hotspots' of biodiversity in the world; the region is estimated to have over 7,402 species of flowering plants,1814 species of non-flowering plants, 139 mammal species, 508 bird species, 179 amphibian species, 6000 insects species and 290 freshwater fish species. It is likely that many undiscovered species live in the Western Ghats. It's home to 325 globally threatened species.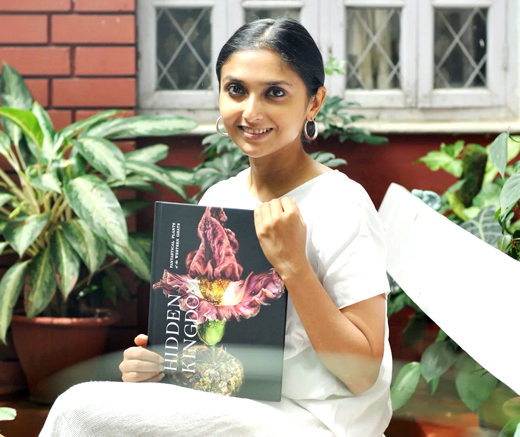 Kanara is renowned for exciting pioneers dedicated to rare fields and who have contributed their expertise immensely in a wide range of known and unknown fields of achievement, contributing to science and human life. Here, Nirupa Rao, a young lady of deep knowledge and skills takes the place of honour for her contribution to 'Nature and environment' in amazingly scientific ways. One can not fail to find glowing tributes to her work in different facets which have drawn attention from many quarters. 'Mangalore Today', is fortunate to here highlight her work, for it's esteemed readers; her family's connection to Mangalore and the western ghats elicits interest here and now.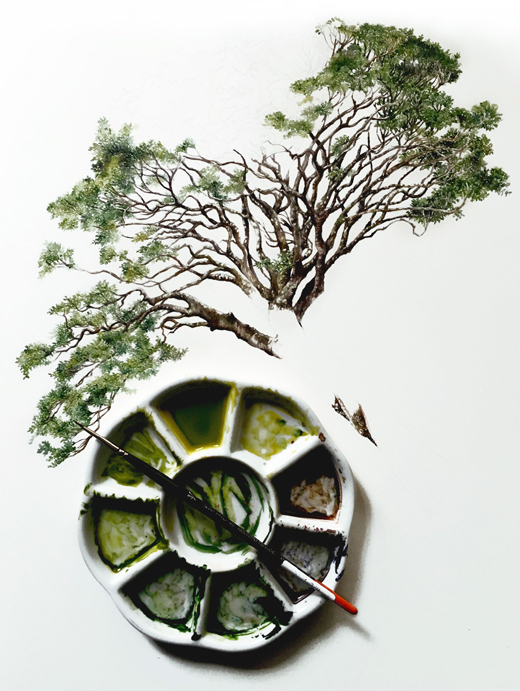 Profile & Work:
Nirupa Rao - the young Bengaluru based nature illustrator captures in fine detail the beauty of flora of the Western Ghats in the form of precision specialised illustrations. At least 85 of Nirupa Rao's illustrations are part of a book 'Pillars of Life' by two renowned botanists Divya Mudappa and TR Shankar Raman. Nirupa was named as the 'National Geographic Young Explorer in the year 2017' which itself is a huge achievement to be proud of. But Nirupa did not study to become an artist, least of all a botanical illustrator. She earned a degree in Sociology from Warwick University in the United Kingdom, Nirupa only signed up for a short online course in botanical illustrations to learn the nuances of the art.

Her work is inspired by regular field visits into the wild, and informed by close collaboration with natural scientists to achieve a high degree of accuracy. She works primarily on depicting plants from India, with a specific interest in species from the Western Ghats. In 2017, Nirupa was named a 'National Geographic Young Explorer', and received a grant to create her book 'Hidden Kingdom—Fantastical Plants of the Western Ghats' (published in 2019). Hidden Kingdom is an illustrated book that aims to open the minds of Indian children (and adults!) to the magical world of plants that exists in our own 'backyard', the Western Ghats in southern India. Featuring the weird and amazing world of nature, even the carnivorous and the parasitic, the poisonous, the stinky and the unimaginably valuable, this book aims to be the atlas of the Plant Kingdom of the region. It was made in collaboration with: her sister Suniti Rao (a writer who runs her own creative agency, Lighter), her cousin Siddarth Machado (who is a botanical researcher at University of Florida), and her friend Prasenjeet Yadav (a National Geographic photographer).

She has also published 'Pillars of Life-Magnificent Trees of the Western Ghats' (2018), a debut project in collaboration. The book features illustrations of trees native to the region, including images of their identifying parts like fruit, flowers, seeds and leaves. To draw these trees, Nirupa had to work closely with Mudappa and Shankar Raman, as the trees are often up to 140ft and shrouded in surrounding foliage, making them very difficult to photograph. Nirupa would study the unique form of each tree up close, and then ascend a neighbouring hill to see its crown rising above the canopy, piecing them together in her final amazing virtual illustration. She has also illustrated the cover of Amitav Ghosh's latest novel, Gun Island, and re-jacketed four of his older novels for Penguin-Random House. In 2019, she participated in a Plant Humanities program at Harvard University's Dumbarton Oaks Research Centre, and has exhibited her work at their museum.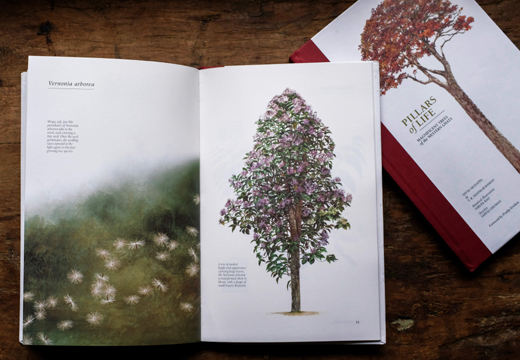 Nirupa's early Illustration


She recently collaborated with the 'Centre for Wildlife Studies' on 'Wild Shaale' ('Wild School' in Kannada), an environmental and conservation-education program designed for rural school-going children, aimed at nurturing interest and empathy toward India's wildlife and wild places. She has also been named an INK Fellow, one to 'watch out for' in Forbes India's annual 30 Under 30 issue, and one of Harper's Bazaar India's 'Indian Women to be Proud of'.

Early motivation: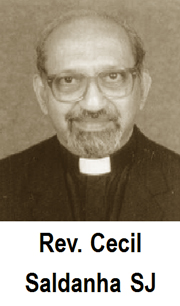 As a child, she spent most of her summer holidays and family vacations in the Western Ghats and developed an interest in botanical matters because of the memory of her grand-uncle, Rev Cecil Saldanha SJ, PhD, who led an expedition and documented the flora of Karnataka in the 1970s, and even documented the flora of Andaman, Nicobar and Lakshadweep; He headed the well known Botany department at was at St Joseph's college, Bangalore. A small annual carnivorous plant that belongs to the genus Utricularia, Utricularia cecilii - This species is named in honor of Fr Cecil Saldanha S.J., who had shown this species in 1981. Rev Fr Cecil passed away in April 2002, but time spent with this renowned botanist and the keen observation of a childish interest about his work, made an indelible impression on this young mind. Fr Saldanha, conducted his survey of the flora of Karnataka in the 1960s and 1970s, with Nirupa's grandfather grandfather's house in Hassan as his base. Consequently memories of watching this expedition unfold, has given root to a strong love for plants.

Fr Cecil is Nirupa's maternal grandmother's (Vera Machado nee Monteiro) first cousin, their mothers were sisters. Nirupa's mother is Carol, daughter of Harry and Vera Machado, and father is Venugopal Rao, an Udupi native whose family settled in Kerala a few generations ago. Nirupa is born and brought up in Bangalore, with two older sisters Nandini and Suniti.

Impressions - Nirupa the Illustrator: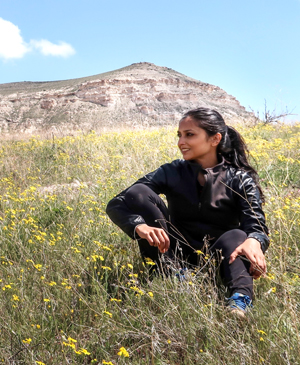 Every summer holiday Nirupa's extended family spent in different locations around the Western Ghats. This close intense intimacy with nature rustled up a number of botany enthusiasts in her family, her cousin Siddarth Machado with whom she has collaborated on a project.

After a great deal of coaxing, Nirupa chirped mildly and said, "People like to refer to my work as hyper realism, but I don't think so, the art world, may be enchanted because of my minute amazing illustration on Amitav Ghosh's new novel, "Gun Island". The book cover, which has a swirling snake, adorned with flowers from the Sundarbans - where the book is set - has a photographic quality. I don't see my style as photo realistic. I would rather describe it as surreal or lambent [glowing]. And isn't that true of nature as well?, asks this young artist from Bengaluru.

Nirupa Rao chose to become a painter of trees practically. As a child, she was intrigued by social sciences. For her childhood wasn't strictly speaking 'artistic', but it was definitely creative she mentioned. Nirupa's mother, whose Konkani "Classic old soul" she says she inherited, instilled a love for music and arts. Her Mother Carol rounded up the local children to perform on All India Radio and made them drum up a skit for the residents of the local old age homes and institutions and wholesome interaction was the banner. She and her two sisters thrived singing and writing and pottering around the kitchen making sweets with their grandmother. Her take is "I just enjoyed making things, and eventually that led to art."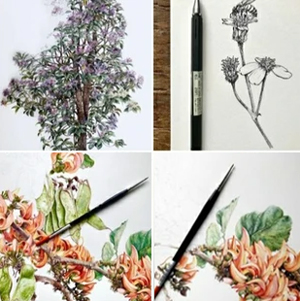 "I strongly associate botany with adventure and exploration. Plants are so intricate and diverse, like an inexhaustible resource for artistic inspiration," Nirupa goes on, but still views herself as an outsider. "My approach to botany is as a lay person, and attempt to translate the scientific subject matter into something that society can appreciate," she says.

She took art as a subject during her senior years in school and studied under botanical painter Elaine Searle. "Botanical illustration is a pretty well developed field in the West, but not so in India, so I learned all the foundation techniques from Elaine. Of course, I've had to adapt the process to Indian conditions." One day, she hopes to dip her brush of paint and dabble in the world of insects, birds and other animals. "My measure for success is to create something that is bigger than myself, bigger than Art." Indeed motivation and example can be the amazing culture for learning over time immemorial.