A concern for wellness at Home
Mangalore Today News Network
By I J Saldanha Shet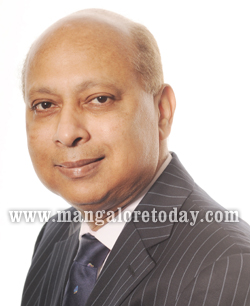 Mangalore, Dec 25, 2013: He is a senior medical doctor with extensive managerial and clinical expertise, both in primary care and in secondary care, covering multisite operations.Passionate about patient care and quality, he is a highly trained physician and has exclusive ability to bridge the gap between clinicians and managers. He has hands-on significant commercial and entrepreneurial acumen having set up a private hospital in India and worked long in the private and public sector in the UK.

It is indeed rare these days to find a doctor at the peak of his career overseas, to put heart above head and return to his home city in India to serve and provide better professional care with love and concern for people and the country. This highly qualified medical doctor has come home to Mangalore where he gained the first medical skills and degrees, with a supreme motivation that is simply admirable. Dr.Sushil Jathanna, from a well known back ground in Mangalore, has obtained a string of degrees which top doctors will envy (MBBS, MSc, MRCP, MFPHM, FFPHM, DGM, DMS).

He is now basing himself in this city of his ascendants to bring better medical management and develop facilities and skills required specially for the wellness of Mangaloreans. His statements provide a refreshing reasoning for top notch professionals to voluntarily give to their land from what the Omnipotent has generously given them.

Dr. Jathanna introduces his current aims thus, "Mangalore is my home town and I have returned to India to fulfill my desire to serve the people of my hometown. I want to put my experience in clinical medicine and management gained over 30 years in the UK in very senior positions to making a difference to people's lives in Mangalore. I have therefore resigned as CEO of NHS (National Health Services) Cambridgeshire to serve the people of Mangalore. I was the first Indian CEO of the NHS. I was also Managing Director of Healthcare in the UK called Care UK PLC. There is no greater honour to anyone than the opportunity to serve the people where you have grown up as a little boy, did my schooling and trained as a doctor. I am immensely grateful to my friends, relatives and colleagues who have welcomed me back with open arms to Mangalore."

About his past connections with Mangalore he said, "I have always been involved in healthcare in Mangalore although I was not based in Mangalore and had already established Athena Hospital in 1997 where I continue to be a Director. It is a deep desire to make it a centre of excellence for medical and surgical care. I am also involved as a Director in Global Multispeciality Hospital catering to a different geographical area.It focuses on new emerging specialities like geriatric care, women and child health and diabetes. With the increasing fragmentation of society more and more elderly people with complex medical needs including diabetes are left on their own and it is important to have a specially designed facility in Mangalore which focuses on the complex needs of elderly people. I also want to focus on healthcare education and public health issues in Mangalore. I also want to foster greater collaboration in medical and nursing education between India and the UK. I foresee we can both share and learn from each other."

Persuaded to share his personal background with the readers of Mangalore Today, he gladly stated, " I am the son of Dr C.D.Jathanna who founded Karnataka Christian Educational Society(KACES) at Balmatta. He built many institutions in Mangalore and was responsible to generate income to support his educational activities. Dr C D Jathanna was later CSI Bishop of Karnataka Central Diocese.

I grew up in Mangalore and studied in St Aloysius College upto PUC. I was a keen sportsman, individual champion at District level athletics whilst in High school, individual champion in Badminton and Table Tennis and captained the school volleyball team. Then I did my medical studies securing a merit seat at Kasturba Medical College (KMC), Mangalore from where I passed out in 1981. I was fortunate to be taught by illustrious teachers such as Dr K.P. Ganeshan, Dr B.M.Hegde, Dr M. Srinivasan, Dr C.R. Ballal and many others. I am what I am today because of my teachers in school and medical college and I am immensely grateful to them. I was general Secretary of the KMC Students Union in 1979 and was also captain of the KMC Tennis Team." Well, lucky Mangaloreans are set to receive a share of the goodies they have lent to the outside world for decades!