Shirthady William Pinto - Advocating Social Initiatives
Mangalore Today News Network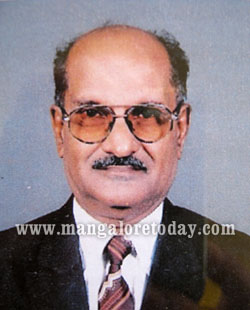 By I J Saldanha-Shet
Mangalore, March 22, 2013: Mangaloreans and many in the hinter land of Karnataka are familiar with the name of "Advocate Shirthady William Pinto". A well known personality, legal expert, adviser and counselor, forceful orator, author, promoter of the cause of the downtrodden and oppressed especially the tiller of the land, the son-of-the soil, he has already made a mark as a crusader of agricultural tenants and a popular activist. Humility and down to earth approach has been the hallmark of his personality endeared to all those people either in high places or the masses with whom he came in contact.

All set to celebrate his Jubilee, 75th year, his initiatives are worth knowing. Born on March 27, 1939 as the second among two sons of late Raymond and Mary Pinto, in the remote village of Shirthady in Karkala taluk, William had his initial education at Shirthady. The economic condition of most families at that time was precarious, normally the young were sent to Mumbai, Mangalore or the coffee estates to earn and support the family. With a strong determination in heart and sensible dreams young William enrolled himself in the Jain High School at Moodbidri and completed SSLC in 1956 walking all the way from his village to Moodbidri covering a distance of 6 miles on foot in times when there were no roads. William, had an ambition to study further in college. William got an opportunity to earn some money when his Kannada teacher P. Krishna Rao, asked him to join in 'Adult Education Programme' to teach. William worked to mobilize the adults above 18 years age in the village and teach them in the community hall.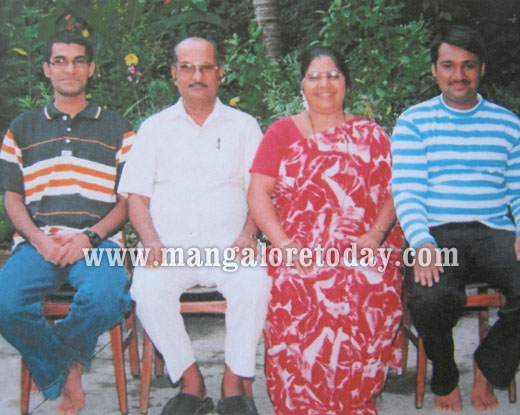 William credits his journey through college education to late Dr. Gururaj Bhat who was his English teacher in the Jain High School, Moodbidri. Dr Gururaj Bhat promised to help getting admission in the MGM College where he was teaching and even arranged for his hostel. Gururaj Bhat along with William approached Roque Fernandes, ( father of Oscar Fernandes) retired Headmaster of the Board High School, Udupi. William recalls the great words of Roque Fernandes who said "Bhat Sir, it should have been a Christian like me who should have brought a fellow Christian like William to you for help, but it is a great man like you have brought a Christian student to another Christian seeking help..."; Roque Fernandes assured support to William.
Being a brilliant student, William could avail the Loan Scholarship throughout the period of his higher education. William Pinto sincerely says that after completing LLB and starting the legal profession, he was able to repay the loan of the scholarship in installments so that some other needy students would get the benefit. As a student, William used to supplement his needs by giving tuition to ten to twelve higher primary students.

William is a gifted orator, well-known for keeping the audience under his spell with his pleasant articulated voice, command over language and clarity of thought and grasp over the subject. Advocate Gratian C. Rego, eminent lawyer of Udupi, motivated him to study as an external Post-Graduate student of the Karnataka University, Dharwad with Political Science as the subject and earn an MA degree in 1965. Thus, William became the first person from his village Shirthady to acquire the degrees of BA, MA and LLB - he became a full-fledged Advocate.
William wrote a number of useful articles on Land Reforms Act, which were published in the popular Konkani weekly "Raknno' which were later brought out in a booklet form and also translated into Kannada under the title "Karnataka Bhusudharane (1974)-Sankshipta Parichaya" highlighting the rights of the agricultural tenants. This book became so popular that it saw five editions selling more than 20,000 copies.

Advocate Pinto's, ability to enlighten the common local folk in simple language about the complexities of law shot him to fame. He used his penchant for writing on legal matters and published a number of articles in various Kannada and Konkani publications including 'Janavahini', 'Mungaru', Udayavani', 'Navayuga', 'Bhavya-Vaani', 'Prakasha', Rayabhari', 'Poinnari', 'Mithr', 'Rakno', 'Divo', 'Kutam', 'Dirvem', 'Sandesha', etc. His series on the legal remedies, in question answer form, have been published regularly even in for few years since 2002. Adv William's talks on AIR in the old times and later on DD have made his voice and personality known to many to date!

A milestone in the good work of Advocate William Pinto, was the publication of 'Kanoon Darshan' in Konkani published by Raknno Prakashan in 2006. Presently in its sixth edition, this useful legal handbook has created a sort of record by bringing out 11,000 copies since it was first published. This book won the Karnataka Konkani Sahitya Academy Award in 2007.
His achievements and awards are too numerous to list here.He has held a prodigious range of positions and portfolios contributing tremendously to the greater society. His assistance in catalyzing growth and development are exemplary. It was mainly due to persuasion of Adv Shirtady that Dr. Gururaj Bhat became the first Principal of a Christian College. In a way, it may be said that it was a strange coincidence that the very person who was instrumental in putting William on the path of college education became the Founder Principal of the Milagres College, Kallianpur due to the good offices of Adv William.

Indeed it is a mile stone that William is set to reach on March 27th, 2013 - 75 years Jubilee of special significance, having crossed the Biblical age of three score and ten (60+10 years). His better half Rosy (they were married on May 5,1979) a BA B.Ed LL.B; apart from being a partner in every way to William, has served the educational field in a noteworthy manner for over three decades in Udupi. They have two sons Chetan and Praveen. Chetan is a member of the faculty, University in Libya. Praveen is a practicing Advocate in Mangalore and is aiming to excel his Dad perhaps!

William Pinto's consistent crusade to empower the powerless, the poor and marginalised over decades; prolonged campaigns among the landless and the land reforms act; readiness to take up the causes troubling the community, work tirelessly, muster public opinion..... has obtained unfathomable results. In a selfishly commercial world using legal knowledge for the benefit of the needy, constant concern for people specially the less fortunate has moulded him to a giant among giants and enabled, motivated good in this vale of tears, to bring solace to many lives.


Some of the more important honours and titles conferred on Advocate Shirthady William Pinto include:
The 'Rachana Professional of the Year 2003' conferred on him by the former Defence Minister-George Fernandes on January 11, 2004 in Mangalore, 'Sandesha Special Prashsthi' for public awareness and fight for Human Rights (1996), All India Konkani Parishat Honour conferred in Mumbai (1997), 'Zilla Simha Prashasthi' from Lions Club for his legal service in ten Revenue Districts of Karnataka presented by Shri D. Veerendra Heggade(1999), Document of Appreciation and Gratitude in recognition of constant and selfless support to the social causes from Daijiworld (2004), The 'Rajyotsava Prashasthi' conferred on him by the then Chief Minister of Karnataka, Dharam Singh (in November, 2004). 'J.P. Samaja Ratna Prashasthi' conferred by Loknayak Jayaprakash Pratishtan, Bangalore (2005), 'Jeevamaanada Saadhane Prashasthi' (Lifetime Achievement Award) from the Confederation of Christian Associations, Bangalore conferred by the then Chief Minister D. Kumaraswamy(2007), Honour by the Catholic Association of the Karwar Diocese conferred by the former Union Minister-Mrs. Margaret Alva (2008). The IFKCA Samaja Ratna Award-2012 was presented to him at Udupi on February 28, 2013.