Radiant Rector @ Sac Fr. Denzil
Mangalore Today News Network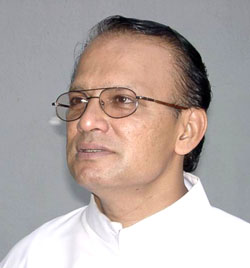 By IJ Saldanha Shet
Mangalore, April 22, 2013: Information Technology (IT), Management, Bio informatics and such disciplines in Mangalore have gained prominence just a couple of decades ago. From the very first inception of the computer centre at Mangalore's premier 133 year old autonomous College, St Aloysius (SAC), awaiting 'University' status - Rev Fr Denzil Lobo S J has been involved hands-on and the 'Father' of this great vision. As our great nuclear scientist and former President of India Dr Kalam advised, Fr Lobo has been dreaming! Not just dreaming but bringing forth into reality. For him 'Commitment is an act and not just a word', walking the thought and not just talking is the key philosophy. Rev Fr Denzil Lobo S J is considered to be the founding Director of this 21st century department; tireless visionary who has laboured with grace and unknown to people. In the traditions of the unmatched Jesuits he is an unassuming down to earth man for all seasons and an able parallel of the many Jesuits seen at Aloysius in the past. A welcome happening to this exclusive region where the Jesuits have an unprecedented stature; he is now designated to the significant and revered position of Rector. A leader and guide of about a score of St Aloysius Jesuit Institutions of Mangalore. St Aloysius Mangalore, is an institution bathed in fame world over, imparting education in a world class environment from KG to PG in galvanized atmosphere without discrimination of any kind and now 133 years old (Estd 1880). In the last few years a state-of-the-art Management and IT (Information Technology) satellite facility has been established at Beeri, Kotekar with a matching ambiance, called AIMIT (Aloysius Institute of Management and IT) which has rapidly gained a prestigious reputation as 'XLRI' of the South.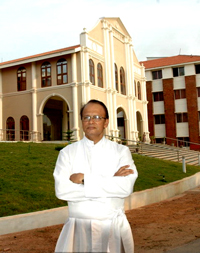 Fr Denzil Lobo a Jesuit has come to be Rector of Mangalore's Jesuit institutions at a point of time when the tide is changing and very dynamic and evolutionary action will be called for. Knowing his commitment to perfection and work, asked what particular magic Rev Fr Lobo has up his sleeve and hopes to explode, he tentatively said, "I have been thinking about it... too early and need more time.......St Aloysius is a huge institution with over 13,000 students. It has grown by leaps and bounds during the last 10-15 years. Now the educational scenario is rapidly changing, many institutions have come up, we cannot be complacent. We need to offer excellent educational formats, facilities and training. At all levels we need to think ahead and see how St Aloysius could be promoted to be one of the top Institutions in India. I am sure within a few years St Aloysius College will become a University. We have to work towards achieving that goal........ To become a University we need to have a huge corpus fund to promote various activities and to support our faculty. That is one of the first challenges I need to address as Rector".

Briefly on the applied term 'RECTOR' in this context: The term 'Rector' was used by Pope Gregory the Great (16th century) in Latin for "shepherd". In the Roman Catholic Church, a rector is a person who holds the office of presiding over an ecclesiastical institution. The Canon law of the Catholic Church explicitly mentions three offices of rectors: Rectors of seminaries, Rectors of churches that do not belong to a parish, a chapter of canons, or a religious order, Rectors of Catholic universities. We see the clear position of our Jesuit Rectors of SAC Mangalore. Recent Rectors of SAC: Fr Ronnie Prabhu (1980-86), Fr Avelline D'Souza(1986-1992), Fr Ralph DaCosta(1998-2001), Fr Vijayakumar Prabhu (2001-2004), Fr Francis Serrao (2004-2009), Fr Joseph Rodrigues (2009-2013); Now Fr Denzil Lob

JESUIT TRANSFIGURATION:
Our radiant Rector to be Fr Lobo hails from Valencia in Central Mangalore, one among seven children of Joseph & Latitia Lobo of a prominent family; his father served for some time in the old M&MSM Railway at Arakonam near Madras (now Chennai) and then took an opportunity to move to Africa. Young Denzil on finishing his High School and then PUC from St Philomena College, Puttur in 1969, entered the 'Society of Jesus' (SJ) the same year. Let us look at the words of Denzil Lobo, "I wanted to be a priest as far back as I can remember. Initially my dad was not too happy about this, but after some time and perhaps some reflection he gave me permission to join the Jesuits. I had this inexplicable burning inner desire to serve others. To serve my fellow men was a shining glow that attracted me deeply. In 1968 I delibrately wrote to the Jesuit Provincial expressing my deep desire to join the Society. After the four-sheet exam I was accepted into the Society in June 1969" and the transfiguration has been on-going!

After a year of Novitiate at Mount St Joseph, Bangalore, Bro Lobo S J, moved to XTC, Belgaum for the second year Novitiate and Juniorate. In 1972 April-May was spent in Bombay learning music, not only is there an ever green yearning for music and dance in this Jesuit Priest, but his siblings are known for the music and dance in their system - it is a family trait and have excelled in it say many knowledgeable people. Back to St Aloysius in 1972 he finished B Sc (Chemistry) in 1975 with the second rank! 1976 saw him move to the famous Loyola, Madras (now Chennai) for the Masters in chemistry (M Sc) a Gold medal in Chemistry at Loyola was the crown before being ordained a priest in 1983. After a year's assignment to St Joseph's College Bangalore teaching Chemistry; he was transferred to St Aloysius, Mangalore in 1984. His superiors put him in charge of the Computer Centre in 1986. A spectacular gift by Aubrey D'Souza to St Aloysius College. 1988-91 - saw Fr Denzil in the US for serious study at Marquette University, Milwaukee, from where he earned an MS(Computer Engineering) making an everlasting asset for SAC Mangalore.He will probably bag the title of 'Dr' before long now!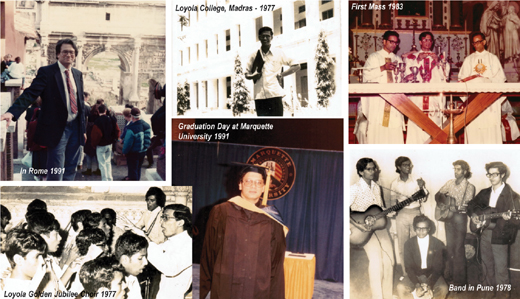 Fr Lobo has consistently been like the root of a giant tree supporting many ventures and serving the young students according to the teaching of his Master in the example of his Jesuit peers gaining many an accolade to date. Now chosen the radiant Rector to be in April 2013. Indeed, if one top Jesuit is to be watched in Rome - another is worth watching in Mangalore, 'Rome of the East'. Looking at Fr Denzil's pictures when he was younger, one can't miss the peak '70's pop star look' and identify him with Elvis, Cliff Richard, The Beatles, .......and so on, he is cast in the mould of the enterprising technocrat, a fitting personality of the new era to carry forward the Jesuit mission in a larger shape.

NON-STOP EDUCATION:
Post SAC Centenary 1980s, major advancement has come into place; Introduction of Computers in 1987, 1990 saw the opening of a hi-tech computer section with a PG Department. Early in the 2000s the new IT building and the PG Science block 'Xavier' inaugurated in March 2003 by Dr A P J Abdul Kalam. In 2009 extension of SAC - the AIMIT at Beeri Kotekar, based on the architecture of SAC Mangalore. An amalgamation of AIBA (Aloysius Institute of Business Administration) and AICS (Aloysius Institute of Computer Science) both under the Directorship of Fr.Denzil Lobo continued to be his baby.

It is a universally accepted matter that Jesuit institutions are in the fore front of education in the development of new India. St Aloysius College we see is a state-of-the-art institution which has risen to the challenges of the 21st century; it has achieved 'Autonomous' status. With 19 Institutions on the main Campus (can be 20 with Harihar, about 200 miles from Mangalore, a Post-Centenary Silver Jubilee Memorial outreach has taken root. Due largely to the bold decision made by the Jesuits some years ago, SAC is co-educational.

From the word go in 1879, the Jesuit Rectors of Mangalore are an adored line. The very first Rector is also seen as it's founder who gave direction to the establishment on the historic "Idgah Hill" in January 1880 is Rev Fr. Willy S J and the continuity has been consistent in taking on the mantle of responsibility channeling great honours to this institution of Mangalore which is the 'Alma Mater' of lakhs of men and women who today are spread throughout the globe, many in positions of power, authority and service to humanity and the world. Perhaps it will not be too far off the mark to expect as many will be doing right now that the future of SAC institutions will fall in step with the direction that Pope Francis is indicating as it is consistent with the motto of SAC :"Lucet et Ardet" translated:"It shines and it burns", the radiant fervour and burning utility will multiply for posterity.