Radhika Shetty's 'Nrityaangan' - Taking Bharatanatyam to new heights
Mangalore Today News Network
Mangalore, Augusr 26, 2013: Mangalore Today, has consistently projected the goodness of a varied range of arts, artistes and social contributors who labour to enhance the Mangalorean ethos. History has been it's back bone which enables seekers to understand and appreciate the past in the light of the present. Here is a young professional, Radhika Shetty who has created an institution to spread the fragrance and great Indian epic art form that is Bharatanatyam in this transforming atmosphere of globalisation. This talented lady rooted in Mangalore is without doubt making the local flavour global. Let us look at her story and inspirations close up and introspect our own potential good which can be a leaven to the society and humanity at large, irrespective of cultural roots.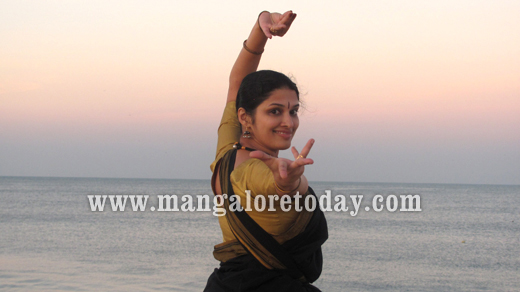 Radhika Shetty of Bijai Mangalore, is an acclaimed Bharatanatyam performing artist, she mentioned she was introduced to this art form by Mangalore based Vidushi Smt. Sharadamani Shekar of Sanathana Natyalaya. In January 2012, Radhika was honoured with a national award of 'Nritya Shiromani' by the Utkal Yuva Sanskrutik Sangh, Cuttack, Orissa. Radhika's accomplished endowment in Bharatanatyam has spread it's sheen in the land of the Big Apple too -USA. Apart from her family life as a home maker to her IT professional husband Harish Shetty and little son Vishesh (of course her parents and other elders too play a big role in her day to day life) she is an Engineering professional with a high level of excellence. It is creditable that Radhika Shetty is the founder of "Nrityaangan' a registered charitable trust. The trust aims at spreading and propagating the art form in and around Mangalore by organizing workshops & dance festivals that will nurture the next generation of artistes and provide them with performance opportunities. The organization aspires to organize various workshops, seminars, National Level Dance festivals by local, upcoming and established artistes in the country. It is good to hear about her from early times:

Early Life & Education:
I was born and brought up in Mangalore. My father an Advocate has been practising law in this city for decades. My schooling was at Sri Ramakrishna High School, Bunts Hostel campus, Mangalore. I was attracted towards Indian Classical dance when I was about age nine. At that juncture, I did not have any idea that one day I would take up Bharathanatyam as a full-time profession. It was just a pastime then. I started learning Bharatanatyam from Smt. Sharadamani Shekar of Sanatana Natyalaya in the vicinity. I continued to learn the basics of the dance form until I was in Class XII, after which my studies were paramount.

Higher Education & Professional Career
After the Pre-University course at Canara College, I joined Nitte Mahalinga Adyanthaya Memorial Institute of Technology, Nitte to pursue an Engineering degree in Computer Science. Being a consistently proficient student, I was able to secure a campus placement at MphasiS, a leading software company in Bangalore, while in the final year of my engineering studies. For someone, who had never lived outside her home, I saw this as a great opportunity to prove myself, that I could live and work independently.

After completing my B.E., I worked in Bangalore for about 6½ years as an IT professional, on some extremely challenging projects. I learnt a lot of things during the course of my brief IT career which serves me well in my present activities too.

Getting back to Bharatanatyam and the US:

During my stint as an IT professional, I used to undergo a tremendous amount of work-related stress. In order to beat that stress, I enrolled myself into Bharatanatyam classes under Guru Smt. Padmini Ramachandran of Natyapriya, Bangalore, during weekends. It was one of the best decisions that I have made in my life. During these classes, I realized that dance was something that I thoroughly enjoyed. It was my calling. With great determination and dedication, I presented my Arangetram under the tutelage of my Guru in January 2006, and I have not looked back ever since.

Along with my husband we had the good fortune of living in the USA for close to 3 years, owing to my husband's nature of work. It proved to be a different world altogether, out there. People are very independent, as well as there are no restrictions as to whatever you want to do. After my maternity break, I wanted to resume my Bharatanatyam that I was missing earnestly. Within a few months of resuming my dance practise, I was fortunate to receive an opportunity to perform live at one of the local Hindu temples in New Jersey. It was a great success, and brought me a lot of appreciation and recognition there. One opportunity followed another and within a year, I had performed live at 5 venues across 3 states within the USA. By this time I had decided to take up Bharatanatyam as a career. It was also one of the reasons that prompted us to return to India, at the end of my husband's assignment. My husband supports me in all my pursuits, be it in my brief IT career or in my dance related roles. We are blessed with a son, Vishesh, who takes a lot of pride that his mother is a performing artiste. Although hardly into school he is very understanding and puts up with my absence, while I am on tours related to my dance. My parents and close family also support me in pursuing my passion.

My dream – Nrityaangan:
After our return to India in 2011, I decided to start working towards my dream of becoming a full-time performing artiste. Since we had come back to settle down in Mangalore, I realized that our city did not have many solo Bharatanatyam artistes, who had made their mark outside the district. Thus, Nrityaangan was born with a vision to promote and nurture talent within the city and around to mentor them into serious and dedicated performers in Indian Classical dances. Nrityaangan is a non-profit organization, that works to promote the Indian Classical performing arts and enable the common man to understand and appreciate them. Nrityaangan in association with Sanathana Natyalaya, Mangalore, organized a solo Bharatanatyam recital by its foreign student, Dr. Alexandra Szoke from Hungary recently, which was very well appreciated by the art connoisseurs of Mangalore.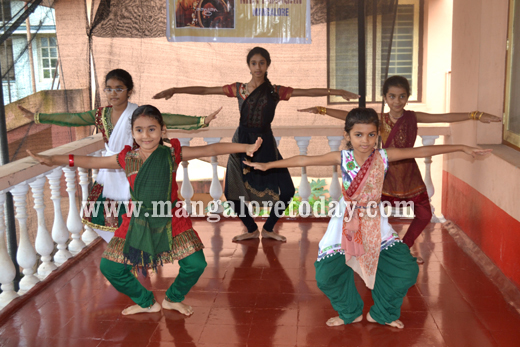 Today I consistently continue to pursue my dream of becoming an internationally recognized Bharatanatyam performer, learning from eminent Gurus from Chennai and other places. As the Creative Director at Nrityaangan, I have made it my ambition to train and nurture ardent students of this art form to find their feet, and enable them to achieve greater heights. My delight in teaching Young aspirants of dance through my School Nrityangaan.
It is indeed a great inspiration to know about this deeply committed person Radhika Shetty, selflessly promoting Indian culture. Over the years, in her keen interest for learning the depths and diversities of the dance form, she completed her Rangapravesha under the guidance and direction of the honored Guru Smt. Padmini Ramachandran of Natyapriya, Bangalore. She continues to learn the art form from Smt. Lavanya Ananth & Smt. Bragha Bessell, Chennai. Radhika has dedicated most of her time in perfecting the art form, learning the more complicated nuances from her gurus. Today, she has blossomed into a soulful performer and has been recognized by her audiences at various recitals across the globe. Nrityaangan is Radhika's humble attempt to bring the common man to the auditoriums and appreciate the performer's attempt to depict a piece of literature through expressions and dance. It is involved in imparting the knowledge on Bharatanatyam to aspiring performers. Regular classes are conducted in Bejai, Mangalore. In every field of vital importance what young India needs is dedicated and committed people of worth who aim for the stars with integrity and truth supreme.

How Nrityaangan Aims for the Stars:
. Summer Dance & Music workshops by eminent artistes from Chennai
. 'Nritya Sandhya' – Bharatanatyam solo productions presented in various places.
. Organize dance recital by students of the institute for the marginalised and ailing aged and so on.
. Regular solo and group performances by the students of Nrityaangan in and around Mangalore to spread the art form in the region

Proposed Activities for 2013-2014
. ABHINAYAM – Highlighting the different aspects of Abhinaya in Indian Classical Dance along with a short lecture demonstration (Nov. 2013)
. Collaboration YUDH – Solo Dance Theatre production by Smt. Savitha Sastry, in association with Sai Shree Arts, New Delhi (Sep. 2013)
. Indian Classical dance festival (Jan. 2014)