Leading Lady of Yakshagana
Mangalore Today News Network
Mangaluru, Jan 2, 2015: She earns the honour of being the only professional female Bhagavatha in Yakshagana, the rich art of Coastal Karnataka. She has a melodious voice that has lent a distinct charm and grace to her performances that has won her acclaim both in the nation and abroad.

The reference here is undoubtedly to Leelavathi Baipadittaya, veteran Yakshagana Bhagavatha who stormed a male bastion and pursued her profession to perfection winning admirers as well as accolades galore.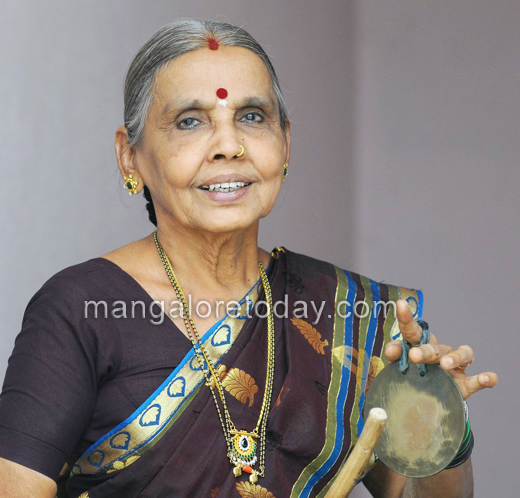 Her life's story can be an inspiration to many. Born on May 23, 1947 at Madhur in Kasargod district, poverty at home prevented Leelavathi from attending school. Still, she managed to learn out of her own will from neighbours and her elder brother and later even earned the Hindi Visharada title. Leelavathi who had learnt music in her childhood was introduced to Yakshagana by her husband Harinarayanana Baipadittaya, the renowned Himmela Guru of Thenkutittu Yakshagana. She learnt the nuances of Yakshagana from her husband and transformed herself as one of the leading Bhagavathas of Thenkutittu at a time when women virtually had no opportunity to even watch Yakshagana. Hand-in-hand with her husband, she was part of several famous Melas including the then Subrahmanya, Puttur, Kadri, Kumble, and Bappanadu Melas for over 4 decades.

Leelavathi recalls with gratitude how the guidance by the stalwarts of Yakshagana like Balipa Bhagavatha, Kadathoka Bhagavatha, Diwana Bheema Bhat and others helped her to emerge as a matured artiste. To remain awake all through the night and present a sterling Bhagavathike is no child's game, but Leelavathi did it with ease and encouraged women to take up the art.

Presently, Leelavathi coaches women interested in pursuing the art, apart from teaching Classical Carnatic Music. Her achievements have rightly earned her innumerous awards including the Karnataka Yakshagana Academy Award 2010, State Award for Outstanding Senior Achievers and Yakshamangala Award 2015 of Yakshagana Study Centre of Mangalore University. Leelavathi has also been chosen for Alva's Nudisiri Award-2015.