Can Business Survive Covid-19 Crisis: Interview with Habeeb Ashfaq Moideen
Mangalore Today News Network
Mangaluru, Ocober 30, 2020: Coronavirus pandemic has posed the biggest challenge in history to the survival of economy and business globally. Mangalore Today spoke to leading lights of business and industry to analyse the situation and gain their unique perspectives on the way back to recovery and growth. Excerpts from the Interview with Habeeb Ashfaq Moideen, Executive Director, Unity Hospital: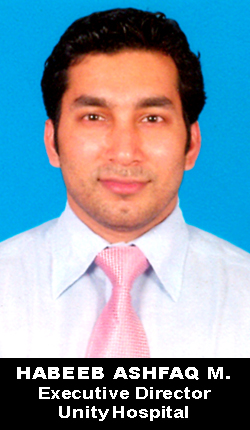 How do you assess the Covid-19 pandemic impact on hospitals and medical services?
The Covid-19 pandemic has impacted hospitals throughout the country and around the world. Many hospitals have scaled back or postponed non-emergency care. This has medical consequences for the patient community and it has financial consequences for the hospitals. Health facilities in many places have closed or limiting services. Thus a careful balance would have to be found between the risks of the operation and the risk of delaying treatment except emergencies.

With travel restrictions, lockdowns and unprecedented fear of visiting hospital, disruptions in the supply of medicines and medical materials, our teams have been pushed to find solutions beyond our usual way of operating to be able to continue caring for patients. Faced with challenges on a scale never experienced before, our teams, doctors, nurses and support staff have had to quickly adapt to the new realities of Covid-19 situation. The challenges have been immense and we've adapted our entire way of working, following all Covid-19 protocol.

How will you the crisis brought by the Covid-19 pandemic in hospitals / medical services? What are the steps you have taken to overcome hurdles?
Keeping essential health services available and accessible is vital to prevent losing even more lives, whether from malaria, measles, jaundice or complicated pregnancies. People may put off seeing a doctor for any number of deadly medical conditions due to the difficulty of traveling during lockdowns or from fear of becoming infected with Covid-19 in a health facility.

In order to ensure that health facilities are safe places for staff and patients, Unity Hospital has implemented specific Covid-19 infection prevention and control measures in all our wards and all facilities of the hospital and has supported health authorities in every way. We have to reach out to patients and people in general through medical practitioners, social media and other communication channels informing patients about the safety measures taken towards patient services and giving the confidence and belief that it is safe to come to the hospital for any kind of treatment. We have also created exclusive isolation ward for Covid-19 cases. We are offering treatment for Covid-19 patients at the prescribed government rates.

Do you think online medical help serve the needs?
I think technology is going to play a vital role in healthcare services going forward, especially online consultations. We at Unity Hospital provide comprehensive services like online doctor consultation and treatment at home as well as bringing the patients to hospital when it is necessary. We also have our home care services where a person needing any lab tests or drugs have to just send us the requirements through WhatsApp and we will cater to their needs immediately.

What is your advice to people who need to visit hospitals in this difficult situation or seek medical help at home?
It is very safe to come into a hospital. We follow safety protocols for all patients needing any in-patient and out-patient services. We have fever clinic where every patient is screened by our medical staff and if suspected of Covid-19 symptoms they will be shifted to the isolation ward, tests will be done and they will be kept till the reports come. We have our home care services where a person can call our number and if required a doctor will attend to patient's doorstep and screen the patient, similarly lab, pharmacy and physiotherapy consultation can be done at home. There have been some remarkable initiatives, from increasing the availability of telemedicine, to providing online infection prevention and control to training for home care workers to running health promotion campaigns on social media, to managing WhatsApp groups of medical services.