This dog painter's creation is so good that Internet is already bidding for it
Mangalore Today News Network / News18
May 06, 2023: Dog lovers have already witnessed obedient trained pooches performing tricks and following dance routines, some who have even participated in global competitions. If you thought you have seen enough of the dogs' performing tricks, we bring you a cute video of a dog's attempt at painting. The art piece might not seem to be an extraordinary creation, but social media users are already bidding to buy the painting. The video was shared on Instagram by artist Kate Tova, who often allows her pooch to accompany her during the painting sessions.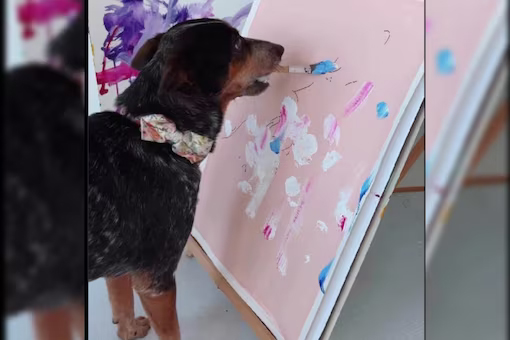 Recently, the pet owner and the dog painted each other. The cute process has garnered massive traction online. The clip share glimpses of the woman's stunning art prowess as she creates a beautiful portrait of her pup holding a paintbrush in its mouth. Meanwhile, the excited pooch begins his piece with a few scribbles before adding a dash of blue, purple, and green strokes. Towards the end, the duo sits beside their paintings, sharing an infectious smile as the camera captures the happy moment.
In just a day, the video has amassed over 1.2 million views on Instagram, leaving many to call it 'precious' and 'wholesome.' A user asked, "Wow amazing how did your dog learn to paint?" Another said, "Now this is an art I'd buy. Vincent Van Dog!" One more highlighted, "The dog is just so happy to be a part of the process." Meanwhile, a user theorized, "The dog painted your top or rather the colours of paint he could see on your top. He actually did amazing."

An excited dog lover announced, "I need to buy the painting asap." Another noted, "The way your pup is looking at you and smiling when showing off your creations. This is so precious."

"Love this. It is the sweetest thing I have seen today," read a reply.

In a similar instance, previously, a pet owner recorded their pooch's attempt at painting a flower. "Secret drew a sunflower! Or maybe it's a daisy? We've been having a lot of fun working on painting different shapes and brush strokes lately, and she's getting to the point where she can make recognizable shapes on her own without targets. This is her first, and I'm so proud of her," explained the owner while sharing the clip.

The video begins with the dog painting the background blue, before using green colour to draw the flower's stem. The end result was dubbed incredible on the internet.
Write Comment
|

E-Mail
|

Facebook
|
Twitter
|

Print