Lawrence Pinto Human Rights Award presented to Prof. Narendra Nayak.
mangaloretoday.com
Mangaluru, Jan. 31: Prof. Narendra Nayak, human rights activist and President of Federation of Indian Rationalists Association (FIRA) was presented with the Lawrence Pinto Human Rights Award at a program held at Kalangan on January 31, 2014.

It is the first award instituted in memory of human right activist, Lawrence Pinto by 'Friends of Lawry'. The Award includes a Plaque, a Citation and Rs. 1 lakh.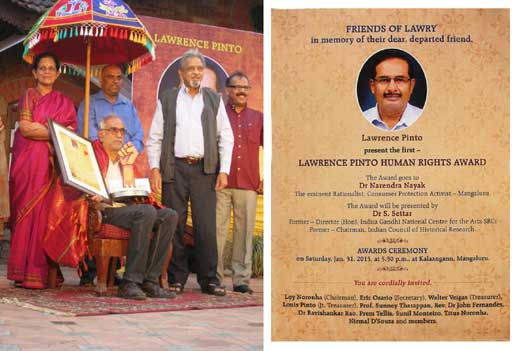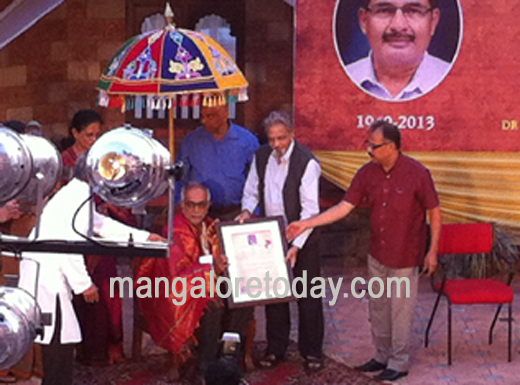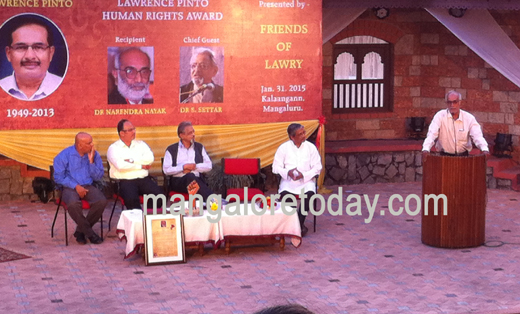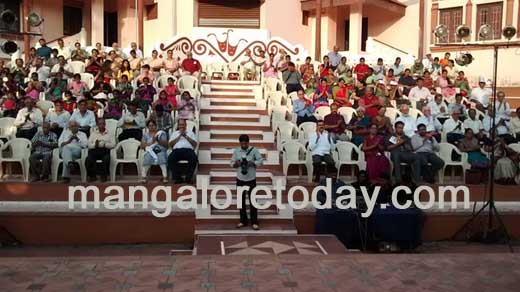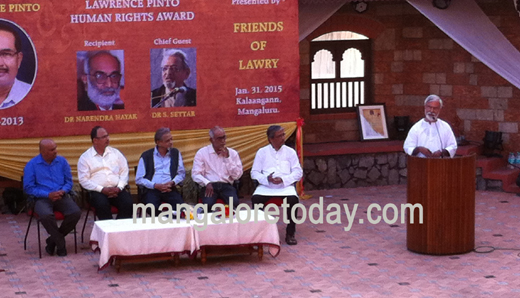 Prof. Sunny Tharappan, Director of 'AIM Insights' (LHRD) who was also member of the judging panel said Mr. Nayak rightfully deserve the Award than any one. "This is a recognition of his work and assurance of support to his untiring fight for human right activism" "He not only preach but also practice in his personal life" Mr. Sunny opined.
In his speech Prof. Nayak said that he is not a humanitarian but Humanist. Nayak recollected how different lobbies exploited people in the name God and religion for their own ulterior motives. He thanked those who continue to support hin in his fight against superstition and blind believes. He did not forget to thank his wife Advocate Asha Nayak for support.
S. Settar, former chairman of ICHR who presented the Award said that there was violence and violation of human rights throughout history of humanity. "Over the years, only a few dared to rise their voice and fought for the rights" "It is no different even today. Violation of human rights continue and people like Mr. Nayak are a few still stand up face the violators". He congratulated Narendra Nayak and praised for his unstinted efforts and daring activism.

Write Comment
|

E-Mail
|

Facebook
|
Twitter
|

Print