Government withdraws police security provided to Prof. Narendra Nayak
Mangalore Today News Network
Mangaluru, March 30, 2023: In a surprising move, the state government has withdrawn the personal security cover provided to Prof. Narendra Nayak, a firebrand social activist of the city and President of the Federation of Indian Rationalist Associations (FIRA). Prof. Nayak says that the police bodyguard assigned to him was recalled all of a sudden this morning (March 30th), and he was informed shortly afterwards that his personal security has been withdrawn. "I received a letter from DCP (Law and Order) in the first week of March quoting a state government advisory and demanding that I should henceforth pay for my own security. I had not asked for any security and I am not a wealthy person to pay for my own protection. I met with the concerned officer and explained all this in a written submission," he said.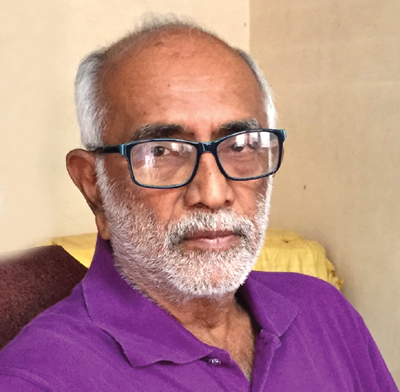 Prof. Narendra Nayak had been given protection by the police department at state expense since July 7, 2016. This was done suo motu by the police department and no request was made by the activist for the same. Under the arrangement, two police gunmen were assigned to give round-the-clock escort to Prof. Nayak by rotation.

At that time, Prof. Nayak had been fighting for justice in the Vinayak Baliga Murder Case, which had rocked the city. The then city police commissioner, M. Chandra Shekar, had clarified that the security was not related to the Vinayak Baliga case. He said that it was due to a genuine perception of threat to the activist's life, but had not disclosed any specific reason.

The move followed a series of murderous attacks on rationalists since 2013. Nationally renowned figures like Narendra Dhabolkar, Govind Pansare, MM Kalburgi and Gauri Lankesh have been killed, and most of these cases continue to remain unsolved. In 2018, while investigating the murder of Gowri Lankesh, the Special Investigation Team (SIT) of Karnataka police recovered two hit lists from the suspects. Prof. Narendra Nayak's name was mentioned in this list of targets along with other well-known intellectuals like Girish Karnad and Prof. K. S. Bhagwan.

Prof. Narendra Nayak is unfazed by the sudden move. "I have never asked for any official protection. I am going to continue on my own, and this won't affect my work in any way," he says. In a statement released after the incident, he has stated: "I am bringing this to the attention of Humanist International so that anything happening to me will be the result of removing the security cover which was there since nearly 6 years. In case of anything happening to me as a result of the actions of the criminal, communal elements, I do hope that these things will be recalled."

His wife, Asha Nayak, who is an advocate, says she too was surprised by the sudden move. "During election time, it is common to withdraw security given to public figures, but this does not apply to non political people. The police department had demanded payment for the security, but how can a pensioner afford to pay such hefty amounts? It is wrong of the police to withdraw security from a man of his stature during this crucial time when crimes can happen during the election." She plans to write to the authorities after getting more information on the matter.
FULL TEXT OF THE STATEMENT ISSUED BY PROF. NARENDRA NAYAK REGARDING THE WITHDRAWAL OF POLICE SECURITY TO HIM

Dear all,
This is to bring to the attention of all of you that the concerns expressed about my safety in previous communications by you are now coming true. Elections for the legislative assembly of Karnataka state due for May, 2023 were announced today and within hours the security provided for me was withdrawn. Probably this is because the administration is no longer under the political leaders and any responsibility for taking the decision can be ascribed to bureaucracy! The gunman provided to me by the police from June, 2016 has been removed with effect from today. I had not asked for this security at any time but it was said to have been provided following threats to the lives of us prominent rationalists. Narendra Dhabolkar was murdered in 2013 and after that Pansare, Kalburgi and Gauri Lankesh.

About a month ago I had a letter from the DCP of Mangalore police that henceforth I should pay for the security provided. While I had not asked for it and I am not a wealthy person to pay for my own protection as mentioned in that letter, I had replied in writing to the same stating all the facts after meeting the concerned person.

There are a number of extremist elements out to get me for my work as a rationalist and to uphold principles of secularism, human and democratic rights. Right now the trial of the RTI activist Vinayak Baliga is going on and witnesses have complained to the court that they are being threatened. A number of reports in local language have been published, here is the one in English. https://www.mangaloretoday.com/main/Vinayak-Baliga-case-hearing-Allegation-against-prime-accused-of-exerting-influence-on-witnesses.html This is the case in which I had played a major role in getting the proper investigation done and real culprits prosecuted. The people behind this are very politically powerful individuals and are supposedly threatening the witnesses.

I am bringing this to the attention of Humanist International so that anything happening to me will be the result of removing the security cover which was there since nearly 6 years.

In case of anything happening to me as a result of the actions of the criminal, communal elements, I do hope that these things will be recalled.

With regards
Yours sincerely
Narendra Nayak

Write Comment
|

E-Mail
|

Facebook
|
Twitter
|

Print