The backstage boys: Core team scripted RaGa's 'rebellion'
mangaloretoday.com
New Delhi, Sept 27: Behind Rahul Gandhi's impromptu appearance at the Press Club of India on Friday was his core team that orchestrated a scripted exercise of making the Congress vice- president attack the ordinance brought by the government for allowing convicted lawmakers to contest elections.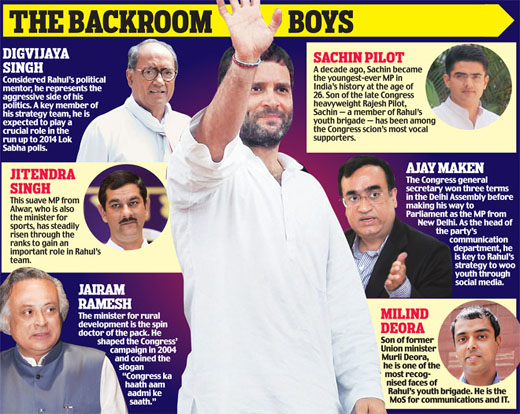 Rahul's core team, including his chief of staff Kanishka Singh, party general secretaries Digvijaya Singh and Madhusudan Mistry and young leaders like Milind Deora and Sachin Pilot, was instrumental in making Rahul go on the offensive against the ordinance, party insiders said.

And under the instructions from Rahul's 11 Tughlaq Lane office, Digvijaya Singh and Milind Deora were fielded to oppose the ordinance which had seen the Opposition already make its move by petitioning President Pranab Mukherjee.

On Friday morning, Rahul wrote a letter to Prime Minister Manmohan Singh that was sent to the PMO and faxed to his camp office in Washington. A few hours later, Rahul and his core group decided to make the former's displeasure public.

The idea was to present Rahul as a leader who would go for clean politics even if it meant taking on his own government. It was also timed to deny Narendra Modi the opportunity to use the ordinance for slamming the Congress party in his September 29 rally in Delhi.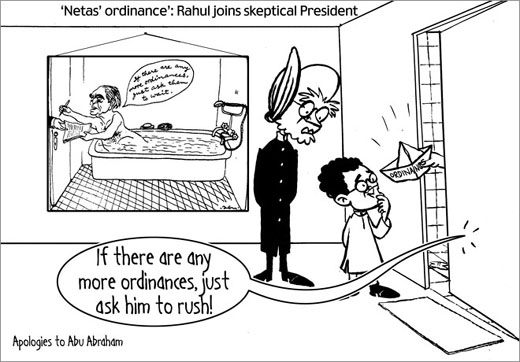 Rahul's outbursts also sent out a clear message to the PM and his diminishing coterie in the government that the party believes that he should quit gracefully, they said.

Coming ahead of his meeting with US president Barack Obama, the criticism has surely embarrassed Prime Minister Manmohan Singh, who is on a visit to the US. Rahul's no- confidence statement is bound to be noted by Singh's hosts who only have another reaffirmation that they are hosting a lame duck premier.

But Rahul's team clearly thinks otherwise - they believe that the window of opportunity for Rahul was closing and this was a good opportunity to strike.

Courtesy: India Today