There is no higher religion than Truth: Theosophical Society
Mangalore Today News Network
By Satya Reddy

Mangaluru, Nov 6, 2018: On any given day, MG Road is one of the busiest roads of Mangalore. As you drive up to PVS circle, the traffic becomes worse. With all the overtaking and ensuing chaos, it is highly doubtful if anyone has the time to notice a small building to their left, with an odd-looking symbol on a board. It is odd-looking because it is an amalgamation of five symbols in one. There is an 'Aum', a Hindu Swastika (as opposed to a Nazi swastika), the Star of David, an Egyptian 'Ankh' and an ancient symbol called an Ouroboros-that of a snake eating its own tail.

The Theosophical Society is one of the most well know organisations in the world. While some choose to dismiss it as a mere cult, those who follow the Society teachings believe deeply in its motto, "Il n'y a pas de religion superieur a la verite" (There is no higher religion than Truth). As of today, it has a presence in more than 50 countries.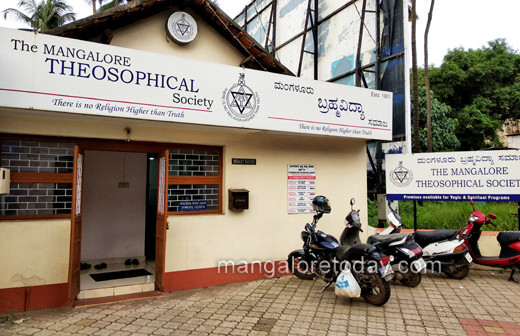 To truly understand the movement, one has to go back to the origins and the people behind this radical way of thinking. In 1875, Helena Petrovna Blavatsky, a Russian occultist and philosopher and her friend, Colonel Henry Steel Olcott, an American military officer, formed the Theosophical Society in New York. Both of them had a deep interest in the occult and world religions. Having travelled extensively and interacted with various religions and religious leaders, they distilled their thoughts into three basic tenets- to form a 'brotherhood of humanity' where race, creed, caste, colour are not important, to encourage the study of comparative religion, philosophy and science and to 'investigate unexplained laws of nature' and the latent powers of humans. For a world fed on a strict diet of organized religions, these radical ideas came as a breath of fresh air and it was not long before the Theosophical Society started to see its membership rise. Blavatsky was clear that Theosophists should be seekers of truth and not blind adherents of irrational and superstitious beliefs.

The Mangalore chapter of the Theosophical Society is well over 100 years now. It was started in 1930 and was registered in 1936. Today, it has nearly 70 members with a core committee of 12 regulars. There are meetings every day where members discuss many religions and hold regular talks about the core values of each religion or philosophy.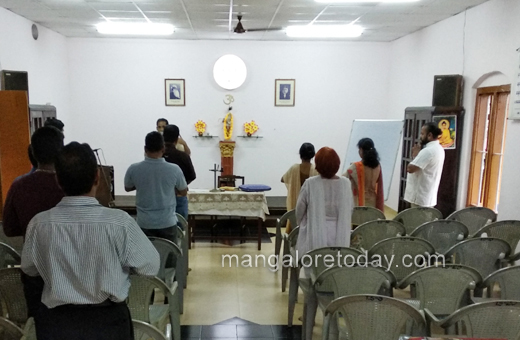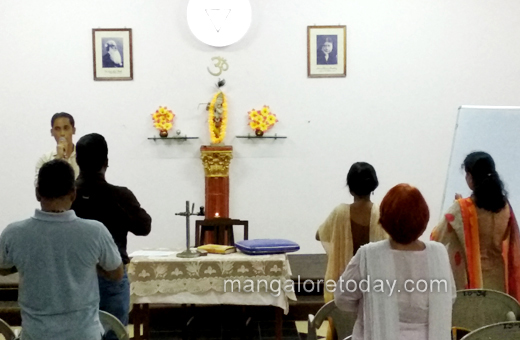 Another interesting aspect of the Theosophical Society is that it tries to find a connection between theology (the study of the nature of God and religious belief) and science. Theosophists have also embraced the idea that humans have a higher level of intelligence. They believe that paranormal experiences or psychic qualities are present in every person. But in the early days of the Theosophical movement, many equated this to witchcraft and wizardry.

"I was born a Hindu but in college I read about Buddhism, Zen, meditation, Reiki and Pranic healing. I was drawn to theosophy because there is no rigid system here "says Suraj, a web designer and former Data Analyst. Many in the Mangalore chapter feel likewise. A common refrain is that they belong to their family's chosen religion but were drawn to Theosophy because they were not bound by a didactic approach. Many in the group therefore identified as spiritualists first and foremost.

A meditation session was in progress and this reporter was invited to take part. The session began with a common prayer and an evocation. The group performed breathing techniques that segued into guided meditation using steps similar to those done in Pranic Healing.

Six years ago, Rohan Shiri found himself drawn to spirituality. A deep desire to "understand the purpose of life" led him to the Theosophical Society. The secular nature of the organization was what appealed to his sensibilities. Today, he organizes workshops and has written books on self-healing and inner growth.

At its core, the Society sees itself as an 'ethical movement' that aims to bring about a radical change in an individual. In his inaugural address in New York in 1875, Col. Olcott had said," We founded this Society as a token of our discontent with things as they are and endeavor to bring about something better…"

One of the most vocal theosophists was Annie Besant, an unabashed women's rights activist, socialist and Indophile. Her way to "bring about something better" was to start educational institutes all over India focusing on the education of women. Mangalore boasted of one such institution in 1918- the Besant Women's College, that was opened a century ago. Today, there are seven major institutions functioning from three campuses, educating an impressive 3000 students each year.

How relevant Theosophy is in today's world is hard to say but any philosophy that is open to all people, thoughts and religions can only be a step in the right direction.