Anthony Ashram in the city grows a classic museum
Mangalore Today News Network
By I. J. Saldanha Shet
Mangaluru, Nov 11, 2020: Humans from time immemorial are not just supported by physical and psychological powers, but also more of social power. Existence develops by our interactions with others through varying degrees at different times. Environment influences the complex life, internal and external constantly. Past influences, memories and experiences play a vital role in our day to day well being and hope. Now, due to COVID-19, most social concepts are changing and one can foresee rapid major changes. Reminiscing about the past will soon be a human necessity and catering for the change is paramount - Museums could help this need. Mangaloreans are known for great affection of their roots, culture and society. They consistently recall nostalgic visits to good old "Kudla/Kodial/Mykala" in general Mangalore. Catching up with elders, relatives and the goodies, along with brushing up on rusted Tulu or Konkani. Visits to temples, beaches, parks, churches, nature and historical spots are a big part of the rare holiday visits to native land in times gone by. St. Aloysius College and it's museum, as well as Mirajkar's museum and so on were spots my late grandfather would take us grandchildren to see and learn, more than half a century ago - surely those efforts have compelled me to be here now.. Today, there are several other recently opened museums and places in and around the city - you have read about some of these in "Mangalore Today" in the last two decades plus. On September 8, 2020, a unique ethnic cultural red letter day of Monthi festh, at St.Anthony's Ashram, Jeppu in Mangalore city, the well known 120 plus year old charity institution, in tranquil and serene green surroundings and rain, inauguration of a long desired unique new Museum was an unforgettable highlight.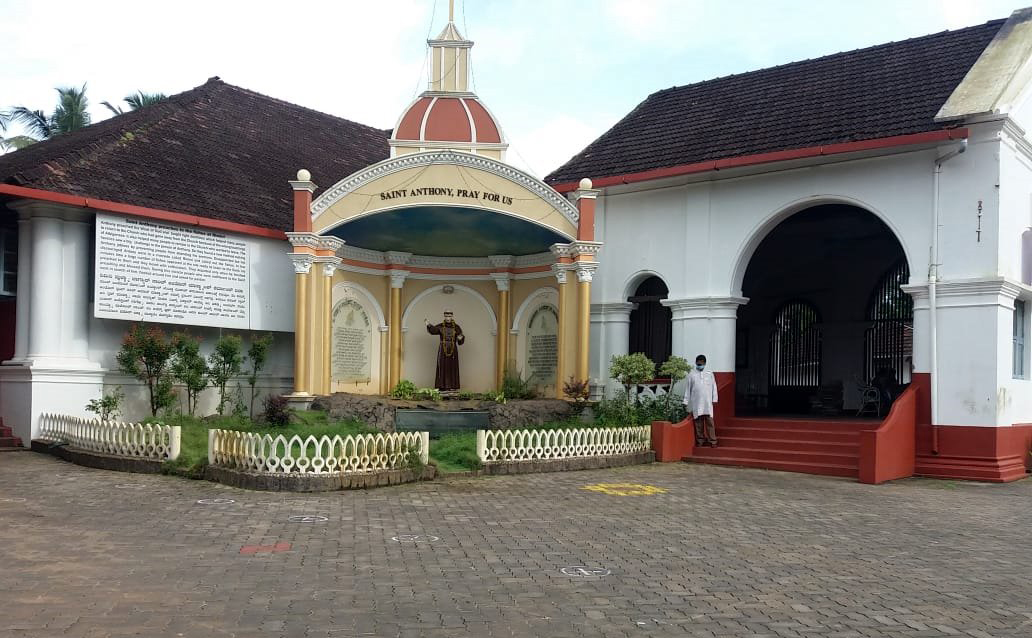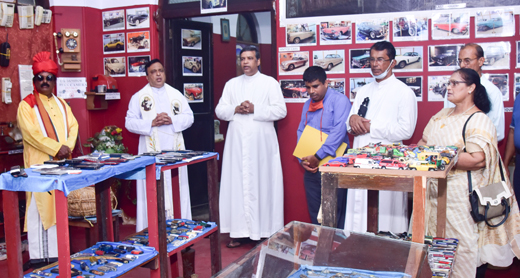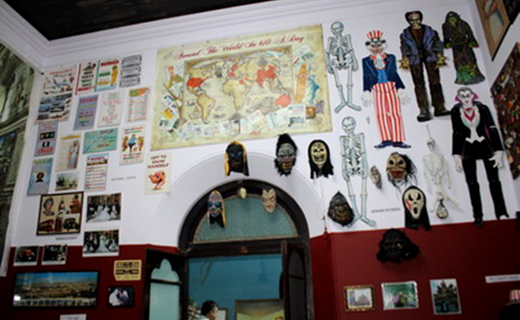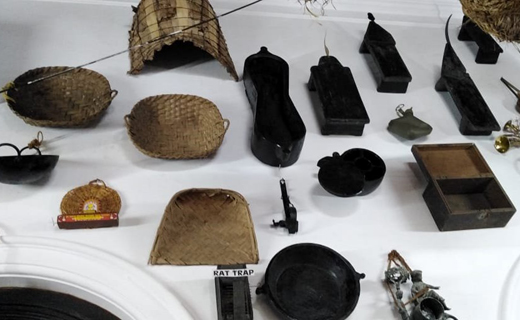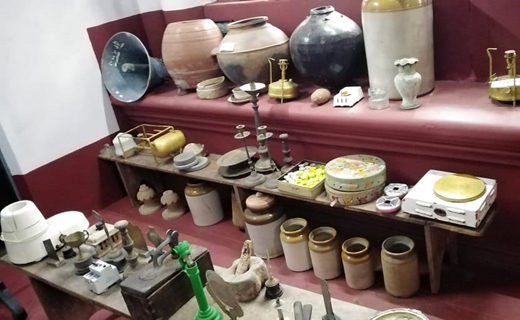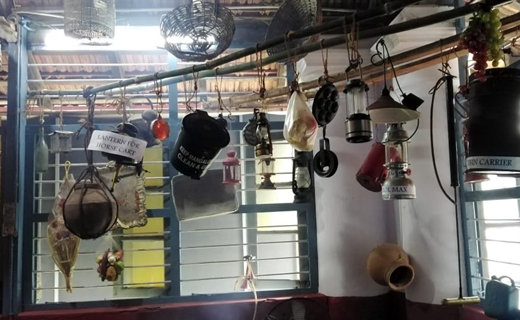 Major work on this was done in the last few months and housed in an antique traditional bungalow, worth serious observation and admiration. The grand collection of different categories of curios on show are amazing, catering to many interests. The generous person who has collected these treasure items since years and now for better access to thousands has generously donated the precious treasures to this Ashram; also he provided all assistance to set it up here wonderfully. This lover of culture and rare curios and lover of Kanara is well known - he is none other than Mr. John Valerian Tauro with his wife Regina. Their home "Budget House", Shivabagh Cross, Mangalore, gradually grew into a 'home museum'(See Mangalore Today magazine January 2016), the gentle folk gradually put together the wonderful collection locally and globally from all corners of the world, now generously handed over to this Ashram at Jeppu, for greater causes, the idea being developed by the Ashram Director Rev. Onil D'Souza and his colleagues, it will prove to be an asset to this Ashram in several ways in the future.

Antony Ashram's new Museum: St Anthony Ashram's Museum, one major section now, with John Tauro's great contribution, was inaugurated in a simple ceremony with joy and prayer on September 8, 2020 forenoon – a very significant day, the Nativity celebration for Konkani Catholics of Canara, a harvest family feast of an agricultural community who settled in this fertile land with the good will of the local Tuluva rulers, 500 years ago. Rev Dr Ronald Serrao, Rector of St Joseph's Inter-diocesan Seminary, Jeppu across the road here, blessed the new museum. Rev Serrao, a leading personality of the clergy of Mangalore, has started a Museum of antique church and religious articles used in this area over centuries (See Mangalore Today - September 2020 issue) . He said that protecting and preserving old invaluable articles which are the core of memories is a noble and valuable task for humans and the article's are invaluable treasures. These allow to bring to light the way of life, thinking and future aspirations of the people in the past. He appreciated this great venture and the good people involved and the Ashram's concern and contribution. This new museum houses mainly items generally used from early times to the present, and a collection of curios from all around the world. It has a potential to educate and appease minds in search of the old ways of the past, evolving to recent times.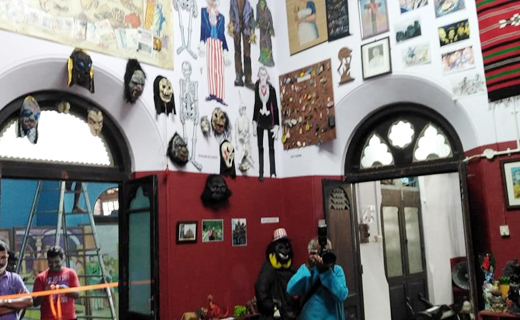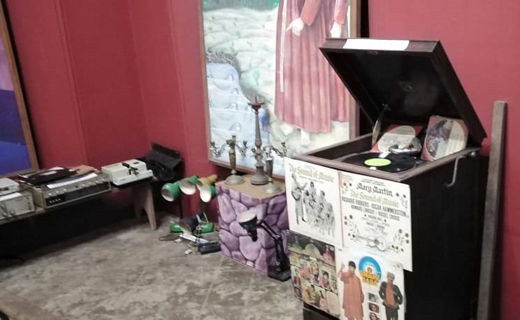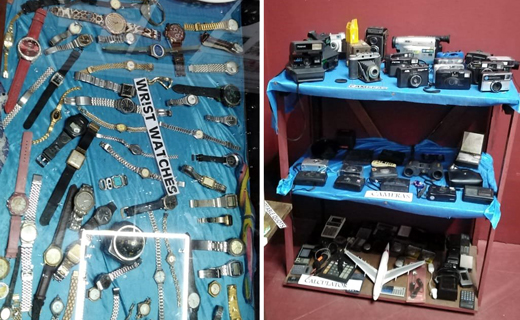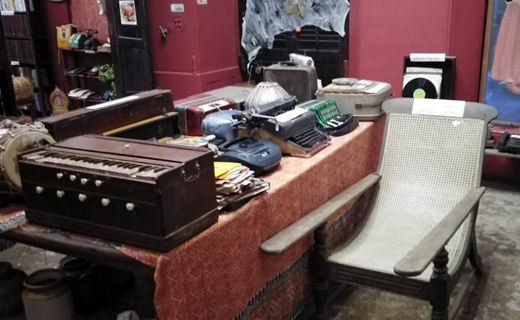 Rev Fr Onil D'Souza, the long serving Director of St.Anthony Charitable Institutions, a sprawling 40 acre land developed for the purpose since a century now houses near 350 destitute men and women, mostly aged and sick,who are cared for holistically ; at least a 100 very deserving students are also given special shelter and support to attend colleges in the city and get educated, all is a boon to these. Rev. Onil D'Souza expressed his deep admiration and gratitude for the Tauro couple and appreciated their invaluable contributions. He said now with phase one well progressed other sections which will focus on religious history and values in the adjacent section of this unique ancient building, giving it a vintage profile. He said that the inmates too are enthusiastic and contribute in whatever manner possible voluntarily. Fr.D'Souza expressly requested that word be spread on this worthy venture and people motivated to visit and contribute their old heirlooms to be protected and preserved here for posterity – what is discarded soon becomes very valuable and can never be recreated in original. He also expressly requests support and contributions for the 100 bed state of the art hospice being built near the old Bungalow, to house mentally ill people. A storied building which will accommodate fifty men and fifty women. It will have high grade modern facilities to take care of the mentally ill people securely - help is needed for this work urgently, now in an advanced stage of furnishing. He was very grateful to all concerned for the concern. Rev Alban Rodrigues, Administrator and Rev Roshan D'Souza, Asst director who are very supportive added to the joy of the occasion with their presence. St Anthony Ashram is a nature blessed inspiration to all who visit.
Mrs & Mr. John V Tauro - generous donors: Cutting the ribbon for this wonderful couple was an honour, appreciated and applauded. John Valerian Tauro, did his early education in native Kirem, a true "Mannina Maga". Young John Tauro was enthusiastic in various extra-curricular activities like sports, debating, music, drawing and painting and he did have a penchant for the unusual. John then headed for Bombay as was the norm then, to make a life for himself, he explored the avenues and went in for a Diploma Course, had to work hard to support himself too. After a while he got a break like few lucky ones to go to the Gulf, he landed in Kuwait in 1970. In 1972 luck smiled on his goodness and was selected as a technician in Kuwait Govt's, Directorate General of Civil Aviation (DGCA). His sincerity, hard work and pleasant nature soon helped him move ahead. After 35 years in the service of DGCA and Kuwait Govt, John retired in 2008 at a senior and prestigious level.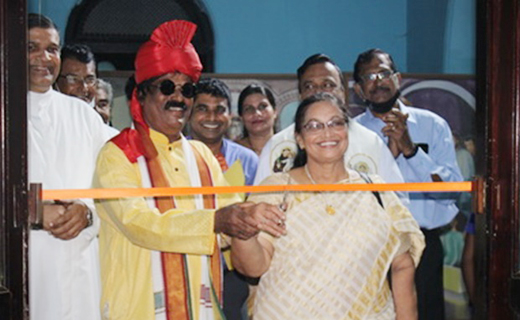 John Tauro married Regina from Belman, February 1978. Regina Tauro served as a dedicated Nurse in the Kuwait health services, she is a very kind and understanding person. John and Regina are blessed with two daughters-Rithika and Monica, both shining stars, married, are in Kuwait along with their families. During his service in Kuwait Civil Aviation, John Tauro had golden opportunities to travel to several lands covering all continents in the last 4 decades. His unique passion and curiosity for travelling and collecting experiences, curios and antiques, and so on got a great boost. Now in his 74th year too he is active and agile in soul, mind and body. Certainly this 'House Museum' is not John Tauro's only achievement; he is a noted social worker and spends considerable time helping the needy in several ways. John Tauro is also a leading contributor to media, he attends various programmes in and around Mangalore; and provides reports and pictures to well known local media organisations and is appreciated and widely recognised.

Old Bungalow housing the museum - historical antique: Dr. Michael Lobo, the well known genealogist of Mangalorean Konkani Community shared historical information on the old rare bungalow housing this museum in St Anthony's Ashram Jeppu. Dr.Lobo states that it originally belonged to John Joseph Britto. He was a well-known prosperous land lord – and much of the land that now belongs to St Anthony's Ashram in Jeppu is part of this Britto family's properties. The site of Fatima Retreat House and so on was donated by John Joseph Britto's younger brother James (Jimmy) Britto. Sherry Bai was a name popularly known in that era, her name is Sabina Severine Britto nee'Coelho, wife of one of the Britto brothers and eldest daughter of John Joseph Coelho who in 1857 built the Codialbail Chapel at his own cost and eventually along with the palatial residence became the Bishop's House, still in peak use today.

Rev Denis Moras Prabhu, former Vicar General and senior priest of Mangalore diocese,a history enthusiast, who has been closely associated with the area, from 1960s, indicated that this old bungalow at St.Antony Ashram was a premier utility building until the new church came into use, since then it has been used for various causes. The bungalow came to the use of the St.Anthony's Charity Institutes in 1935 and the land was acquired in auction for Rs.45,000 as per records he is aware of. The large Britto clan had vast property and a few bungalows of mighty structure in Mangalore. They would have set it up around 150 years ago at least. It was amidst a forest environment, the properties of this philanthropic family, perhaps spread from Nandigudda upto Valencia. It is said, the last to stay in this old bungalow was 'Sherry Bai'' and her children. She hails from a wealthy Coelho family whose members are believed to have donated the area around Retreat House and so on. Even the Bishop's house, and Nehru Maidan originates from this family's properties.

In this St.Anthony's old antique bungalow, which is almost in its original form, the portico was then level to the ground, and was raised later . Horse carts were parked ready for use of the residents . The horses' stable was outside the left wing . It had a very spacious kitchen with the backyard utility was well planned . This bungalow itself is still very sturdy and can go on for decades with little maintenance. It is typically an 'Old Goa' model bungalow, it is essential to preserve it. It has lime mortar (Chunna) plastering, very well known for its long life and can be expected to last for decades to come. This old structure is indeed the right place for this museum and the Supreme powers have brought this great inspiration to fruition and augurs well for the Ashram's future. Many people and institutions are interested in visiting this spot with its nature and domestic animals. When in Mangalore, please do not miss a lovely opportunity to admire, learn and be thrilled.n