Santa the Christmas spirit
Mangalore Today News Network
By I. J. Saldanha Shet

Mangaluru, Dec 19, 2018: Mangaluru is always way ahead in celebrating CHRISTMAS & NEW YEAR - since the Christian influence has been long, wide and strong. The season of Peace, Goodwill, Joy, Happiness are universal. The popular mascot of Christmas is the legendary figure of SANTA CLAUS - the warm portly red personality of Christmas, ever popular and well known!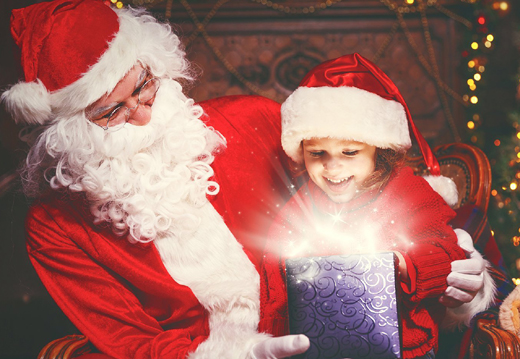 Santa Claus, Saint Nicholas, Father Christmas, or simply Santa is a figure with legendary, origins, said to bring gifts to the homes. The modern figure of Santa Claus is derived from the Dutch figure of 'Sinter Klaas', whose name is an isolated form of 'Saint Nicholas'. 'Santa Claus',originally a 4th century Bishop of Turkey - St.Nicholas. He is known,historically, for his kindness to the poor and needy who used to walk the streets giving away gifts,money and eatables. St.Nicholas was Bishop of Myra in Lycia part of modern turkey, about 340 AD. Just a bit earlier, in 320AD, Pope Julius I, decreed the celebration by the church on 25th December,which had no official date before that. Automatically St. Nicholas' portly figure in the red robes of a Bishop became associated with Christmas season. Later the Dutch took the St.Nicholas legend to the Americas. After the reformation, in early America, the modern image of St.Nicholas, or 'Sinter Klaas' in colloquial Dutch, became 'Santa Claus'. The popular image seen today got it's shape with red out fit and white fur lined suit,huge belly,broad belt and so on depicted by cartoonist Thomas Nast in the US, during the civil war. Over the years it has spread and is recognised universally.

Here in our own India, even little toddlers from all sections of the society know "Santa"! All of us were children at one time no doubt, some fail to out grow it within. The gifts that were left at our bedside early on Christmas morn left us with wonder and awe unlimited, until some years later the bubble burst. These days, 'Krismas Ajja' or 'Chrismis Thathaa' are common in our areas! Backtracking a bit on the facts of SANTA CLAUS is worth while. Through the bright season of Christmas, between mid December and early in the New year-Carol singing,shopping in malls/stores,school parties,social gatherings,charity shows....... and so on is wide spread and one sees the presence of a 'Santa'.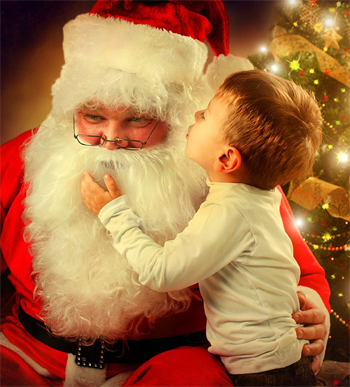 The giant red figure of Santa, sack of gifts and goodies over the shoulder, bells and balloons, arriving in his sledge drawn by reindeer - heartily booming Ho Ho Ho.....is the call mingling with carols and cheers of the children and adults! Santa coming down the old chimney is too far fetched today, in the new context. The childhood scenario is etched on unforgettable memories which make the past,present and future of the modern civilized life. Many variations of Santa are emerging constantly; the female gender is quite popular too in a broader sense! Sadly instances of extremists misusing, Santa's generous costume also exist. The nostalgia is limitless! Bright lights, grand fare are common at celebrations modern, with spreading wealth and multiplying unaccountable money bags. Shockingly it does not help reduce the scourge of poverty, home less street people, the exploited,rejected, orphans all over the world. Environment and ecology are endangered. Yes, C'mas has come to abound in Santa, C'mas trees, holiday trips, feasting, alcohol and such that are not the original focus; Christ that can raise humans to the level of angels has lost his place. Will suffering reduce and will there be a better world and a time of good will and hope to make the NEW YEAR 2019 and the future filled with PEACE and HARMONY for all - is a question that must be contemplated by all of us.

At this special time we extend ALL GOOD WISHES, JOY AND HAPPINESS TO ONE & ALL. MERRY CHRISTMAS.