Flushing Meadows - A Vintage Mansion
Mangalore Today News Network
By I. J. Saldanha Shet

Mangaluru, June 15, 2019: This sprawling old mansion home, "Flushing Meadows" near 'Pandeshwar Katte', in the old quarter of Mangalore, is indeed classic and ancient. The history and mystery awaiting to be unraveled in its aging melancholy respite is chilling - but to unravel the high life it has seen in the hoary past is thrilling. This place just fits into the category of old abodes called 'Aristocratic Bungalows' are succumbing to modernity; yet there are many old homes that are admirable. With the locally produced 'country tiles' and 'Mangalore Tiles' making up the roof that gave it the look of having a regal crown, still admired. Mangalore Tiles once were seen to provide the best roofing to famous buildings the world over, and many still exist. 'Mangalore Today' has published articles on the local tile industry too, as also many historic spots of the city and beyond, in its 22 year active life. Huge and regal as this bungalow is, situated on about an acre of land attracts curiosity. It was for long the proud possession of Mr. Joachim Pinto of the famous Pinto's of tile manufacturing fame of Bolar and his wife Mrs Blanche Pinto nee' Vas, who lived in the mansion till 2010. The Pinto brothers purchased this property from a local businessman, one Hajee Abdul Khadar Bava; in March 1949, 1.11 acres of land for Rs.33,000, Hajee Bava hailed from a reputed Bunder based Muslim business family of the city.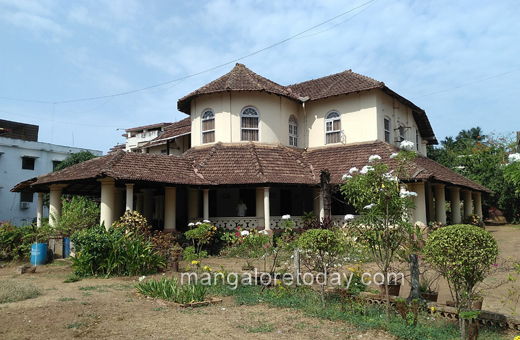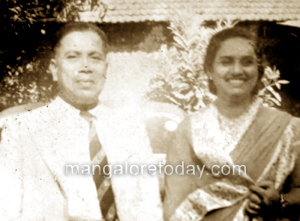 Joachim Pinto and Blanche Pinto
Since the present occupants/owners have been fairly open to genuinely interested people looking at it, an opportunity to put together a sketchy history has been made possible. Situated not far from the Holy Rosary Cathedral and Forum Mall, it catches the eye of observant people. One Sunday evening in the month of April, visiting here, it was interesting to note the IGP (Western Range) Sri Arun Chakravarthy IPS, dropped by informally, it is said he is curious about old mansions and history in general. The present occupants Mr Harold Vas, his sister Ms.Mavis Vas and their nephew and niece Dr. Julian & Dr. Prema Saldanha, accommodated and explained that enthusiasts of the old Mangalore history drop by, filled with enthusiastic joy.

The vintage building, old pictures, paintings, furniture and so on was open to admiration; it gave one the feeling that such old places of interest can create a human bond and understanding that has no substitute - a bond of blood. It was said that about a year ago, parts of a Tulu film, "Appe Teacher" was filmed in this historic mansion and the old home stead acquired a wider interest value generally.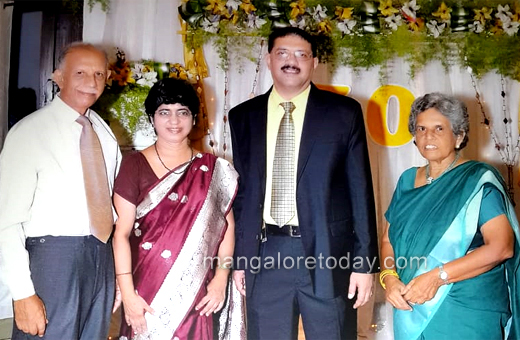 (LtoR): Mr Harold Vas, Dr. Prema Saldanha, Dr. Julian Saldanha and Ms.Mavis Vas


The property and back drop:
Hajee Abdul Khadar Bava, on Feb 24, 1943, purchased the above property from Mrs.Margaret Mary Alvares, wife of Joseph Alvares (1867-1965). Joseph is the nephew/elder brother's son of Simon Alvares (1851-1919), both well known personalities of Pandeshwar/Bolar, tile manufacturers, businessman and philanthropists; also their wives, Grace and Margaret, are sisters. The sprawling house it appears was at this point of time well marked in the area; Blanche Pinto, in 1949, occupying the house, gave it the present name, 'Flushing Meadows' and the name of the place in New york US was just catching on. Joseph Alvares and Simon Alvares, prominent in Bolar then, married into the Bolar branch of the Saldanha family, the daughters of Louis Lawrence Saldanha, (c1832) who lived in the Rosario Cathedral Compound, his house known as "Bridge House" is in existence, it was given to the church and later sold out.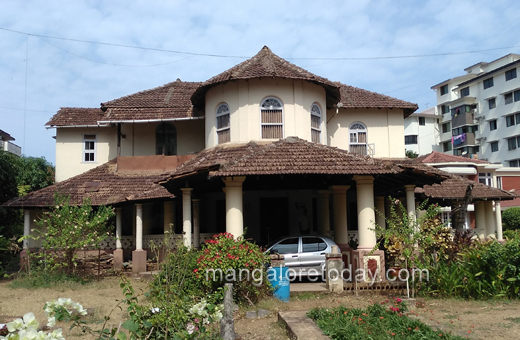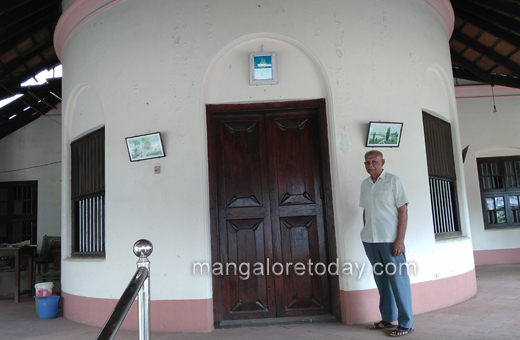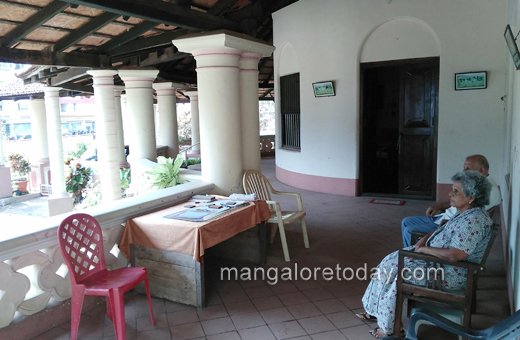 Mr. Joachim Pinto was the son of Mr Andrew Benjamin Pinto and Christine Pinto, tile manufacturers by the name 'AB Pinto & Sons' in the vicinity of Bolar - near the present "Hale Kote Mukya Prana Temple", (near Mangala Devi Temple from which Mangaluru derives it's name) situated on the Eastern Bank along the river, opposite the the estuary of the Nethravati river and Arabian Sea, there is also an old Masjid near by. It is known that the original Fort of the Portuguese settlers, with the Konkani Catholic workers, came up in this vicinity early in 1500s. The Pinto's were one of the leading tile manufacturers, like the Albuquerque, Alvares, Rego, Noronha clans, these Mangalore Tiles became world famous and widely used in the latter part of 19th century. The dawn of modern cement and concrete technology, made tiles superfluous.

The tile manufacturing business was a flourishing business in South Kanara for decades (1870s to 1950s), tiles were exported world wide and earned great name and fame. Joachim Pinto married Blanche Vas in 1942 at Milagres church. He was ' man-on-the-spot' in running of the day to day matters of the factories of AB Pinto & Sons along with his brothers. His wife, Mrs. Blanche Pinto nee' Vas, was daughter of the prominent family of Mr. Julian Vas and Mrs. Alice Vas of Falnir, Mangalore. Mr Julian Vas, Coffee Planter and was Govt Official. Coffee estates were mostly in Chikmagalur and Hassan, the family had vast lands in Manjeshwar too. Konkani Catholic Community was famous for agriculture, tiles, coffee, pepper plantations/estates and trading, their education and integrity made them in demand for Government assignments too. There are interesting aspects of Mangalore Catholic Society of the tile and coffee plantation families coming together - a few books have also dealt with this elite life of adventure in old times. Joachim Pinto was intensely occupied on working of the tile factory, his wife Blanche plunged herself in social activities at Ladies club and was a municipal councillor too; involvement in Church activities was vital, they had no children. Information here has been obtained from various sources and Genealogy publications by the Mangalore expert Dr. Micheal Lobo of Bijey.
The Mansion and Historicity:
This majestic old Mansion house – the huge building is fairly well maintained even now, is an attractive piece of old architecture. In it's construction only stones/cut laterite, mud and lime/chunam is used, wood is extensively used too – no cement at all in those days and it estimated to be about 140 years old at least. A well known Dr. Abundius D'Abreu (1888-1971), practised in Mangalore and was an Army surgeon in WWI, later he settled in Waterford, Ireland. Visiting 'Flushing Meadows' in the 1950s, Dr.Abreo, himself around 70 years of age then, was very clear in mind and revealed that he was born in this very lofty mansion in 1888, recall the present occupants. Famous Mangalore Genealogist Dr. Lobo states, " I believe that the house was originally erected by Peter Hyacinth Noronha (1834-1880) and his eldest grandchild was born there. This eldest grandchild was Abundius Abreo (1888-1971)." They had a close family relationship with the popular Simon Alvares uncle of Joseph & Margret Mary Alvares, who once owned this Bungalow, but normally lived in Mumbai later. Eventually Simon Alvares took over the affairs of Abreo's Tile Factory too, he died in 1919, is buried in Rosario Cathedral -Rebuilt 1915. There is credible reason to assume that this house is not less than 140 years old.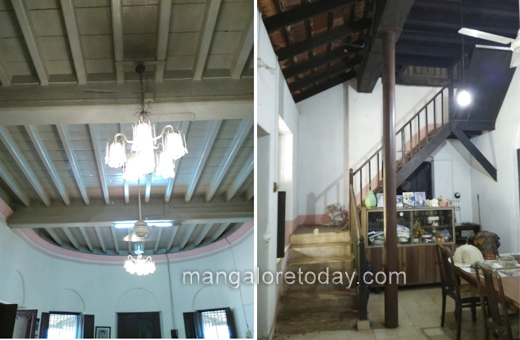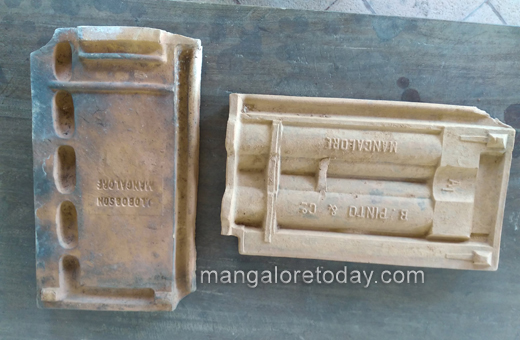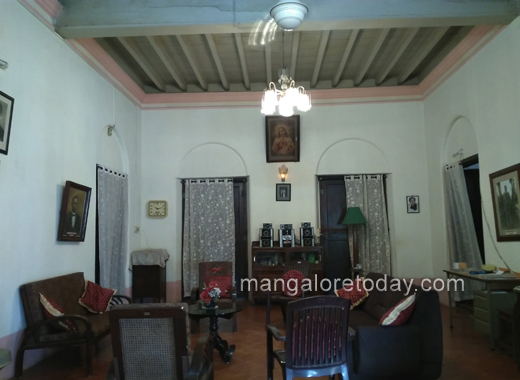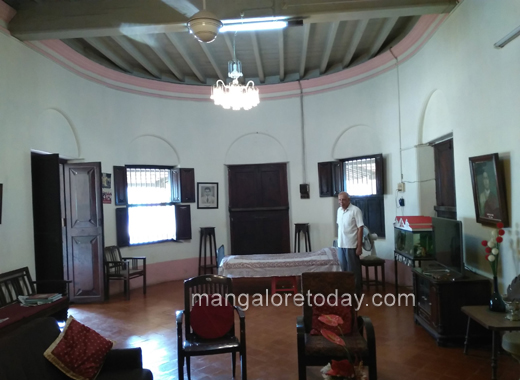 The huge wooden beams supporting the top floor which is again made up of mud and clay tiles. A wide veranda is around the house on three sides and the total length of it is 210 feet . The area of the hall/living/sitting room is about 550 sq.ft, its shape is unique, an oval truncated. Two bed rooms are 280 sq.ft each, on either side of the Hall with baths and big windows, then the dining room with stairs leading to the upper story. On the rear are kitchens, stores, more baths, servants quarters and so on. The lower floor verandah gives a spacious scope to the Bungalow planned for Mangalore's humid tropical climate and heavy monsoons. The upper floor too has the same number of rooms as the lower floor, but without the verandahs - a turret sitting room in the front section can be seen clearly. The lower floor hall, has two front facing windows and has the perfect number of doors, seven! One door is the main entrance, two leading to the verandah, two into the bed rooms and two into the dining rooms. The wooden high ceiling is a wonder as it has 3 huge beams of a great teak tree each. Some greenery is visible around, but water scarcity and labour prevents a better profile - in times gone by the garden, flowers , birds, fish and so on attracted many children of the area then, who still recall, a blessing indeed.

The front verandah pillars are large round structures, holding up the load of the roofs squarely. There are 12 such pillars with equal numbers of small round pillars that gives the whole structure a royal magnificent look. This house property is said to have seen many occupants over the years. It was rented out as quarters for British Govt officials and their servants. Recently about 6 years ago (around 2013) an elderly Tamilian gentleman came here with his family to see the house. He said he remembers quite vividly playing here as a small boy, as his father was posted as DMO in Mangalore was occupying this house as his quarters, this could have been around independence in 1947. He was really happy to see the place as it has remained the same as his memory goes, even after so many years, - it is proof also that this was a prime residence occupied constantly. The 21st century scenario is 'development' without due plan or control; high rise apartments and commercial eyesore is all around - 'Smart City' ghosts are set to haunt even more sooner than later.

Mr Jochim Pinto died at a fairly young age in 1958. His wife Blanche survived here for 52 more years, died at the age of 89 in 2010. The present occupants are her younger brother Mr Harold Vas, younger sister Ms. Mavis Vas, both now in their late 70s. The owners, are nephew (Mrs.Blanche Pinto's sister's son) Dr. Julian Saldanha, who has lived here since childhood; his wife Dr. Prema Saldanha (nee'D'Souza) lives here by virtue of marriage. Indeed this vintage old mansion home has been preserved and cared for in a proud manner and it is a credit to the occupant owners through the times, it stands strong and sturdy, an attractive treasure of a century and a half, to those who admire and protect its past and uphold its majestic grandeur for times to come.