Líaffaire - Ashu & Yiju of Mangalore
Mangalore Today News Network
By Dr. G. ShreeKumar Menon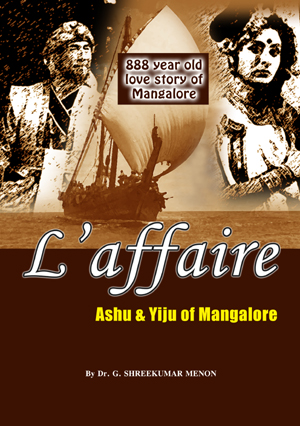 Mangaluru, June 26, 2018: History is replete with celebrated love affairs between kings and courtesans, slaves and royalty, rich and poor, young and old, battles were fought for love,kingdoms were renounced for love and crimes committed for love.

"Brilliant to look upon, and to listen to, with the power to subjugate everyone." that was the description of Cleopatra, queen of Egypt. She could have had anything or anyone she wanted, but she fell passionately in love with the Roman General Mark Antony. As Shakespeare depicts it, their relationship was volatile ("Fool! Don't you see now that I could have poisoned you a hundred times had I been able to live without you," Cleopatra said) but after they risked all in a war on Rome and lost, they chose to die together in 30 BC. "I will be a bridegroom in my death, and run into it as to a lover's bed," said Antony. And Cleopatra followed, by clasping a poisonous asp to her breast. Among the most that are immortal are:

Famous Love Stories In History And Literature:
• Romeo and Juliet.
• Cleopatra and Mark Antony.
• Lancelot and Guinevere.
• Paris and Helena. ...
• Orpheus and Eurydice.
• Napoleon and Josephine. ...

Great Indian Love Stories:
• Anarkali and Salim. ...
• Nurjahan and Jahangir. ...
• Shah Jahan and Mumtaz Mahal. ...
• Shivaji and Saibai. ...
• Baji Rao and Mastani. ...

Love stories in Indian Holy Scriptures
The God and Goddess of Love, the beautiful couple Kama and Rati have the strangest love story of their own that are not spared the pain of grief and separation.
Lord Krishna, himself was a symbol of romance and the love of Radha and Krishna is considered, both divine and sublime.

The tempestuous romance of the heavenly Apsara Menaka and Sage Vishwamitra is an interesting tale of a seductress who falls in love with the man she is sent to destroy.

The love story of their daughter Shaku-ntala and Dushyant gets immortalized by poet Kalidas though varying from the original in the Mahabharat.

The love story of Shiva and Parvati is unique; as it springs from another doomed romance, that of Shiva and Sati.

Defeating death is the love story of Satyavan and Savitri.

The Mahabharat also recounts the love story of Nala and Damayanti, Arjun and Subhadra, Arjun and Draupadi, Pandu and Kunti, and the adulterous love of Tara and Chandra.
The Ramayan extols the love stories of Lord Rama and Sita Devi, Lakshman and Urmila, Ravan's son Meghnad and Sulochana

Love often triumphs, many a time despairs and looses, but survives to tell beautiful, and unusual strange love stories. One such love story more ancient than that of Shah Jahan and Mumtaz Mahal, set in the years 1130-1150 AD, that too, set in the city with six different names in six different languages, Kudla in Tulu, Maikal in Beary, Kodiyal in Konkani, Mangalapuram in Malayalam, Mangaluru in Kannada, and Mangalore in English is that of Ashu and Yiju. This love story that bloomed in Mangalore is even older, than the first detailed description of Mangalore, by traveler historian Ibn Batuta, in 1340.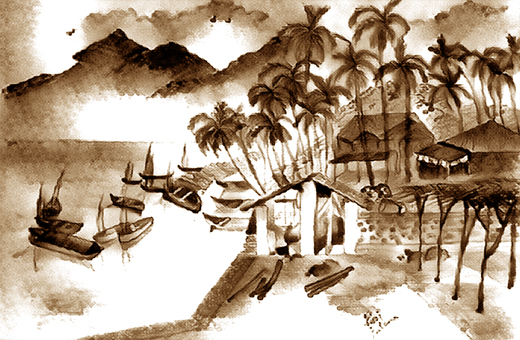 Mangalore of 1130 AD was "… typical of ports on the southwest coast of India. The harbor was at the mouth of a river, and a narrow sandbar parallel to the coast protected a shallow lagoon from the Indian Ocean waves. Lush tropical greenery, particularly coconut trees, spread up the hills behind the harbor. The fortified houses of the merchants also served as warehouses and clustered close to the beach. The port was otherwise unprotected by a wall, guns or other defenses. A heterogeneous community of Arabs, Gujaratis, Tamils, Jews and others might have numbered between 2000 and 3000. The profits of this port, like other competing ports up and down the coast, began far inland in the green hills of the Western Ghats. Black pepper was native to these hills and grew in few other places on the earth. The hills also produced cardamom, coriander, ginger, turmeric, cloves, nutmeg, and more than a dozen other spices. These nuts and plants, some gathered, some cultivated, were used in lotions for the body, in medicines, and as flavors for foods. ….. For Abraham and other traders at Mangalore, black pepper was the core of the spice trade, both as flavoring and medicine." (5)


During the reign of the Alupa king Kavi Alupendra (c. 1110 – c.1160), the city was visited by the Tunisian Jewish merchant Abraham B. Perahya Ben Yiju, who hailed from the town of Al Mahdiyya, in Tunisia, and who was well known for his wealth and calligraphy skills.

He settled down in Mangalore and was engaged in exporting Ginger, Pepper and Betel Nuts. He later set up a brass factory. On October 17th 1132 Yiju met a dusky Nair beauty named Ashu, who hailed from either Kannur or nearby Balipatnam, and was in some kind of slavery in Mangalore.

"Who was this Ashu?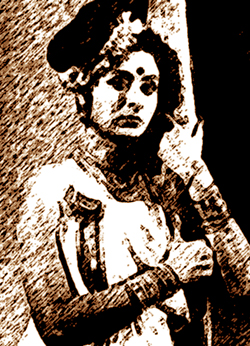 There is only one ambiguous reference in all of Abraham bin Yiju's letters that identifies Ashu as a Nair. This stray bit of information creates more questions than answers. Nairs, along with Brahmins, were generally the elite of Malabar. Nairs were first and foremost warriors. A few Nair families headed local kingdoms, but many families were tenant overseers of lands held by Brahmins or temples. Some Nair girls married "up" into Brahmin families. Later evidence suggests that some Nairs were merely menial servants of Brahmin families and relatively poor……… It thus seems unlikely that a woman from this wealthy and powerful caste could be a slave and needed manumission. Modern anthropological research has collected stories of "olden times" and from this research comes a strong suggestion of how a Nair woman could become a slave. After a puberty ceremony, a Nair woman could receive men from outside her lineage as long as they were of higher status. If however, she formed a liaison with a Nair of lower status or a man of a lower caste, the family was deeply shamed. They could only remove this blot on their honor by killing the woman or giving her as a slave to the king. The king regularly sold these slaves to foreign merchants. This is likely Ashu's story."(5)

Her name 'Ashu' could be a term of endearment, and could not be her real name. He apparently liberated her because he fell in love with her. Yiju stayed in Mangalore for nearly 17 years. Their union resulted in the birth of three children, two sons and a daughter. One son died, the other was named Surur and the daughter was named Sitt Al Dar.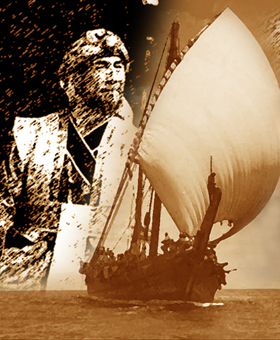 The Norman Conquest of Tunisia upset the smooth life of Abraham Yiju in Mangalore. Worried about his family members in Tunisia he left Mangalore with his children in 1149. Historians are divided whether Ashu left with him or not. Some say she remained in Mangalore, due to the custom of matrilineal system among the Nairs, where the womenfolk have an independent identity which is not linked to that of the husband.

Yiju's son Surur died at the age of 20, the daughter Sitt Al Dar only survived. The father and daughter later went to Egypt where she got married to Yiju's elder brother's son Perahya. Here also, Historians are divided whether the marriage was solemnized when Yiju was alive or after his death. They are supposed to have settled down in Alexandria.

Abraham Bin Yiju died on August 11th, 1156.

Sitt Al Dar deposited all her father's letters numbering around 80 in the Geniza, attached to the Ben Ezra Synagogue in Fostat.A Geniza is the place within a Synagogue where all papers containing the name of God are deposited for eventual burial.

Interestingly, a research group probing how the gene mtDNA-haplogroup D landed up among European Jews, opine that such a group could have come to Europe via Ashu or her daughter who came with Yiju!
The deed of Manumission (Deed of freeing from slavery) between Ben Yiju and Ashu is preserved at the Institute of the Peoples of Asia at St. Petersburg in Russia No other 'marriage' certificate has remained intact for so long a time, in history! The deed of Manumission was dated October 17th, 1132 AD, which means that on October 17th 2018, it will be the 886th anniversary of their union of love, and in 2020 we get the magical figure of 888thanniversary. Should Mangloreans not make it into a great celebration?

References:
1. India Book", India Traders of the Middle Ages: Documents from the Cairo Geniza, by S.D. Goitein and Mordechai Friedman (2008)
2. The Story of MS.H.6' by Amitav Ghosh
3. In an Antique Land by Amitav Ghosh
4. Maddy's Ramblings – Abraham, Ashu and the Genizah
5. WAWTW Chapter 5: Abraham bin Yiju