Vice President elect Naidu moves on from nadir to zenith, the phenomenal journey
Mangalore Today News Network
New Delhi, August 7, 2017: A wonderful pilgrimage from pasting party posters to an epitome of political and ideological loyalty who rose to become one of BJP's most visible leaders and now India's vice president-elect, Muppavarapu Venkaiah Naidu has moved up a long way.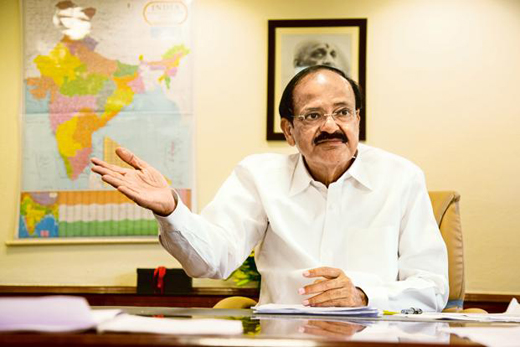 Born to a humble agricultural family in Andhra Pradesh's Nellore district, the 68-year-old has served as BJP president, minister in various portfolios and a long-time Rajya Sabha member. This remarkable career in politics has been more than four decades in the making. It began in the 1970s when BJP's precursor Jana Sangh was a marginal player with little clout in the south and a young party worker kept himself busy putting up posters of stalwarts such as Atal Bihari Vajpayee and L K Advani.

Naidu has come a long way since those days of political obscurity. "Coming from an agricultural background, I never imagined I would be here. Agriculture has no proper voice in Indian polity," India's vice president-elect told PTI. "I am very humbled. I am also thankful to the Prime Minister and all party leaders for their support. I will seek to utilise the vice presidential institution to strengthen the hands of the president and uphold the dignity of the Upper House," he added.

Naidu is known for his oratory. A two-term member of the Andhra Pradesh Legislative Assembly, he was elected to the Rajya Sabha three times from Karnataka. He represented Rajasthan in the Upper House of Parliament before he was nominated to the vice president's post by the NDA.

Once an Advani protege, Naidu vigorously backed Modi for the prime minister's post before the 2014 elections. He was minister for Information and Broadcasting and Housing and Urban Affairs in the Modi government and earlier also held the Parliamentary Affairs portfolio.

In the previous NDA government led by Vajpayee, he had served as Rural Development Minister. The veteran party leader also served as the BJP national president from July 2002 to October 2004 for two consecutive terms.

He quit the post after the party's defeat in the 2004 Lok Sabha elections. Naidu was an ABVP activist during the Emergency and was arrested and jailed. As the first minister of Parliamentary Affairs in the Modi government, Naidu defended the prime minister and the government whenever the opposition targeted them in Parliament.

He had also ensured high political outreach by meeting Congress chief Sonia Gandhi when there was a standoff between the government and the opposition in Parliament. Several major legislations were cleared by Parliament when he was Parliamentary Affairs Minister, including the historic Real Estate Act and fast forwarding of the GST Bill. Known for coining acronyms, Naidu termed the mission of the Modi Government as 'MODI- Making of Developed India' which had become the official line of the Centre in its public outreach campaign on the occasion of three years of being in office.

As the minister for Information and Broadcasting, he was always quick to present issues in perspective with effective repartee as and when required.

As Minister of Urban Development and Housing and Urban Poverty Alleviation, which was recently merged as Housing and Urban Affairs, Naidu pioneered the launch of several new urban missions, including the Smart City Mission, Atal Mission, Swachh Bharat Mission and Housing for All.
As Rural Development Minister, Naidu was instrumental in launching the hugely popular 'Pradhan Mantri Gram Sadak Yojana'.

When the Congress swept the polls in Andhra Pradesh in 1978, Naidu got elected as MLA from Udayagiri constituency as a Janata Party candidate.

He was re-elected on a BJP ticket when N T Rama Rao swept the polls in the state. But all that has receded into the past. "There is no my party or your party. Now I am a non-party man," Naidu told reporters as the election for the vice president got underway.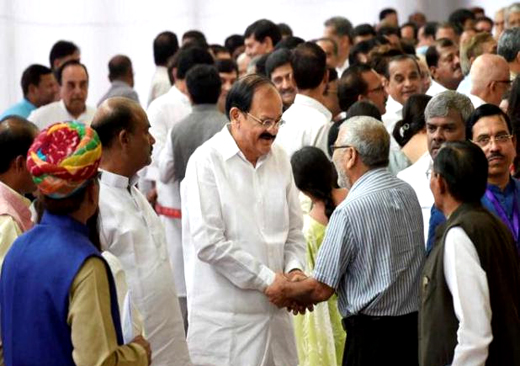 All about India's Vice President elect Venkaiah Naidu
NDA nominee M Venkaiah Naidu was on August 5, Saturday elected as the country's next Vice President defeating opposition candidate Gopalkrishna Gandhi by a margin of 272 votes.

Naidu secured 516 votes while Gandhi got 244 votes. Of the 771 votes polled, 11 votes were declared invalid.

"As M. Venkaiah Naidu secured greater than the requisite quota of votes, I declare him as duly elected to the office of the Vice President of India," Secretary General of Rajya Sabha and Returning Officer, Shumsher K. Sheriff, told reporters.

The party loyalist
"It is this nearly 40-year long legislative experience, with friendships that he has struck with leaders of all hues, that should help Venkaiah conduct Rajya Sabha proceedings, where BJP-led National Democratic Alliance is in minority and unlikely to cross the halfway mark until 2022. The Vice President is also the chairperson of the Rajya Sabha. But Venkaiah considers the loyalty to his party the leitmotif of his political career," Archis Mohan writes for Business Standard.

"The Rajya Sabha has a number of political heavyweights — P Chidambaram, Ghulam Nabi Azad, Digvijay Singh, Kapil Sibal etc., in the Congress; Ram Gopal Yadav in SP; Mayawati in BSP, etc. Both the Prime Minister and Amit Shah wanted an experienced man of stature with flexibility and pragmatism to conduct the House smoothly," a party leader told The Indian Express.

Mihir Swarup Sharma in a piece for NDTV writes that Venkaiah is not really a match for the NDA's three previous candidates for the post of VP, i.e. Bhairon Singh Shekhawat (2002), Najma Heptullah (2007) and Jaswant Singh (2012). However, the BJP could be rewarding him for his loyalty towards the party and Modi.

"At 68, Mr. Naidu is the senior-most leader in the party after the trio of former Prime Minister Atal Bihari Vajpayee, former Home Minister L.K. Advani and former Human Resources Development Minister Murli Manohar Joshi, writes Nistula Hebbar in The Hindu.

From RSS to BJP's most recognised face from the South
Muppavarapu Venkaiah Naidu entered the RSS by accident - his links began in childhood when he chanced upon a 'shakha' while playing. Within some decades, he was the BJP's best-known leader from southern India, one famous for witty one-liners.

A key member of Prime Minister Narendra Modi's cabinet, the now 68-year-old cut his political teeth during the "Emergency" of 1975-77 when he went underground against the government of Indira Gandhi and eventually got jailed.

He remained underground until his arrest, distributing anti-government literature in educational institutions in Andhra Pradesh and Tamil Nadu, travelling on a scooter along with a woman activist on pillion in a bid not to arouse suspicion.

He was accused of disturbing a meeting of Sanjay Gandhi and was handcuffed during transit from one jail to the other.

Venkaiah hit the national scene when he was one of the prominent opposition spokespersons along with S Jaipal Reddy, who was then in Janata Party, during the campaign by NT Rama Rao after his dismissal as the Andhra Pradesh Chief Minister by Indira Gandhi in the 1980s.

Even though the Bharatiya Janata Party was on a weak wicket in southern India, Venkaiah embraced it tightly.

A quick-witted and effective communicator steeped in RSS/BJP ideology, Venkaiah rose from the ranks to become the party President and a Union Minister.

Venkaiah has been a trouble-shooter for the government as also one of its best communicators with his alliterative and catchy one-liners. He has friends across political parties. It will help him as Chairman of the Rajya Sabha where the BJP still does not have a majority.

Venkaiah is quick to respond to criticism from the opposition.

A brief profile
He has handled key organisational assignments in the BJP and became its President in 2002.

Venkaiah had three continuous terms in the Rajya Sabha from Karnataka from 1998 to 2016, when he shifted to Rajasthan to get a fourth term.

He was Rural Development Minister during the first NDA government led by Atal Bihari Vajpayee, his inspiration along with senior party leader LK Advani.

Born on July 1, 1949 in Nellore district of Andhra Pradesh, Venkaiah was president of the Students Union, VR College, Nellore. In 1973-74, he was president of the Students Union of Andhra University Colleges.

Venkaiah pursued law and was involved in the movement launched by Jayaprakash Narayan.

He was President of the youth wing of the Janata Party in Andhra Pradesh from 1977 to 1980. After Emergency, he was elected to the Andhra Pradesh assembly in 1978 and was a legislator till 1985.

After the BJP was formed in 1980, he became vice president of its youth wing.

He was leader of the BJP Legislature Party in Andhra Pradesh, state general secretary and state unit chief.

Venkaiah was the BJP General Secretary in 1993-2000 and its spokesperson in between. He has been a part of apex committees of the party, including its parliamentary board and Central Election Committee.