Eid insight - The giver of glad tidings
Mangalore Today News Network
December 13, 2016: On the occassion of Eid-e-Milad, le us make a brief introverted reflection today December 13. The creation of everything existing in the universe is purposeful. God created man with a noble purpose, but man would not know it, unless it is revealed to him by his Creator. This is revealed to him through prophets from time to time in every nation. Prophet Muhammad (PBHU - peace and blessings be upon him) is the last in the chain of prophets, and he was sent to all mankind (Qur'an 34:28).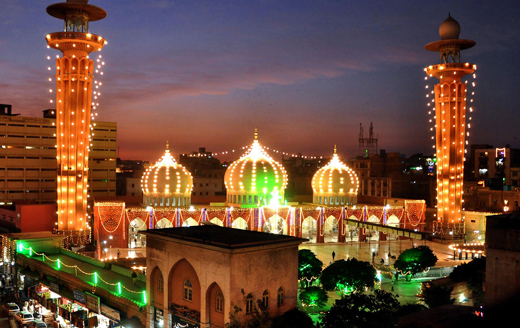 Prophet Muhammad (PBUH) was born in Makkah on 12th of Rabi-al-Awwal (November 11, 569 AD). He was born in a noble family of Hashim clan belonging to Quraish tribe. At the age of 25, he married a 40-year-old widow named Khadija. After marriage, he spent his time in lonely meditation and received his first Divine Revelation in the solitude of the mountains in the cave of Hira. He proclaimed that God had inspired him to be his messenger to the whole mankind. "And We have not sent you except as a giver of glad tidings and warner to all mankind, but most of men know not. (Qur'an-34:28).

His wife Khadija, cousin Ali, adopted son Zaid and his close and faithful friend Abu Bakr believed him to be the prophet of Allah. They were familiar with his past that he never speaks anything but the truth. He openly invited people to Islam. "Worship none but Allah, the One. I warn you the great fire of Hell." The good among his clan and tribe embraced Islam. When he began to denounce idolatry and superstitious practices, he was bitterly persecuted. He later migrated to Madinah, where he made hundreds of followers. The Muslim Era (Hijrah) dates from this event.

After 22 years of consistant efforts, Prophet Muhammad changed the Arabian Peninsula from paganism and idolatory to worship of One God, from tribal quarrels and wars to national solidarity and cohesion, from drunkenness and debauchery to sobriety and piety, from lawlessness and anarchy to disciplined living and from utter bankruptcy to the highest standard of moral living. In the 10th year of Hijrah, Prophet Muhammad went for the Hajj. He delivered the Last Sermon, which is rightfully called 'The First and Final World Order'. His strenuous life came to an end in the year 11 Hijrah (632 AD).