The Aged, Corona and a New World
Mangalore Today News Network
By I J Saldanha Shet

Mangaluru, June 19, 2021: Older people now find it very difficult to adjust themselves in the fast changing modern world. This causes a lot of worry and younger generations do not try to value their elderly members. They term elderly people as conservative and consider them as a burden on their life. Current Coronavirus situation has further worsened life, says a 75 year old. Hardships and sufferings of the aged, the ailing and suffering are common to be felt after 65 or 70 - they can rarely be known to younger people or those untrained in geriatrics. Ignored, as humans they have become devalued - Corona Pandemic has brought on serious all around distress to the aged and the second spell now is set to be disastrous. The aged in various places who were quite good in 2020, now in 2021 are a shocked and frightened lot unable to comprehend the many goings on. Corona Pandemic is causing incalculable misery to the old and young too and it is impossible to gauge and hope for a future.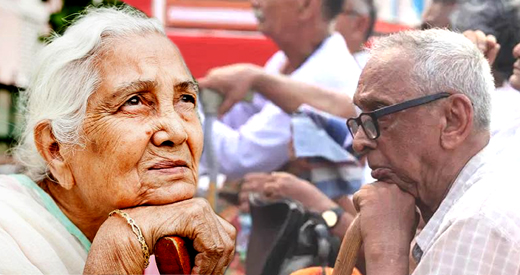 One major and damaging factor is the apathy and even a cruel indifference of those in authority and responsibility; apathy of social leaders and even religious leaders. Consider the vital need during this treacherous second spell of Corona in Karnataka - even at the end of April when all above 18 years are set to be vaccinated, the elderly say 75 plus and sick or bedridden find no way to get vaccinated. No serious plan is visible to form teams that can go to old age homes and care centres to vaccinate the very critical among the aged in any part of India.

Today, most older people are going through a very bad phase in their life. In view of the Coronavirus threat, affected elderly need to be assured of all possible help and support. Their children and family members too need to be sensitized about needs and rights of their elderly family members," Himanshu Rath, Chairman, Agewell Foundation said. "At the same time, elderly themselves need to be educated about facilities, support systems, legal provisions and non-formal support networks, accessible and available to them," he said.

The other impact that is causing a holocaust to destabilize human life in India is the economy that is invading the common man's day to day subsistence. The financial establishments – Banks & Co-operatives and so on. Have deeply undermined the interest rates on savings which is a serious worry and even terror. Just last week it was a big riddle when the Hon Finance Minister suddenly announced a shocking cut in small savings interest rates and equally suddenly withdrew the orders – it is a preview of what is to come sooner than later.

Old Age Care: Commercial ventures in the guise of service institutions and many super financed institutions and NGOs aiming to rake in money into certain pockets and flex super muscle power. In many old age care institutions, vested interests of all hues are now learning that there is good money to make and commercializing with extreme exploitation. With the 'New Normal' in place food quality and service, general and sanitary services have gone down visibly - cheap salvaged vegetables and non-veg stuff is common. Very often motivated refusal to allow family to visit and interact is denied citing Corona.

Lack of transparency and accountability often leads to corrupt practices in any organization. Blind goals and 'Get-rich-rich-quick" thinking in the management of old age shelters is now catching on all over. Medical care is most often whimsical and without regulation and supervision; the untrained are the first line caregivers with non-existent supervision. Frequent change of caregivers is disconcerting to the helpless sick and aged. High personnel turnover and use of selfish inept personnel are a bane. The vital requirements of proper food and system oriented to the needs of the aged sick, goes for a toss; as everything is tailored to the management and staff group and not the aged - one eats to live and the other lives to eat. It is evident many health care institutions and old age homes run by various entities give commercialism the first place and big money is the main aim.

The management of old age homes focuses on sickness and cultivating the sick/aged, a means to create more sick and crippled in body, soul and mind and the people who work for the cause will only fall into crime, sin and retribution. People fail to stand up for truth and justice. Sickness is the aim as against wellness and the aged sick have no voice. Old age plans and so on have little use when the aged person is not in control and dependent on caregivers - the chain is only as strong as its weakest link. Wellness - the main need of the aged does not figure anywhere, treatment of the sick, with all attendant torture and high expense is the norm.

In the case of many institutions, 'outsourcing' in a clandestine and haphazard manner, lacking any framework or system, wasteful expense and fleecing families is heatless. The primary aim is to support and enhance as per fancy of management. Introducing non-existent rules while the aged and true grass root caregivers suffer unnecessarily, managements are pampered.

Consideration and understanding with constructive mutual dialogue is totally absent in such institutions. Their one portfolio at all levels is to ignore the sufferers and remain evasive and nonchalant, this is applicable at all levels. . There is no platform for exchange and communication, no grievance redress mechanisms.

Vital immediate Need: Most vital and needed is that "Affairs of the aged, should come under a proper fully fledged Ministry/Department in State/central governments ...and the official machinery must oversee and monitor all matters about aged people, their welfare and care." A uniform mechanism should be in place to regulate and administer the right and just needs of the aged.

Both the Center and State governments must immediately form 'Ministries and Departments' for the 'Senior Citizen Affairs' as most other causes have such in place. These departments under the govt must organise/monitor services for the aged. At present lacks any consideration and security.....this is most urgent and vital – the pandemic is another reason for urgency.

It can be seen that due to Coronavirus a negative atmosphere has been created around older persons, who are termed as soft targets of Coronavirus. Today even younger family members hesitate to come close to their own elderly family members. Older persons are not only facing social restrictions but also family restrictions, imposed by their own respective families. Older persons suffering from medical complications are not able to visit their doctors. They are not able to interact and share their worries with their friends or relatives. All this has made the life of older persons more critical and it is also affecting them in all kinds of ways.