Forensic Testing Of Drugs-V: Methamphetamine - 'Breaking Bad'
Mangalore Today News Network
By Dr. G. Shreekumar Menon IRS (Rtd), Ph.D. (Narcotics) & Dr. Nirmal Krishnan MBBS, MD, DNB (Forensic Medicine)

Mangaluru, April 2, 2022: 'Breaking Bad' is an American neo-Western crime drama television series depicting the synthesis of methamphetamine, or "crystal meth" which is a huge clandestine industry. "Breaking Bad" captivated television audiences with a storyline about Walter White, a high school chemistry teacher who is diagnosed with lung cancer and worries about the financial security of his family after his demise, which appears to be imminent. He knows that producing crystal meth can be very lucrative and uses his chemical knowledge to start "cooking" the stuff. The chemistry of Methamphetamine in the show is very detailed and informative.The strange title 'Breaking Bad' is a colloquial phrase used in Virginia State in USA, meaning to "raise hell."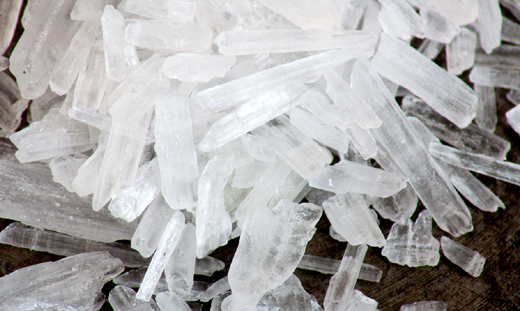 Methamphetamine, indeed raises hell as it is a powerful, highly addictive stimulant that affects the central nervous system. Crystal methamphetamine is a form of the drug that looks like glass fragments or shiny, bluish-white rock.Illegal Methamphetamine is created in meth labs by combining a number of strong chemicals like household cleaners and ingredients common in powerful cough medicines. Due to the ease of obtaining these ingredients, homemade meth became a massive problem in rural America, resulting in widespread addiction, a rash of overdose cases, and incidents of poisoning and explosions caused by the volatile chemicals involved in its manufacture.

India is home to one of the world's biggest chemical industries and is a major source of key meth ingredients like ephedrine and pseudoephedrine, which are both legally used in medications such as decongestants.

Along with China, India is the most commonly cited origin of illicit shipments of these precursor drugs destined for meth labs abroad, particularly in neighbouring Myanmar and evenas far as central America and Africa, according to the UN Office on Drugs and Crime (UNODC).

In February 2022 the Narcotics Control Bureau (NCB), in association with the Indian Navy, seized about 800 kg of drugs worth ₹2,000 crore from a vessel tracked in the high seas beyond India's exclusive economic zone (EEZ) in the Arabian Sea. The NCB found 525 kg of very high-quality hashish and 234 kg of finest quality crystal Methamphetamine, which officials estimated at around ₹2,000 crore in the international market.

Various toxic chemicals are used in the production of methamphetamine. During the 'cooking' process, toxic fumes, spills and vapors are all created that can cause immediate health issues for building tenants and neighbours. Toxic residues are also often left on surfaces throughout a methamphetamine laboratory that can be a danger to future building occupants. Future occupants may not even know the building was formerly used as a secret methamphetamine laboratory. Hence, whenever a methamphetamine seizure is made, enforcement agencies should ensure that appropriate chemical neutralization cleansing is done, in order to make the premises and environment safe for all living beings.

People generally take methamphetamine by:
smoking
swallowing (pill)
snorting
injecting the powder that has been dissolved in water/alcohol

Because the "high" from the drug both starts and fades quickly, people often take repeated doses in a "binge and crash" pattern. In some cases, people take methamphetamine in a form of binging known as a "run," giving up food and sleep while continuing to take the drug every few hours for up to several days.

Long-term methamphetamine use has many negative consequences like:
extreme weight loss
addiction
severe dental problems
intense itching, leading to skin sores from scratching
anxiety
changes in brain structure and function
confusion
memory loss
sleeping problems
violent behavior
paranoia—extreme and unreasonable distrust of others
hallucinations—sensations and images that seem real though they aren't.

Unlike cocaine, a stimulant that's quickly removed from and almost completely metabolized in the body, meth remains in the body, largely unchanged by the body's metabolism—much longer, leading to prolonged stimulant effects. The effects of meth can last anywhere from around 8-24 hours, depending on how much is taken, the time of day, how it was administered (IV, oral, etc.) how well the kidneys and liver are functioning, and the individual's body chemistry. Meth has a half-life of 9-24 hours. This means that it takes 9-24 hours for the amount of meth in a person's blood to be reduced by half.

Although hair and saliva analysis may be obtained, most toxicological monitoring or testing is performed with urine and blood samples. The compound as it is very much lipophilic (lipid soluble), it tends to get absorbed into the body very well by almost every route of administration. As it gets absorbed, the same property helps it to enter the brain, through the bloodat a faster rate. Also, this property helps to by-pass most of the liver enzymes when taken via injectable or inhalational route.

The compound will be excreted in urine after metabolism and can be detected in various body fluids for different intervals of time.

In blood and saliva the chemical can be tested positive starting from several minutes for up to 3 to 5 days after the usage as the metabolism is very slow when compared to other drugs. In urine the excretion is prolonged and can be detected starting from two to three hours up to one week and in hair samples the tests can come positive up to 90 days.

The metabolism of the 'meth' is undertaken by the liver enzymes which can turn it into amphetamine, benzoic acid, hippuric acid or ephedrine which are most of the time a by- product of prescribed amphetamine and related compounds. Since the compound is a man-made chemical, it remains in the blood stream for a longer time when compared to naturally occurring compounds like cocaine and opiates.

The main problem with detection of this chemical is that there are chances of false positive tests. The general tests to detect the drug include Immune assays and Gas chromatography with Mass spectrometry techniques. All these techniques can detect the compound but cannot differentiate the prescription drugs and over the counter drugs from the illicit methamphetamine available in the market. For differentiating between the levorotatory amphetamine which is present in medications and the dextrorotatory amphetamine which is available as illicit form, Chirality testing and differentiating methods has to be employed. This is a cumbersome procedure when routine drug testing is considered, as every sample tested positive has to be subjected to chirality test.

Another associated problem which is least discussed anywhere is the unintended addiction caused to officers during the course of routine investigations. Persons addicted to methamphetamine develop serious health problems, but there is less understanding surrounding the high numbers of law enforcement personnel who experience significant symptoms associated with clandestine methamphetamine drug lab investigations. Many officers routinely handle such volatile chemicals with bare hands and often inhale them as safety equipment is not available. There are high chances of such officials becoming drug addicts unknowingly, as they seize and pack unknown chemicals, transport suspects, and in the course of such performance of duty, their bodies, clothing and vehicles can get contaminated. On-site detection of illicit substances includesnasalperception of drug-related odours. Normally, after detection of a methamphetamine seizure, officials have to spend several hours on site, taking chemical inventories and samples for identification. Officials will thus be in close proximity with many kinds of hazardous chemicals and are likely to suffer from serious ailments in the long run. Even trained sniffer dogs and their handlers get exposed to serious risks, in the course of their duties. The interactions of complex chemical mixtures may produce broad symptom patterns like reduced respiratory function, cough, throat, and eye irritation; variable numbness; heartburn and esophageal reflux, skin rashes; and central nervous system symptoms like chronic headaches, irritability, severe insomnia, fatigue, and even psychosis. Unfortunately, India does not have any special health safety program for our frontline anti-narcotics officials working in Police, Customs, NCB, DRI, State Excise, Coast Guard and other staff working at airports, seaports, and container stations. Even in college hostels, discos, bars, beauty parlours, and massage parlours, where drugs are being abused, hardly anybody knows about the associated risks and health dangers for employees, casual visitors and guest workers. Much needs to be done in this unexplored domain.
Writers can be contacted at: shreemenon48@gmail.com and drnirmalknambiar@gmail.com