KIOCL to have pellet plant at RINL Vizag unit
Mangalore Today News Network
Mangaluru, Jan 7, 2018: Speaking to reporters at KIOCL here on Jan 6, Saturday, Union Minister of Steel Chaudhary Birender Singh said KIOCL will set up a pellet plant with a capacity of 1.2 million tonne per annum at Rashtriya Ispat Nigam Limited (RINL) unit at Vizag. A memoranum of understanding in this regard has been signed.

RINL's demand for the pellets will be met by the plant. The excess will be exported or sold within the country.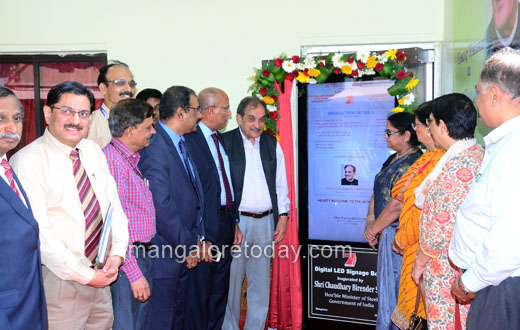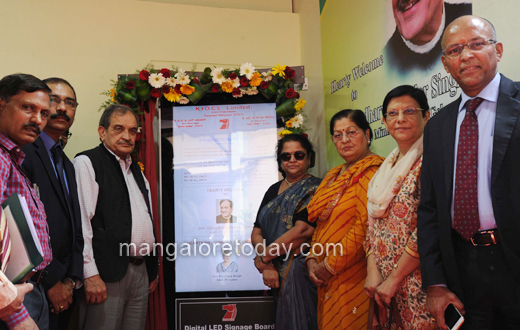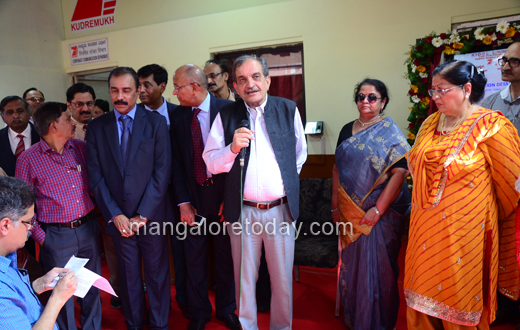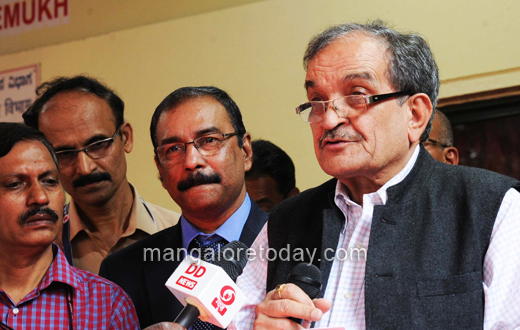 The Union government is laying emphasising on increased utilisation of pellets as a raw material in the blast furnaces and sponge iron industry in the country.

Further, the minister said that KIOCL has been recognised as Mineral Exploration entity under section 4(1) of MMDR Act 1957 for carrying out Mineral Exploration works.

Accordingly, the company has already taken up G4 level exploration for a new mineral bearing blocks allocated by the Ministry of Mines, under the National Mineral Exploration Trust Programme.

The KIOCL will take up exploration of iron ore in Thiruppur district in Tamil Nadu on a 100 square kilometre area while it will explore gold in 200 square kilometre area in Mysuru. The exploration at Tamil Nadu will be completed within six months, he said.

He said that the KIOCL is in the process of diversifying and expanding its activities by setting up of captive solar power Plant in its existing land available at Blast Furnace Unit, Mangaluru.

The proposed project would support the Government of India's National Solar Mission. The project is expected to be completed by March.

In order to support the Government of India's National Solar Mission, KIOCL has plans to add higher capacity solar plants in Karnataka state during next financial year.

Revamp: The KIOCL has proposed to set up forward and backward integration projects to the Blast Furnace Unit for production of Ductile Iron Spun Pipe and LAM Coke along with pulverised coal injection system and modification to Blast Furnace. About 2 lakh tonnes of DI pipes would be manufactured. The feed material for the project would be obtained from Devadari mines in Ballari. "We also want the production of pig iron to commence at its Blast furnace unit," he said.

The KIOCL has posted a profit of Rs 28 crore during the 2016-17. After the deduction of the tax, the profit stood at Rs 18.27 crore. It has exported 10.33 lakh tonnes of pellets to China, Japan, Vietnam and Malaysia. In the domestic market, it has sold 7.3 lakh tonnes of pellets.

Promotion of tourism
In reply to a query on KIOCL land in Kudremukh where it had stopped its mining, the minister said that the KIOCL has the patta of the land. "I hope the KIOCL will have a new venture may be in promoting tourism. It had hired a consultant to prepare a project report and the report is with the KIOCL. We want to make best use of the land.

Even after mining stopped, it continues to remain a lush green cover."

Ministry of Steel secretary Aruna Sharma said that as per the steel policy 2017, the production of steel will reach 150 million tonnes by 2020.

In line with steel policy of Government of India for production of 300MT of steel by 2030, utilisation of pellets to the tune of 25% for steel production will go a long way towards KIOCL contribution, says Aruna Sharma, secretary, ministry of steel.

KIOCL will not stop with only marketing its own product but shall participate in programmes to promote usage of pellets in manufacture of steel and manufacture of special grade pellets, she added.

Statutory clearances
Union Minister of Steel Chaudhary Birender Singh said that after getting a few statutory clearances from the state government, the KIOCL will start mining operations at Devadari mines at Ballari.

The KIOCL is also planning to set up beneficiation and pelletisation plant at Devadari. The setting up of the plant will reduce the cost incurred on transporation of pellets to Mangaluru plant as well, he said.
Write Comment
|

E-Mail
|

Facebook
|
Twitter
|

Print