Beef Ban: What Are The Cows Really Getting Out Of It?
mangaloretoday.com/huffingtonpost
Animal lovers, have you overjoyed at the passing of the new Act that bans slaughter of bulls, bullocks and cows in Maharashtra? Do you believe that the Act serves to preserve and protect cows from horrendous cruelty, misery and loss of life? I am an animal lover by all definitions and I decided to take a closer look at this piece of state legislation that finds its roots in a 2000-year-old history of religion, spirituality and economics. In particular, let us explore the origins and context in which it was formed, and whether it was solely for the protection of animals, or if other factors were at play.

Although cows have been considered holy for many centuries in India, it was only in 1947 when India gained independence and a centralised government was established, that the first chance came to pass laws on cow slaughter. After much heated discussion, with many opposing viewpoints, the Constituent Assembly inserted a Directive into the Constitution that guided individual states to pass their own laws on cow slaughter, which should be: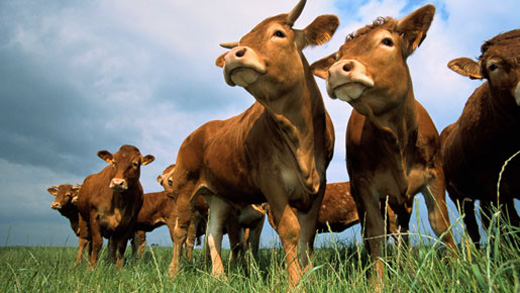 "...on modern and scientific lines and shall, in particular, take steps for preserving and improving the breeds, and prohibiting the slaughter, of cows and calves and other milch and draught cattle."

"Through religious worship of the cow, are we only concerned with protecting its "life" while ignoring its welfare or "quality of life"? "

Gradually over the years, all states except West Bengal and Kerala passed their own laws prohibiting cow slaughter. Throughout this, leaders have been in a tricky position -- needing to appear secular and economically progressive, yet not alienating religious communities. This tactic is clearly seen in the vague and open-ended wording of both - the Directive Principle of the Constitution as well as the Maharashtra Animal Preservation Act. Words seem to have been chosen to lay emphasis on economic and scientific motives (like use in breeding, milking and other agricultural purposes) even though the Act clearly has its foundation in religious sentiment. In fact history reveals numerous agitations and riots by religious groups advocating the ban over the past several decades all over India.

The question to be asked then, what is really behind the law? Was it motivated by science and research, or was it economics, or was it politics? As an animal-welfare scientist, I only concern myself with whether the law truly protects the welfare and wellbeing of animals. Therefore, I won't discuss the economic and political ramifications of the law (which are really for human benefit, not animal benefit).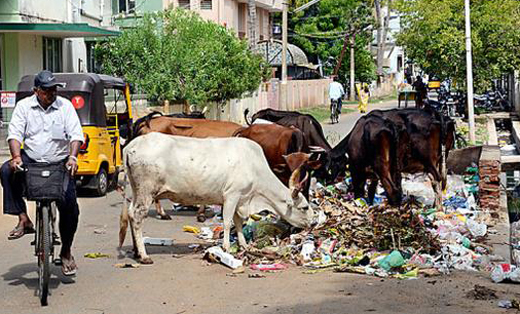 So let us see what the outcome of the law has been for animal rights and welfare:

1) Abandonment: In the west, cattle are treated as any other production animal (chicken, goats, pigs and sheep). They are bred for their milk and meat then slaughtered once they reach their 'use-by' date. In India, most cows and bulls once past their economic usefulness are released and become "stray". Owners are afraid to sell these animals to non-Hindus as that may lead to their slaughter. These cows, abandoned by their owners, wander the streets foraging through garbage heaps, eating huge amounts of plastic along with any food they can find, and generally lead a terrible life until some painful disease consumes them or in a very small proportion of cases, they are rescued by animal shelters.

2) Slow, painful death: Humane euthanasia (mercy killing) of fatally sick or injured cows is riddled with political and religious complications. Vets are reluctant to recommend euthanasia and owners are reluctant to allow it -- they would often rather release such animals onto the streets and absolve themselves of any responsibility. In all likelihood, these abandoned cows then suffer a slow and painful end rather than getting the quick, dignified death afforded to any other animal that is in such misery.

3) Slaughter driven underground is completely unregulated: Some cattle owners desperately need the money from re-sale of their old cows and will sell them clandestinely to avoid attracting attention of religious factions. Animals may then be smuggled into vehicles not suited for their transport, and kept in appalling conditions to ensure they are hidden away from plain sight. In fact all their handling is done secretly, not allowing for any regulation or monitoring of the process. Contrast this with the strictly regulated and audited sale, transport and slaughter of cows in western countries; trucks are properly fitted to allow ventilation and temperature control, breaks during travel are mandatory for feeding, watering and resting, handlers are watched to ensure they treat the animals kindly and the method of slaughter is humane, quick and constantly upgraded based on latest science and research.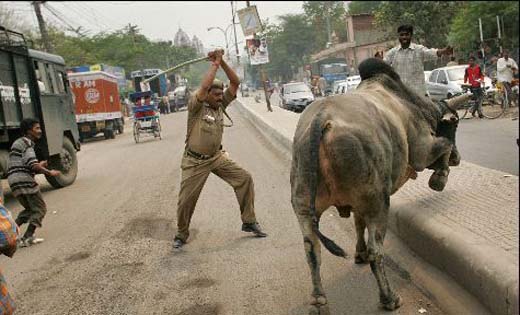 From all three factors, we can conclude that animals in fact suffer greatly due to the presence of the law. So, what purpose is it serving? Through religious worship of the cow, are we only concerned with protecting its 'life' while ignoring its welfare or 'quality of life'? Cow-slaughter laws were formed against a backdrop of strong religious and political motivations -- some of which date back several centuries. There is very little science behind these laws. In fact, a search for sound scientific literature on the subject reveals very few studies conducted in the 70s and 80s. Beyond that, the scientific community has largely ignored the issue.

In democratic, secular, progressive and compassionate 21st century India, do our morals allow us to accept purely religious laws that have absolutely no science behind them? Or do we need to dig deeper to find solutions to our religious needs, and find a different meaning to the "protection and preservation" of our most revered animal?


Uttara Kennedy: Student, Masters in Animal Welfare, Ethics and Law

Courtesy: huffingtonpost