'Against all odds, love won': Story of gay couple embracing fatherhood goes viral
Mangalore Today News Network / News18
March 02, 2023: It was a dating app that changed the lives of Mayank Kalra and Sougata Basu. They met in 2010, when being gay wasn't even spoken of in Indian society openly. They started as friends and soon turned into lovers. Now, a decade later the duo is proud parents to a baby girl and boy. What attracted Mayank to Sougata was that just like him, the latter also hailed from a small town and was a career-oriented person who stays close to his family. Destiny bought them closer when Mayank's office relocated near his home. Though he went on a house-hunting spree nothing worked out and Mayank eventually moved in with Sougata.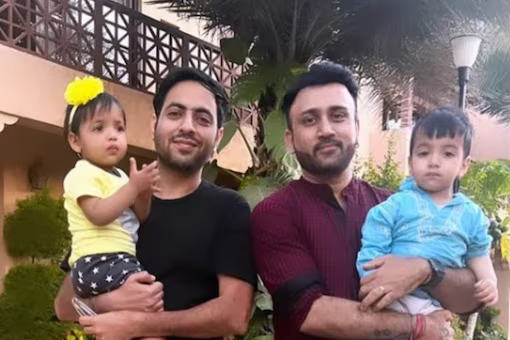 He was 24 at the time, nervous, and facing opposition from family, societal rejection, and article 377. It did not take him more than a month to realize that their bond is more than that of being friends. Be it cooking, partying, or grocery shopping, they did it all together and finally, it was Sougata who took the plunge and proposed. They dated for five years before deciding its time to disclose the truth to their family as well. Initially, they came out in front of their sisters who were utterly rejoiced but their parents took about a year to understand their equation.
But what changed their life forever was the day they become parents to a baby girl and a boy. In 2020, they decided to opt for surrogacy and in June 2021 they embraced fatherhood. "In June 2021, we became Dads to a girl & a boy. Honestly, fatherhood has changed us. Whether swinging them in our arms or singing lullabies, life's been all about them! It's so special–their 1st words & their 1st steps! In fact, Sougata & I got married on their 1st birthday. It was the perfect day to celebrate our union," Mayank told the Humans of Bombay.

Currently, the couple lives with their parents and Mayank calls it a 'madhouse' every morning. From the babies crying, to their grandparents panicking and the fathers getting ready for work, it is as crazy as it gets for the duo. "In the end, everything worked out for us. Against all odds, love won. Against all odds, that 'far-fetched' idea became our reality," he concluded.

As soon as their story surfaced online, the fathers received tremendous support on social media. A user wrote, "Love is love. You both are adorable and so is your family," another commented, "Happy the world is finally becoming more inclusive. Literally, it wet my eyes. More power to you guys. Parenthood is def a great blessing. Enjoy and have fun." One more added, "Tears in my eyes! Damn proud of both of them."

Their story of love has amassed over twenty-five thousand likes and more than seven lakh views on Instagram.
Write Comment
|

E-Mail
|

Facebook
|
Twitter
|

Print