Will Smart City Project take Mangaluru to new heights?
Mangalore Today News Network
Mangaluru, Oct 28, 2016: August 2015 - Mangaluru was on Cloud Nine when the city was among the six cities from the state shortlisted for the Smart City Mission and was on top of the list by scoring 96.88 per cent marks in the evaluation process. In January 2016, there was utter disappointment when the city failed to make it to the first list. The disappointment however was short lived as finally Mangaluru was selected for the Smart City Project in September.

As expected leaders were busy congratulating each other and also thanking the Prime Minister and Chief Minister for including Mangaluru under the ambitious project.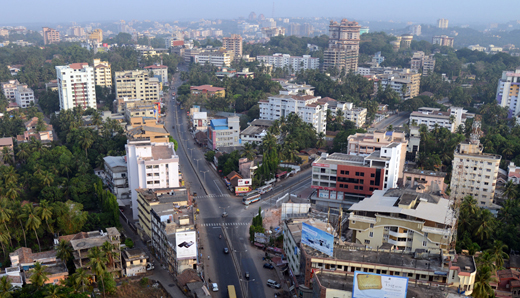 At this juncture, it was local MP Nalin Kumar Kateel who made a right note. "To materialize the smart city project, we need to involve people of the city and seek their cooperation. The smart city project is not a political programme, but a programme for development. Union government and state government, along with City Corporation should work in unison to implement it."

The MP is very much right in saying so as the city has already witnessed a tussle of sorts among leaders of different parties at an MCC meeting, with leaders vying with each other to stake claim for the project. Congress leaders were miffed when a BJP corporator failed to mention the name of CM Siddaramaiah and only thanked the Prime Minister and other BJP leaders for the selection of Mangaluru in Smart City Project.

When Mangaluru has been chosen for such an ambitious project, it is the duty as well as the responsibility of all leaders to sink differences and work in unison cutting across party lines.
Mangalureans are delighted to know that the Smart City Project envisages a total investment of Rs 2,000 crore over the next five years. According to the concept paper, of the total Rs 2000 crores, Rs. 1,707 crore would be spent for specific area development projects and Rs. 293 crore for projects planned across the city.

However, Mayor K Harinath who was among the first few in while being happy over inclusion of Mangaluru in the Smart City project fears over the possibility of diversion of regular grants received by the MCC under different schemes. He feels that if this was the case, it would be difficult to take up other regular works.

The vision of a Smart City Mission is to make the cities more inclusive, sustainable and effective engines of growth, fulfilling the aspiration of Young India.It is believed that Mangaluru being a Tier-2 city, it requires several initiatives to drive economic activities to elevate it to a smart city. Experts even feel that Mangaluru, with its intellectual capital and high potential for developing Economic Growth Centres (EGC), is an ideal city to be established as a global city, yet retain its social and cultural identity.

But let the city not be carried away by the Smart City vision as it has much more to do at the grassroots level to improve the conditions. Roads are in a mess, footpaths are lacking or are inadequate at several places and many roads turn into puddles whenever it showers incessantly. Garbage too remains a problem despite the implementation of the Advanced Garbage Disposal Mechanism etc etc.

Most importantly the Future Smart City lacks a full-fledged service and city bus terminus. The Pumpwell bus terminal project has still remained a dream, while there are many many areas where the city needs an improvement. Construction rules continue to be flouted, water bill collection is not satisfactory and much more. More recently, the MCC even went on a spree of raids on shops which are functioning without valid trade licenses or without renewing their licenses.

While the ambitious Smart City Project envisages a whopping Rs 2000 crore investment, an amount equivalent to a small portion of this would go a long way in bringing about the much needed improvements in the city at the grassroot level. Residents hope Mangaluru will be a Smart City of Smart People with Smart Projects that will bring glory to the district and the state.