Why Indian students are flocking to Foreign Universities bankrolled by Indian Public Sector Banks?
Mangalore Today News Network
By Dr. G. Shreekumar Menon

Mangaluru, June 1, 2020: Recently my driver came to me with the happy news that his son has gone abroad for doing his MBA. Upon querying as to which university he went, the answer was a country in Europe called Malta. When I further asked him as to why he preferred to go to some unknown university in a relatively unknown country, rather than do in any Indian university, he replied that his son and his friends want to avoid going to any Indian university. To my further query as to the reason for avoidance, his candid reply was that private universities and institutions in India are all money making establishments without any ethics, cheating the government and Income Tax department, and setting a bad example to the future generation.He also added that government should be really concerned as towhy lakhs of students are flocking to foreign countries and their institutions?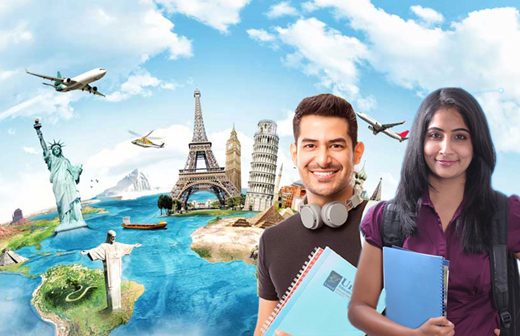 The outburst of this man is understandable. It is estimated that over three lakh Indian students are studying abroad. The top ten countries that whisked away Indian students to their universities are: Australia, New Zealand, Canada, Germany, China, Singapore, Ireland and UAE.

Very small countries like Malta, Georgia, Ukraine also managed to attract our students. Even a small country like Moldova, which is ranked as the least happy nation on the planet managed to attract a good chunk of Indian students. Our students just want to get out of this country. India thus became the world's second-largest source of international students and one of the fastest-growing sending markets. Nothing to be proud about.

Students from the upper strata of society, middle income groups and lower middle income groups just want to go to any country be it Moldova, Ukraine, Georgia, Armenia or Malta. Once I had met a Customs official of Georgia at an international seminar and she was telling me about the huge number of Kerala students in Georgia studying Medicine, She was fair enough to admit that the Medical colleges in Georgia where not up to the mark.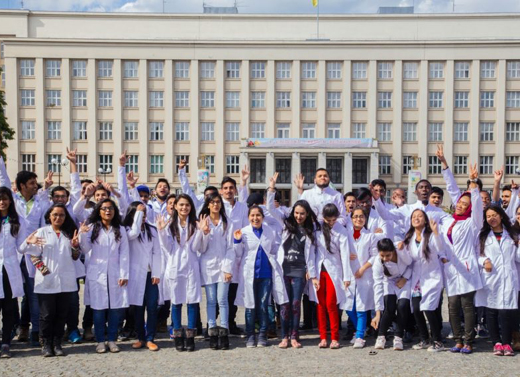 The government needs to be concerned about this exodus that is going on every year with rhythmic regularity. This is because of the deep disenchantment caused due to corrupt practices thriving in our universities. It had recently come to light that a few Deemed-to-be-Universities were resorting to open fraud in the NEET examinations for medical seats. Such frauds are being committed by people occupying high posts like the Chancellor, Vice Chancellor, Controller of Examinations, and Registrar. The conduct of such senior persons occupying exalted positions does not inspire any confidence for the young generation; rather they are being encouraged to become morally debased professionals of the future. Another so called Institution of Eminence had its Institute of Virology removed from ICMR List by the Government of India.This same university was penalised for encroaching on government land. Another Deemed-To-Be-University was in the dock for accepting a bribeof Rs.20 lakhs for permitting an MBBS student for appearing in the fourth semester exam. This issue went right up to the Supreme Court and vide its landmark judgement in Cr.Appl.No.989 of 2018 State of Gujarat Vs Mansukhbhai Kanjibhai Shah; it has held that 'Deemed Universities' will now be covered under the ambit of Prevention of Corruption Act. No distinctionhas been carved out between a 'University' and 'Deemed to be University' so far as it relates to the term 'Public Servant' as defined under Section 2(C) (xi) of the Act 1988. It has also widened the scope of the definition of 'Public Servant' and has held that even if they are not Public Servants' such persons are discharging 'Public Duty' by providing and imparting education. This landmark judgement of the Supreme Court in the field of education will set the ball rolling in cleansing corrupt practices undertaken by many universities and educational institutions in this country. When such corrupt practices abound in Indian Deemed-to-be-Universities, is it any wonder that there is a flight of Indian students to foreign Universities? Most of the students prefer not to return to their motherland but drag on their stay in foreign countries by all possible means.

This unabated exodus to foreign institutions is being funded by our banks, in other words, foreign institutions are thriving on educational loans given by Indian banks. In the fiscal year 2019, the amount of educational loan disbursed by Indian banks touched a record level of Rupees twenty two thousand five hundred and fifty crores. This includes loans disbursed for education in India also. In fact many universities in foreign countries are surviving because of the influx of Indian students funded by Indian banks.

However many of the institutions abroad do not even figure in the top 500 universities of the world, forget about top 100 universities. It implies that substandard education in many foreign universities is being funded by Indian banks. This is the reason for the aggressive marketing of foreign universities in India. A lot of education fairs by foreign universities are quite common in every major town of India to attract Indian students.

Should the government of India not restrict bank loans to only those universities figuring in the Top 100 Universities of the world?

It is also to be borne in mind that many foreign universities are also embroiled in admission scandals, fake degree rackets and even being universities on paper. The latest scandal to hit the headlines in USA is that of Full House Actress Lori Loughlin and her fashion designer husband Mossimo Giannulli who were caught in an admission bribery case involving University of Southern California.

The charge against them was that they paid $500,000 in bribes to get their two daughters into the University of Southern California.

There is a strong need for big bang reforms in the education sector. Primary task is to reform the universities in India and upgrade them to international standards. UGC, NAAC and other bodies should fix the benchmarks needed for award of grading of universities. Such a step only will result in upgradation of the infrastructure and educational facilities. There is a need to adopt the Star Rating system of Hotels which is linked to the facilities available. A Two Star Hotel can never masquerade as a 5 Star Hotel as both the Hotel and the clients know the facilities that are to be provided and what is physically available on the premises. Such a system is not prevalent in UGC recognition,NAACand AICTE assessment of Universities and institutions. Hence if a comparison of two NAAC Grade A++ universities/institutions is done both will not be offering identical facilities and having infrastructure of comparable quality. Such a situation will never arise if two five star hotels are compared because it is written in black and white as to what infrastructure and facilities have to be provided to get a five star rating. This is what needs to be done for universities/institutions so that the government is aware as to which university/institution is lacking in what facility.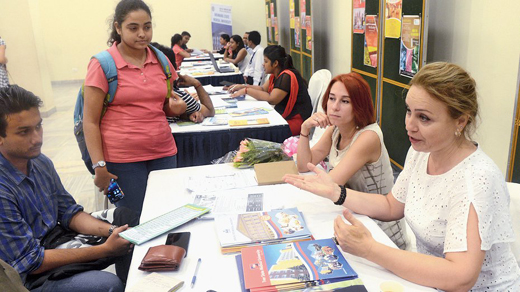 Students at an education fair


The existing system is riddled with all kinds of loopholes resulting in proliferation of undesirable practices like creating excessive dummy Memorandum of Understandings and specialized Centres on paper to mislead UGC and NAAC. Such unscrupulous activities take place because managements of Deemed to be Universities, and private universities enjoy unfettered rights to appoint a person of their choice as Vice Chancellor, Pro Vice Chancellor, Controller of Examinations, Registrar and Finance Officer. To break this nexus all these posts should be made transferrable among the deemed to be universities and private universities by the UGC. An annual transfer policy with fixed tenure should be chalked out so that there is rotation of staff among the Deemed-to-be-Universities. Since UGC has fixed the pay scales for all these posts such transfer arrangements will facilitate upgradation of Universities placed at the lower end and bring about an end to unsavoury practices that are happening now. Similar transfer arrangements should be made for teaching staff, at least within the State,so that teaching methodologies in different Universities get uniformly standardized.

Another alarming feature is the mushrooming of para medical courses like B.Sc. Dialysis, B.Sc. Operation Theatre Technology and dozens of other similar courses by both medical universities and non-medical universities just to extract capitation fees from gullible parents and students. The government needs to intervene to prevent such exploitation of our students by unscrupulous sellers of worthless education degrees.

Another critical area of intervention by Government is the auditing of University funds. Though there isa provision of auditing by the Comptroller and Auditor General (CAG) of Deemed-to-be-Universities, this provision is hardly exercised, thereby giving room for lots of unethical financial jugglery. The CAG should pick up at random a dozen Deemed-to-be-Universities and those sporting Institution of Eminence tag for surprise auditing. Similarly, independent auditing firms should be entrusted to audit the other remaining Deemed-to-be-Universities, and reports submitted directly to the UGC.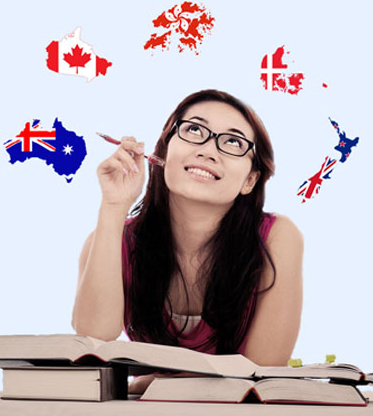 Another fundamental change that is needed is to make the Governor of each State, the Chancellor for the Deemed-to-be-Universities of that State. Presently, the Governor is the Chancellor only for all Government Universities within that State. If all Deemed-to-be Universities and Government Universities are brought under the Governor, many malpractices in the field of education will disappear.

Another malaise afflicting the Deemed-to-be-Universities is the creation of post of Pro Chancellor which is invariably held by a blood relation of the family administering the Trust which controls the Deemed-to-be-University. Though the UGC regulations do not permit the post of Pro Chancellor, this rule is flouted with impunity. By simply making the Governor of the State as Chancellor and by removing the post of Pro Chancellor, the Vice Chancellor and other statutory officers of the Deemed-to-be-Universities become fully accountable.

The Indian constitution in its original enactment defined education as a state subject. Under Article 42 of the constitution, an amendment was added in 1976 and education became a concurrent list subject which enables the Central government to legislate it in the manner suited to it. Thus it becomes simple for the UGC to reform the set-up of Deemed-to-be-Universities and thereby make them answerable and accountable.

Another factor that can be used to control deviant Deemed-to-be-Universities is toinstantly suspend as an interim measure their UGC Recognition and NAAC Grading,and Institution of Eminence (IOE) tag upon detection of any malpractice like taking Capitation fees, creating paper MOU's and Centres, not granting UGC pay scales for the teaching staff, recruiting teaching staff not duly qualified, and giving misleading advertisements. Many reforms are still lingering, like the Prohibition of Unfair Practices Bill, and Foreign Educational Institutions Bill.

As online education is getting popular all over the world including India, there is great cost benefit for the Deemed-to-be-Universities. There is tremendous amount of savings on electricity, water, human resources, hostel facilities and transport. The UGC must ensure that these benefits in cost reduction should be passed on to the students by way of reduction in fees which is presently very exorbitant.

Within the framework of the existing regulations itself, both UGC and NAAC can do wonders to streamline university education in India. Just by straightening a few deviant institutions and making an example of them the situation can be remedied. If we can give quality education in the country at reasonable fees, students need not make a beeline seeking admission in foreign varsities bankrolled by public sector Indian Banks.

---

Dr. G. Shreekumar Menon IRS (Rtd) Ph.D: Former Director General of National Academy of Customs Indirect Taxes and Narcotics & Multi-Disciplinary School Of Economic Intelligence India; Fellow, James Martin Centre For Non Proliferation Studies, USA; Fellow, Centre for International Trade & Security, University of Georgia, USA; Public Administration, Maxwell School of Public Administration, Syracuse University, U.S.A.; AOTS Scholar, Japan