Where is the Vinayak Baliga murder case investigation heading?
Mangalore Today News Network
By Prof. Narendra Nayak

Mangaluru, August 26, 2016: This question comes up in our minds as the murder happened on the 21st of March and nearly five months have elapsed since. While the accused have been arrested two of them managing to procure bail, the accused no 1 Naresh Shenoy, the founder of the Namo Brigade, now Yuva brigade has been trying desperately to get out on bail and to also avoid narco analysis and brain mapping investigations. While trying to get out on bail is the prerogative of every accused, the reluctance to undergo the narco analysis test and the vehement opposition to it shows that he must be having a lot of things to hide and certainly guilty! If he were to be innocent as his numerous supporters proclaim from the roof tops, he should have nothing to fear as this investigation cannot be used as evidence as it is one of the fundamental principles of jurisprudence that one cannot be forced to give evidence against oneself. But, at the same time such a test could naturally help to clear the name of an innocent! The behaviour of accused no. 1 is clearly indicative of his guilt and that he has a lot of things to hide. While statements made during this process cannot be used as evidence, they can be made use of to gather evidence and one can be sure that this is what Shenoy is afraid of- there are a lot of things that he has been hiding and evidence which he has destroyed.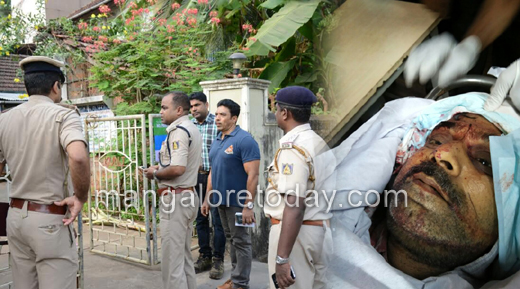 The accused no 1 who was arrested after being on the run from the authorities for nearly three months is in judicial custody as of now. He had tried for anticipatory bail and failed, despite of all efforts to save him by allegedly highly placed people, money bags, political bigwigs and so on! There were times when there were reasons to suspect that the ruling party at the center, BJP and the state Congress were falling over each other to save him! In retrospect it looks like that their keenness was to save each other and not the accused no 1 Naresh Shenoy. It appeared then and it appears so even now that he is only a front for a number of people who have their own axes to grind and vested interests to protect. If he were to reveal all these names, all of them would be in trouble. To his credit, these names have not come out as yet and there are frantic efforts to keep them out of the police dragnet.

The preliminary charge sheet has been filed and the police have sought time for the filing of additional charge sheet/s. This means that the investigations into this case are still on. In the meanwhile one of the accused has managed to get out on bail! If one of the accused gets out on bail within months of arrest it means that the prosecution has been lax enough to let that happen. But, they have gone on appeal to the High Court to get the bail cancelled. Due to that the accused no 1 had sought parity and had applied for bail too. Though he had been arrested on the 25th of June, within a few weeks he had applied for bail. He had been running from pillar to post for anticipatory bail but had not succeeded. He had also tried to get hospitalized claiming chronic renal failure! That too based on a medical certificate given by a surgeon at a hospital in Mangalore, which had made a mention of him having been treated by a urologist a year back! That too the medical certificate was of November,2015. That too the demand was to be admitted to a private nursing home when a tertiary care govt., teaching hospital was available! When questioned as to what facilities were available at this private hospital which were not there in the largest hospital at Mangalore and records of previous treatment were asked for by the prosecution the application was rejected by the court. Anyway, once the application was rejected by the court, the kidneys of the accused Naresh Shenoy became all right and there have been no complaints about his health after that or rather no more attempts to get hospitalized!

Now many questions remain to be answered. With the application for regular bail by the accused No. 1 Naresh Shenoy having been dismissed on the 9th of August,2016 he has to cool his heels in judicial custody for some more time. But, many questions remain unanswered and doubts uncleared. He had been on the run since 25th of March upto 25th of June for a period of nearly three months. There have been rumours that he had been hiding in Nepal, Delhi and a number of places in North India changing his location from day to day to avoid arrest. Who had arranged for the finances? Well one person has been arrested for the same -Manjunath Shenoy aka Manju Neereshwalya, but it is obvious that more than one have been involved. Who are the others? Can they claim innocence and plead that they were unaware of the consequences? Upto the 25th of March such pleas could probably be made and could hold water but after that? Who were the supporters and financers? There have been rumours that crores have been spent by his supporters to 'fix' authorities, politicians, ruling party and many others. What is the source of this? What were the motives behind this planned execution?

The very interesting matter here is that there have been rumours that a section of ruling party of Karnataka and that at the center have been quietly working to suppress the investigations. But, there is a section which is equally powerful and opposed to this! In fact within his own party, BJP a very strong group has been working to see that the accused no.1 is brought to book! In this scenario, the Commissioner of Police Chandrashekar must be facing a lot of pulls and pushes in various directions. Going through the papers of Vinayak Baliga, it looks like some important documents have gone missing and the needle of suspicion naturally point to the custodians of these papers. Again going through them has shown various reasons why the accused gang would have thought that they could get away with murder. This pertains to an incident which happened some years ago.

Baliga files had certified copies of the documents of the following case which goes back to the night of 31-12-2012 when a Nandakumar Prabhu alias Nandu had murdered one Mahesh Prabhu with a knife at the Venkatramana Temple at car street, Mangalore. Both were followers of the mutt and allegedly there was a quarrel between the two resulting in the accused stabbing the victim who was taken to the hospital where he was pronounced dead. A case was registered at the Bunder police station and the FIR no.210/2012 dated 31-12-2012 was made. This was subsequently committed to the Sessions court as case no 46/2013.

The nexus between this case and two of the accused in the Vinayaka Baliga murder case Naresh Shenoy and Manjunath Shenoy alias Manju Neereshwalya is clear as the following shows: The judgment was that the prosecution had totally failed to prove that the accused had committed the murder. This was mainly because every one of the witnesses for the prosecution except the father of the murder victim Mahesh Prabhu had turned hostile. Out of them PW no 3 was Manjunath Shenoy alias Manju Neereshwalya who has been booked as one of the accused in the Vinayak Baliga murder case for abetting the absconder Naresh Shenoy to escape from the police dragnet. He was a witness for the mahazar and when he testified before the court he had denied every single thing on his statement and had claimed that the police had taken his signature on blank sheets. Later on when the accused Nandu was acquitted in 2014, it was Naresh Shenoy, accused no 1 in the Vinayak Baliga murder case who stood surety for him, arranged for his release and subsequently is supposed to have employed him.

So, this case seems to have emboldened the accused to go ahead with a second murder under the impression that that too could be taken care of in a similar fashion. The only thing they had not bargained for was the interest taken by various organizations who had supported the Baliga family in their quest for justice. They had also not dreamt that a honest, sincere, tough commissioner of police would take personal interest in taking up the case.

As things are, the story has not ended as yet. The investigations are to be completed, the charge sheets have to be filed and the case seen to its logical conclusion- that is the conviction of the guilty. This would need strong witnesses and a dedicated public prosecutor. The Baliga family and we who support them are leaving no stone unturned in this quest for justice.
---
Prof. Narendra Nayak is an internationally renowned rationalist and consumer activist. He is the incumbent President of Federation of Indian Rationalists Associations (FIRA). Through his famous myth busting crusade of over three decades, he has been relentlessly fighting against the culture of superstition in society and the exploitation of the gullible in the name of religion, while at the same time advocating the nurture of scientific temper and humanism among the masses. This is a regular column and we invite readers' response. The writer can be reached at: narenyen@gmail.com
---