Welcome initiative towards maximum voter participation
Mangalore Today News Network
Mangaluru, April 23, 2018: The election slated to be held on May 12 is just a few days away. Ever since the poll dates were announced, life has never been as usual both for politicians and general public. The innumerous guidelines in the name of election model code of conduct have proved to be testing times with some politicians too raising voices against the too many restrictions.

As many as five flying squads, 33 static surveillance teams, five excise teams and 24 video surveillance teams are active in the district to ensure there is no poll code violation. Still there have been nearly nine violation cases. So far the total seized unaccounted cash is Rs 3 lakh while as many as 149 excise law violation cases have been filed in Dakshina Kannada district.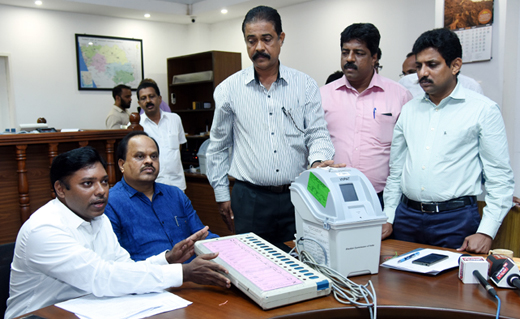 The election scenario or more particularly the election arrangements scenario has seen a vast change over the years. Due emphasis is now being laid on voter awareness and to increase the voting percentage in the district. Young voters too are sensitized on how each vote counts and can prove crucial. Several programmes aimed at encouraging voters to exercise their franchise are being organised and more are on the pipeline.

There has been an 11% increase in the number of voters in Dakshina Kannada as compared to the figures in 2013. As per the final voters list, there are 16,67,194 voters in the district as against 15,01,024 voters during the 2013 elections. The number of young voters too has seen a rise. If there were 18,256 voters in the 18-19 age group in 2013, this year there are 23,346 young voters.

Voter awareness drives through SVEEP (Systematic Voters' Education and Electoral Participation) Committee led by Zilla Panchayat CEO M R Ravi is also doing significant efforts to ensure maximum voter participation this election. A toll free helpline is also operative to assist voters.

In a bid to encourage villagers in Naxal hit areas of Belthangady taluk to come out and vote in large numbers, the Deputy Commissioner Sasikanth Senthil S and SP Dr B. R. Ravikanthe Gowda visited Naravi, Kutlur, Sulkeri and other areas and urged villagers. The top officials also had interactions with the villagers and reviewed security arrangements.

Along with EVMs, for the first time VVPAT machines will also be put to use this time to nullify any doubt in the minds of the voters while exercising his franchise as the VVPAT will be displaying the printout containing the serial number, party symbol and the photo of the candidate he/ she has chosen for seven seconds.

Awareness programmes are being conducted at booth levels regarding EVM and VVPAT on behalf of the SVEEP Committee.

In another novel initiative, the SVEEP Committee even organised a multi lingual poets meet under the leadership of senior humorist Dundiraj. The Election Commission has also taken the initiative to set up 20 pink polling stations with all women staff in the district. According to District electoral officer and Deputy Commissioner S Sasikanth Senthil five polling stations each in Mangaluru City South, Mangaluru City North and Mangaluru constituencies will be declared as pink booths. Similar booths will also be set up in Belthangady, Moodbidri, Bantwal, Puttur and Sullia, There are also plans to have a couple of model polling stations. The district administration has also identified 10,300 physically challenged voters and would assist in bringing them to the booths on election day. Transportation arrangements are also expected to be made in remote areas.

The District had recorded a total turnout of 72.38 percent in 2013 Assembly which was less when compared to the polling percentage (73.28) in the 2008 Assembly elections. With ceaseless efforts by the administration to ensure more people come out and vote, will the district see a rise in voting percentage this year?