Vigilance Management in Government
Mangalore Today News Network
By Dr G. Shreekumar Menon, IRS (Rtd) Ph.D (Narcotics)

Mangaluru, Oct 29, 2017: The Central Vigilance Commission, as part of its efforts to promote probity in public life and to achieve a corruption free society, observes Vigilance Awareness Week every year. The week in which 31st October, the birthday of late Sardar Vallabhbhai Patel falls is observed as Vigilance Awareness Week. All government offices observe the Vigilance Awareness Week with seminars and other programs to create awareness about the harm caused by corruption. But beyond seminars and programs, a lot needs to be done if we have to become a corruption free society.

India figures as the most corrupt country in Asia-Pacific region. Almost seven out of ten people had to pay a bribe to access public services, said a Forbes report while quoting a study by Transparency International. India remains the most corrupt country in this region, with 69 per cent bribery rates, Japan is the least corrupt nation, with a 0.2 per cent bribery rate, the report said. Around 58 per cent and 59 per cent bribery rates were seen in education and healthcare sectors in India respectively. People also paid bribes for police help, identification documents and basic amenities, the report stated.

Noticeably, India was found to be more corrupt than Vietnam, Thailand, Pakistan and Myanmar in the report. Vietnam turned out to be the second-most corrupt country with 65 per cent bribery rates. Thailand showed 41 per cent bribery rates whereas Pakistan had 40 per cent bribery rates.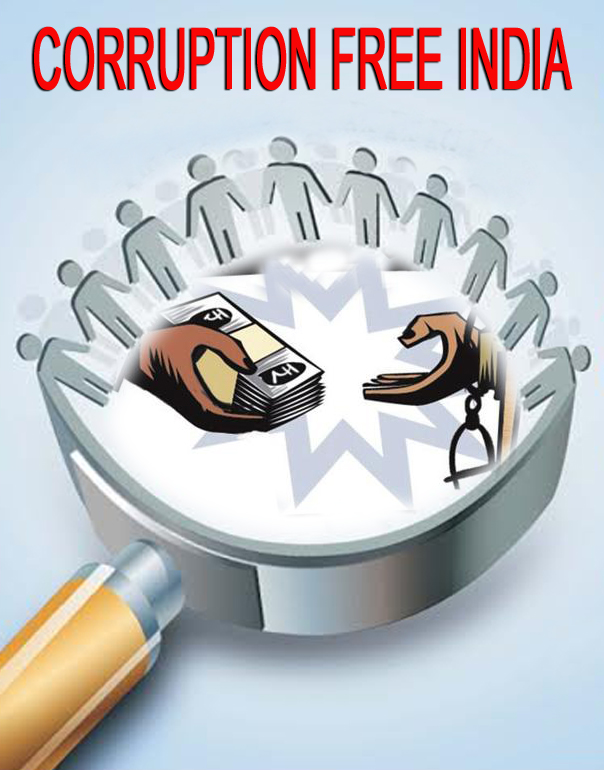 Large scale corruption that is happening in India is a direct result of the Politician – Bureaucrat nexus. The Bureaucracy is highly divided and fractured on political lines and is responsible for the corruption whirlwind circulating all over India. The only solution is – 'Change bureaucracy change India'. There needs to be a massive overhaul of the bureaucracy from A to Z, and we need to go in for widespread public participation in all departments of the government. The present insularity and deemed inviolability of the bureaucracy is responsible for many ills plaguing the country. The Bureaucracy is the only delivery mechanism available for the political party in power to execute their plans and visions. If the Bureaucracy defaults either by design or accident the schemes of the political party simply collapses. A highly fractured and politicized bureaucracy decides the success or otherwise of the political party in power. This is the stark reality of India today. If a government wants to succeed in eradicating corruption it has to revamp the bureaucracy in toto. What happens presently is just a reshuffle of favorite bureaucrats. This system needs to end.

By bringing in competition from private players many government departments reinvented and redesigned their policies and approach to the public. The Postal and Telecommunication departments are apposite examples of how once upon a time behemoth bureaucracies restructured themselves and became corruption free after facing unprecedented challenges from the private sector. Courier services wiped out the Postal department. Private mobile service operators spelt the death knell for BSNL. Similar privitaziation exercise needs to be done in the Railways, Police, Income Tax, GST and many other departments. Some exercises in privatization have not yielded the desired expectations like in Airlines, and passenger road transport, where the operators have formed into cartels and are hoodwinking the hapless public by selling seats with legroom, curtailing baggage allowances and selling even water. Instead of giving value added services passengers are being fleeced for standard amenities. These aberrations can be corrected very easily by the government.

The massive and ever growing population of this country is the main reason for high corruption levels at every stage and institution. Services and facilities are always in short supply and are not sufficient to cater to the demand generated by the growing population. Unless the government intervenes and introduces compulsory family planning, things are only going to get worse in the near future.

The drastic fall in supervision in government departments has made it possible for corruption to thrive openly. To quote Denis Kearney "They have seized upon the government by bribery and corruption. They have made speculation and public robbery a science. They have loaded the nation, the state, the county, and the city with debt." Though this does not refer to India, a similar situation has been in existence in our country for the past few decades.

There was a time when routine surprise Inspections by senior officers put fear in the staff at all levels. Weekly two surprise inspections used to be the norm in every government department. In addition there would be surprise night rounds in formations doing round the clock duty. This system has quietly been given the burial and Inspections are now-a-days informed well in advance and the staff makes it into a gala program to please the superior officers. Sycophants have a rollicking time arranging for bouquets, garlands, organizing grand lunch and dinners, and gifting souvenirs. This tendency has disrupted the efficacy of the administration to a very great extent. Flatterers and sweet talkers have gained prominence and popularity to the detriment of strict disciplinarians. Many illegalities, unethical practices can be nipped in the bud by the system of surprise inspections. We also need to devise a system where selected representatives from the public will also be inducted into surprise inspection squads to make it into an effective management tool for the government. This would be very useful in assisting police patrols for detecting illicit movement of banned and prohibited goods, assisting Corporation officials in detecting building violations and so on. Once the public is inducted into the domain of vigilance monitoring there will be a perceptible change in public administration. There should be only surprise inspections and no pre-planned inspections.

To conclude in the words of writer Pearl S Buck "When good people in any country cease their vigilance and struggle, then evil men prevail."
---
Dr G Shreekumar Menon is a distinguished Counter Narcotics Specialist who has trained hundreds of officers of the Indian Customs, Narcotics Control Bureau and Central Bureau of Narcotics. He is a retired Director General at the National Academy of Customs, Excise & Narcotics (NACEN), Faridabad, the apex training body. Presently, he is the Registrar of Yenepoya University, Mangaluru. Dr Menon who hails from Ernakulam in Kerala, holds an M.A. & L.L.B. Degree apart from a Doctorate in Narcotics and Psychotropic Substances from Mangalore University. An IRS officer of the 1978 batch, he has served the customs in various capacities in Mangaluru Bengaluru, Goa, Chennai, Kolkata and other places and held the prestigious posts of Director General at the NACEN and Multi-Disciplinary School of Economic Intelligence, Mumbai, before retiring from service.
---