Unsung heroes
Mangalore Today News Network
By I. J. Saldanha - Shet
Mangaluru, May 5, 2015: Many greats from Kanara are known to serve valiantly on the high seas now and in the past. They are great sea farers. An unsung youthful merchant ship Captain rooted in Mangaluru city, whose story should have hit the front pages has been missed. A few Mangalureans exist who never seek appreciation and honour, this is a tribute to such heroes. This young sea Captain, no one would suspect he is one of those real salt soaked 'Sea dogs'. Unassuming, soft spoken and like the guy next door, tough but with a very soft heart…….this true blue four striped merchant navy master mariner was the Captain of the bulk ship 'CS Caprice' that saved a boat load of 510 refugees in distress off the Italian coast on October 22, 2014, the story exclusively for 'Mangalore Today' readers is a real and true thriller.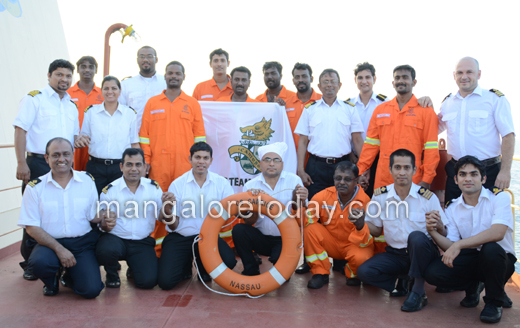 For Capt. Joshua Peris Bhatt, October 22, 2014, dawned like another day cruising in International waters on board CS Caprice with 20 crew of mixed origins with quite a few Indians too (named in the Box); the ship belonged to Bahamas-based 'Campbell Shipping Co' whose ships have the prefix 'CS' for 'Campbell Ship'. The crew of this ship did an inspired heroic rescue. The award given by Connecticut Maritime Association USA is an eye opener, See Box here.

The great Rescue:
In Capt Bhatt's own words: "Our ship CS Caprice, with a bulk load of 27000 MT of Barley from Liepaja ,Latvia was heading to her destination Umm Said in Qatar, via Egypt's Suez Canal. It was a gloomy afternoon on the high seas. At 1352 Local Time, we received distress signals through SAT-C from Malta RCC (Radio Control Centre) stating that a boat carrying more than 500 people was in distress and requires assistance, it asked us to immediately proceed to the said position.(34 35 N/ 020 05 E) as we were nearby. After verifying the phone code of Malta RCC, to confirm that it's not a plot by pirates; I contacted Malta RCC and confirmed the distress message an official request to proceed to the location and take all people on board my ship was given. The weather was getting boisterous 'beau ford scale 8 to 9' and the distressed boat was listing precariously. We had to deviate from our charted voyage to accomplish this herculean task of rescuing a huge number of lives at sea which neither I nor my officers could fathom. In the meanwhile I contacted our owners, and our DPA Capt Rajesh Dhadwal. The owners made it very clear that we had to save the lives of all those distressed worn humans, children, women and men, whose plight was unimaginable. My owners did not hesitate to extend all needed support, to go ahead with the rescue operation, there was never a look back. Thus the positive support from the ship's owners became the driving force and the reinforcement, our motto was just 'save all at any cost' our commitment was final, we plunged into readiness".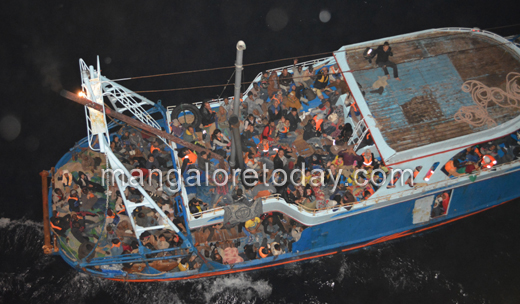 The refugee boat as seen from CS Caprice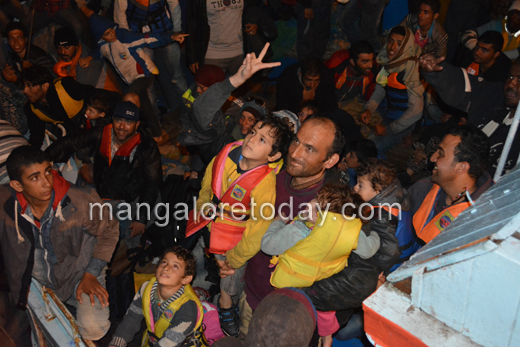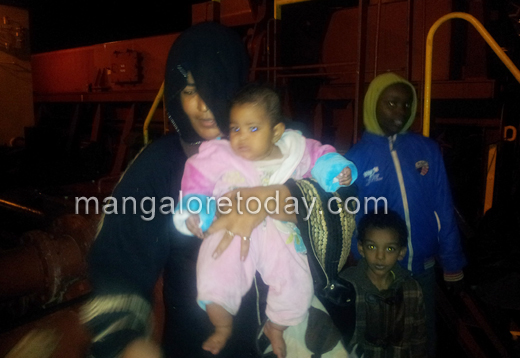 Capt Bhatt stated that a very reasonable question surfaced, the crew expressed fears about 'Ebola' and security threat to crew on board with so large a number of unidentified people . It did not take much to sort things and motivate the crew to assume a positive attitude. Soon divine courage and confidence took over and a miraculous professional operation unfolded unbelievably with each one playing a role as if they were guided by unseen hands and spirit. Caprice's crew and officers were geared up with relevant norms as a preventive measure to Ebola. The sun was setting as they reached the target position close to the boat which was in distress. The weather was rapidly getting bad with high wind speed, a treacherous factor on the high seas. They sighted and made contact, getting the listing boat alongside the vessel was a hazardous task as the boat was overhanging with people all around. Since the wind was from star- board side Capt Joshua thought of taking advantage of the wind to get the boat alongside. Maneuvering the ship so as to have the boat on its starboard i.e.: the leeward side of the boat but keeping safe distance. The wind was pushing the boat towards Caprice and it was dangerously heading towards the propellers. Fear was palpable in all the 20 crew and in most of the 510 miserable souls – it seemed that only a Supreme power was guiding all.

The one urgent need was to get the stricken boat parallel to Caprice's hull, for this it had had to be given a heave astern. This was another miracle engineered by the crew, the boat came neatly abreast alongside hatch number 5 on starboard side. Capt Bhatt went on to explain, the pilot ladder was lowered, the weather and sea were getting rough and the embarkation through gangway would be highly dangerous. The distressed boat was made fast with ships line fore and aft and the crew commenced embarkation of the people stunned by calamity. Firstly the crew calmed them with reassurance and got the ladies and kids on board. About ten ladies were pregnant and a few mothers had infants in arms, they managed to achieve embarking the ladies and children literally carrying them and climbing the rope pilot ladder; then it was the men's turn to get on to the vessel. It took a couple hours to safely embark all the people from the wreck of a boat, CS Caprice was the lone angel of mercy on the vast blue black waters of the Mediterranean high seas, saving all 510 human lives.

Capt. Bhatt immersed in his narration goes on; No sooner the survivors were secured on board CS Caprice, the first concern of the crew was to provide them some sustenance. The cook and steward did a double quick take and produced hot tea to keep the people warm and distributed milk packets for the babies and kids. Capt Bhatt, was totally charged with communicating with ships owners, Malta RCC was in constant touch as protocol had to be established with the Italian Government and other authorities. The details conveyed the rescue mission accomplished and all 510 people taken on board safely without serious causalities. Statutory Navigational warnings were sent out regarding the 'boat wreck' which had to be abandoned and set adrift as per mercantile laws. Malta RCC after getting official clearances advised CS Caprice to proceed towards Sicily (near sixty hour sailing) further needed instructions would come in due course. The situation was very delicate handling a huge desperate crowd of humans with a small crew, yet all went well.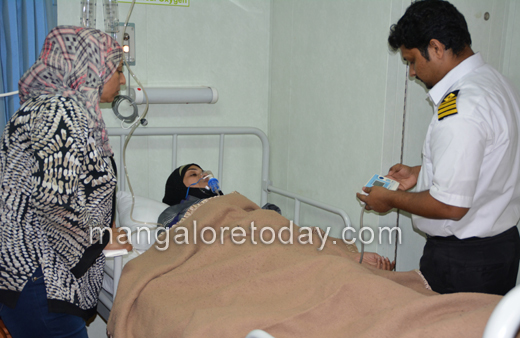 Capt. Joshua Bhatt attending the sick lady on board CS Caprice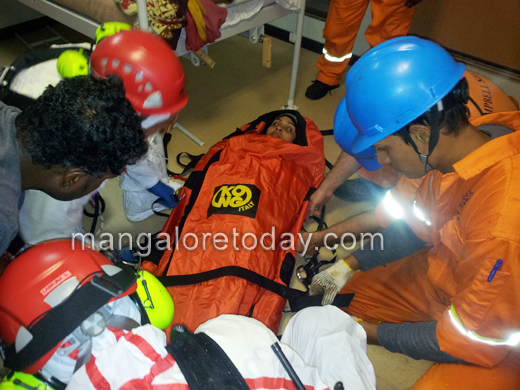 Capt Bhatt stressed he and his Officers are sure that there was an unseen power at work – nothing that was happening was 'a chance' but it was a 'design' of the Almighty at work. Officers observed the sea became ferocious; the sea was splashing over on the starboard side. The women who were given shelter in the forecastle store and men were asked to stay around in mast the houses. The alert chief officer Sergiy Baranets, (Ukrainian) and , 2nd officer Ms. Gunjana Yadav (Indian), observed ladies who were pregnant and few mothers with infants faced a difficult time, they were also overcrowded, it was decided to give the Suez room and the Tally room in order to make secure and comfortable. The voyage from this point to Sicily was sixty hours and only a Godly power set things in order.

Soon some order and peace settled in 'passengers' and the sailing underway for Sicily in Italy made progress, the crew arranged to serve rich a 'Kitchdi' made of rice and lentil, may be a secret restorative recipe of the enthusiastic cook. Fortunately a fair store of food was available on hand. It was a hard task serving the famished and large number of 'guests', served below decks as the sea hard turned very choppy, splashing on the entire main deck. It was indeed a blessing to see how the famished lot of people gobbled up the food and their genuine gratitude for all that had taken place. "Their attitude was indeed a gratitude to the Almighty, " said Capt Bhatt.

CS Caprice was a sturdy giant of a vessel, she smoothly sailed on closing to the destination fix with a sea of distressed humans secure and hopeful of a future. Just then a medical emergency cropped up; a Syrian lady was gasping for breath, she was given oxygen, however, her pulse, blood pressure and temperature went unusually high. Her gasping for breath through the oxygen mask alarmed all, a call went to CIRM Rome for medical assistance, they suggested to inject hydrocortisone 100 mg (a stock of emergency drugs is maintained on board and officers' trained in medical emergencies) this was done with not much response. Her vital symptoms were continuously monitored, arrangements were put in place by the Rome medics and soon she was finally air lifted by an Italian ambulance helicopter. 'Unity is Strength' without the team work , it would have been impossible to accomplish this humungous task. Thanks to crew a divine team on board and the Campbell shipping managements concern at all times.

It is a regular feature today for humans unable to tolerate the oppression and strife in some African lands to seek a desperate escape like this. They pay agents anything like USD 2500 to 3500 for a one way trip to European / Mediterranean shores. The refugees are stealthily loaded, human cargo herded without any room to spare, like this boat rescued by CS Caprice here. The agents and skipper are picked up from the 'boat' when the land of promise is near and they go back to continue this diabolic trade again and again. The desperate people too are to blame but desperation can give rise to unimaginable risk. The result is dangerous risk on the high seas.

The Person, the Hero:
A renowned Mangalurean genealogist documents Capt. Joshua Peris Bhatt, a Konkani Catholic, his roots indicate that his ancestors from Pezar/Omzoor area settled down in Attavara Village, now in Mangalore city, in the early 1800s. His early known ancestor was named Nicholas Peres Bhatt who was a land holder of Attavara. Nicholas' son Antony Joseph is Capt Joshua's great grandfather, many illustrious members are named from this clan. Capt. Joshua Bhatt and his parents lived all along in Attavara. Born 29th May 1982, son of Lawrence Peris Bhatt and Juliana, he had his first education in Roshini Nilaya.Primary, high school and college studies were done in famous St Aloysius College. Capt. Joshua is one of three siblings, a sister and a younger brother who is a Marine Engineer. Capt. Joshua married his admirer, Sonia Monica Fernandes on 29 December 2008, they are blessed with two children Jude and Jordan bouncing with mischievous energy and intelligence.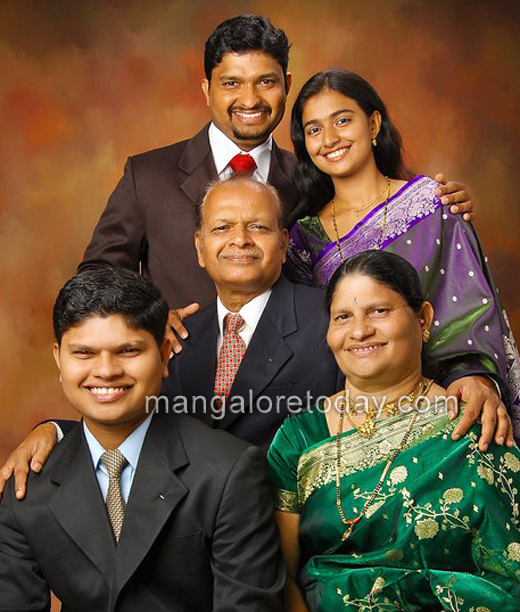 Joshua with wife, father, mother and brother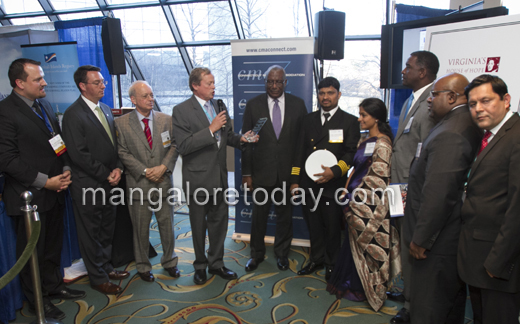 Receiving the the award from Connecticut Maritime Association, New York


After grade 12 young, Joshua joined the Training Ship, 'TS Jawahar', Colaba, Mumbai for pre sea training. Hired by Tolani shipping company in 2001. After completion of pre sea training in the year 2004 completed cadetship and cleared 2nd mates exams in the year 2005. Later cleared chief mates exams in 2008 and got promoted to chief officer 2010; clearing the Master Mariner's exams he got his four stripes as 'Captain' in 2013. He is a valued part of Campbell shipping company Ltd. NASSAU. BAHAMAS; with 16 ships mainly bulkers sailing worldwide.

The award given by 'CMA' (Connecticut Maritime Association. New York USA), recognizing the humanitarian initiative in the face of grave danger. Indeed it is a matter of exclusive pride that a Mangalorean was the Captain of the Ship and also it is a matter of pride for all Indians that many of the Crew were Indian nationals. This rescue is widely reported by marine sources and web sites. Strangely, the local media has not taken it up and published it in India. 'Mangalore Today' is the first in this region perhaps, it always lays great value to uphold children of the soil, this heroic human interest story accidently came to the notice of this Correspondent who is acquainted with Capt.Bhatt and who persuaded inputs from a publicity shy Capt. Joshua Peris Bhatt who was in Mangalore recently after receiving the award in USA . All these concerned mariners are wished many more happy sailings.

Compiled by I J Saldanha-Shet.