U S Mallya - MP No.1 of All Times
Mangalore Today News Network
Hailed as the 'Architect of Modern Dakshina Kannada District', U S Mallya was a prominent political leader of his times – a freedom fighter, a member of the Constituent Assembly of India and then the district's first parliamentarian who strived relentlessly to put this region on the path of progress. Even five decades after his demise, his grand legacy continues to dwarf his lesser successors.
By Mahesh Nayak and Jayashree Sudhir
Inputs and Photo Collection: Kasturi Balakrishna Pai

Mangaluru: It is an oft repeated adage that one should be judged by one's deeds and not by words. Going by this standard to evaluate our people's representatives who have stood in for Mangalore through successive Lok Sabha elections, only one man seems to pass the litmus test for being adjudged as the ideal MP. And that is none other than Ullal Srinivas Mallya, the very first MP of this region. In his public life spanning almost 45 years, the last 14 of which were as a Lok Sabha member, he has donned many mantles. Prior to Indian independence, he was a dedicated freedom fighter and post independence, he was an esteemed member of the Constituent Assembly of India which was formed to draft the Constitution of India. After India formally declared itself a republic on 26th January 1950, he successfully contested the First Lok Sabha elections in 1952 and then again in 1957 and 1962 to earn the distinction of being the first MP of Mangalore-Udupi region. He might have continued further if death had not claimed him at the age of 62 on 19th December 1965.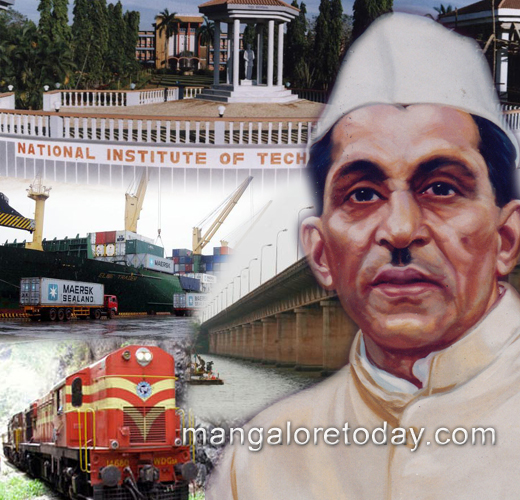 During his tenure as three time MP, he went on to do for this region, what none of his successors have been able to even come close to. Today, our incumbent MP, Nalin Kumar Kateel might bask in the unseemly glory brought on by the quite ill fitting crown of 'No. 1 MP' of the state. But then, it is only a ridiculous honour conferred on him by his own coterie of admirers, that too merely on the basis of a newspaper survey which ranked his spending from the 'MP fund'. Many of his predecessors have not done much better either and some have even earned a fair degree of notoriety for damnable reasons. But Ullal Srinivas Mallya, on the other hand, continues to stand tall. This, despite his small physical stature, all thanks to his visionary contributions for the development of this region.



By using his clout in the ruling party and the sheer force of his personality, he helped build vital infrastructure and glorious institutions, which set the agenda for the city's future. The contributions he made include lobbying for and succeeding in establishing the Karnataka Regional Engineering College (now National Institute of Technology, Karnataka), New Mangalore Port, Bajpe airport, initiating the Mangalore–Hassan –Bangalore Railway Line, facilitating national highways like NH-17 (Mumbai-Kochi) and NH-48 (Mangalore-Bangalore) Road, building Ullal Bridge on the River Nethravathi as also many other river bridges, the Circuit House, Mangalore Town Hall and setting the ball rolling for establishing the All India Radio Station in Mangalore.

As history has proved it, these developments have given us first mover advantage, enabling ripple effects in the form of all round progress and allowed Mangalore to emerge as an important hub on the national map. On the contrary, the absence of these would have caused severe drawbacks and the city would have lost out, thereby remaining a small time town. The blossoming of our innate talent and entrepreneurial acumen might never have taken place. It was Ullal Srinivas Mallya who understood our people's capacity and aspirations and envisioned the type of city we ought to be if we had to grow. And he did it. In the process he set high standards and became a model MP for generations to follow.

So in the face of present stagnation in many sectors and haphazard growth in others, it is high time we took stock of the situation and projected a role model for our elected representatives so that our citizens may choose wisely in the future. And in Ullal Srinivas Mallya, we have exactly such a person. Hence this retrospective.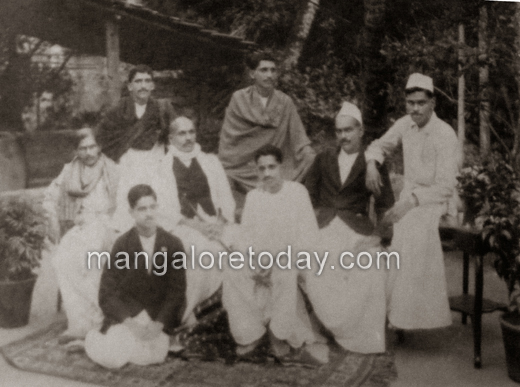 US Mallya with his father Manjunath Mallya and brothers



Ullal Srinivas Mallya was born on 21st of November 1902 into a conservative and traditional Gowda Saraswat Brahmin (GSB) family of Mangalore, known as the Ullal Mallyas. His father was Ullal Manjunath Mallya and mother Rukma Bai. His elder brother was Dr. U. Padmanabha Mallya, who too was a Congress leader for a long time. Young Srinivas did his primary education at St. Aloysius Primary School upto the 8th standard, and completed his high school - 9th and 10th standard - at Canara School. Intermediate studies, he pursued at Government College. But it was not academics that interested him, rather it was the ongoing struggle for independence that caught his fancy. At the tender age of 18, Srinivas Mallya's restive spirit reached out to Gandhi's call for joining the freedom movement. What made the young Srinivas give up a life of ease, where he simply needed to lend a helping hand in the already flourishing family wholesale business in Bunder in Mangalore? What prompted him to opt for the strenuous life of a Satyagrahi, go underground, court or evade arrest as the need may be and generally give up the comforts of a carefree existence? Perhaps it was a sound value base that Srinivas Mallya possessed that gave him the strength to turn his back on material gains and step into an uncertain, difficult world, that too at such a tender age.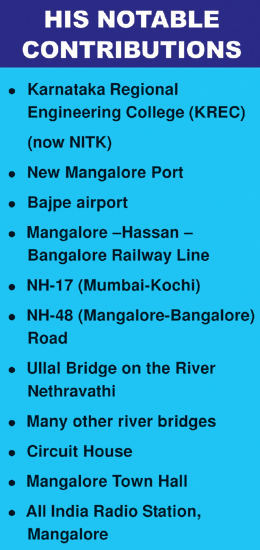 Yet one can gauge the intellect and qualities of enterprise and innovation in Mallya when one understands that Mallya befriended and held beneficial interactions with several top Congress leaders even when in jail. In other words he did not let go of the opportunity. He became a member of the Indian National Congress, which was at that time leading the freedom struggle. His native intelligence, integrity, principled outlook and most of all his tenacity to stick to a task till its completion saw him rising swiftly in the higher echelons of the Congress.

From being the secretary of the South Kanara District Congress Committee, to a member of the State Congress Committee, to a member of the All India Congress Committee seemed as a natural course of action to this intelligent and dedicated young man. He did have his patrons in the Congress of course and they were not ordinary people either. Jawaharlal Nehru, Subash Chandra Bose and Kamaladevi Chattopadhyaya (also a Mangalorean) were a few of his well wishers who supported his ascent in the party hierarchy. In the Mysore Pradesh Congress Committee, he came to be known as the 'King Maker' - a testimony to his adroitness in managing people perhaps. In the years between 1937 and 1946, Mallya was a source of great support to the Congress volunteers and members through his immense capacity for fund raising.

The causes that he chose to espouse and court jail for were as diverse as the man's qualities themselves. At one end was his patriotic fervour which made him root for khadi and cottage industries in response to the Mahatma Gandhi's call. Then there was his social awareness that made his blood boil at the thought of the barbaric practice of 'untouchability' practised by the people. Courting arrest for these causes and supporting the movements became an obsession with Mallya, one that he pledged to cater to by putting his heart and soul into it.
Then, by 1946, freedom became imminent. The British government named Nehru as prime minister of the interim government. It was Kamaladevi Chattopadhyaya who suggested Srinivas Mallya's name for the Delhi House of Representatives. It was thus that Mallya first became a member of the Lok Sabha.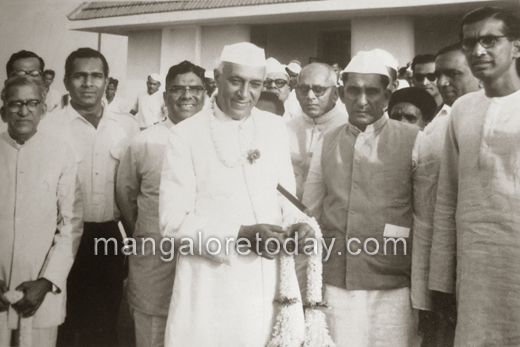 Mallya with Jawaharlal Nehru, Justice K.S. Hegde, K.S.N. Adiga, A.B. Shetty and others
The Union Jack was lowered at midnight on 14 August 1947. The Indian tricolour now needed the legitimacy of its own Constitution. Mallya's political activism saw him being appointed to the Constituent Assembly. This indeed was a singular honour bestowed upon this rather quiet and homely man. He had the privilege of associating with the president of the Constituent Assembly, Dr. Rajendra Prasad besides stalwarts like Nehru, Vallabhai Patel, Maulana Azad and of course Dr. Ambedkar.

As if this were not enough, Mallya was appointed general secretary to the All India Congress Party in 1951, a post he shared with none other than former Prime Minister Lal Bahadur Shastri. It was the then Congress president Pandit Nehru who extended this honour to Mallya. How many politicians would have given their right hand, and left eye too perhaps, to be in Mallya's place. What was most wonderful about the man was, however, the fact that he did not 'play politics' to get there. It was not a plum post which ensured that the person in the 'gaddi' was made for life, as it is understood today. For Mallya it was only another opportunity to serve the nation.

Mallya's became a household name in Karnataka due to this posting in the party. It goes to Mallya's credit that he handled his responsibilities with efficiency and ease. His non-corruptible persona provided him the courage to be assertive and firm and deal with dexterity the pleas of the thousands of ticket seekers in the Congress party, this at a time when even a 'lamp post' would have won on a Congress ticket.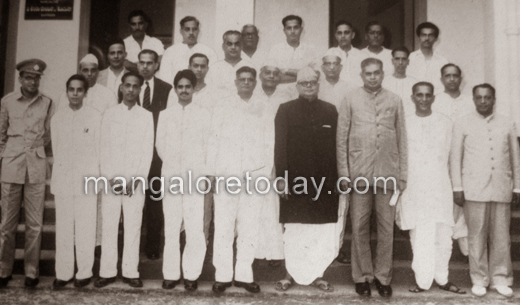 US Mallya along with Central Minister B Gopal Reddy, V S Kudva and the Managing Committee members of Kanara Chamber of Commerce & Industries (27-9-1960)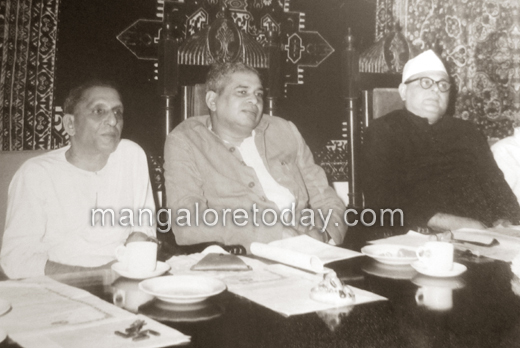 US Mallya with Minister Gopal Reddy and Kudpi Srinivas Shenoy


Mallya's ascent in the party was swift. He became the 'Chief Whip' of the party in the Lok Sabha - indeed the only Mangalorean to be granted the honour. A knowledgeable man that Mallya was, as Chief Whip of the party in the Parliament, it was he who readied answers for his party ministers regarding various queries raised in the house.

The kind of power that Mallya wielded should be judged from the way in which he handled the situation in the fading days of Nehru. It was February, 1964. The then Prime Minister Pandit Jawaharlal Nehru had suffered a cardiac arrest even as the AICC session was underway. Nehru was rushed to a Delhi Hospital where he began to recuperate slowly. However, many in the Congress had a feeling that he may not live long. There even arose the question 'What next?' The general feeling was that Morarji Desai, a senior politician who was in the Nehru cabinet and was even nicknamed as The Trojan Horse for his adamant attitude was likely to be the choice for the PM post. Senior leaders including then Congress President Kamaraj Nadar, Neelam Sanjeeva Reddy, Atulya Gosh, Nijalingappa who were not agreeable to this, met in Tirupathi in March the same year and decided that Lal Bahadur Shastri should be the next Prime Minister. Eventually, they succeeded in their task. This group later came to be known as 'The Syndicate' and ironically US Mallya was the brain behind this Syndicate.

It is said that his tenure of 14 years as parliamentarian did not mark him out to be an articulate person. Indeed Mallya was a man of few words. He rarely spoke in the Parliament. The need to raise any issue of relevance never arose for him as he had his own style of functioning through which he used to ensure that essential projects were sanctioned to his home district without any delay. He addressed very few public meetings and was a man who proved himself through his deeds rather than his words.

As a parliamentarian, Mallya headed the House Committee in the Lok Sabha. He was also member of All India Handicrafts Commission from 1952. It was as if he had pledged to live his life in service of his countrymen. The handicrafts industry definitely benefited from Mallya's interventions.

And all the while he never forgot his responsibilities to his constituency and to his hometown, Mangalore. Even in the midst of hectic political life, his eye was ever vigilant for what Mangalore needed. And if his inner eye saw it, he somehow got it. And the results are for all of us to see. One may even wonder how all this was possible by one man. Mallya showed that multi faceted achievement is possible, even in the field of politics.

An important highlight of his life is that US Mallya was a silent crusader. He shunned publicity and never ever thought of convening press meets to boast his achievements. Despite being so popular, he was virtually anonymous. This could perhaps only happen in the days of old when the cameras did not follow you everywhere. But still the story goes that, whenever US Mallya visited Mangalore he used to stay in a bungalow at Ullal owned by his friend Kudpi Srinivas Shenoy. In the absence of a bridge one had to cross the river by a ferry those days. Once Mallya along with his friend Shenoy stepped out of the ferry and went straight to a tiny shop owned by a simpleton to make some purchase. There Shenoy saw the photograph of Prime Minister Nehru with his hands on the shoulder of US Mallya. When Shenoy asked shopkeeper who was the man on whose shoulder Nehru had placed his arms, pat came the reply 'Our MP, a man from our place US Mallya." Shenoy for a moment was aghast to know that the man though knew about Mallya had failed to recognise him, the simple and humble MP who was standing right in front of him.

On the other hand, he had the tenacity to pursue his tasks relentlessly. When the Netravathi Bridge was under construction at Ullal, once there arose shortage of cement and the contractors had almost suspended the works. Mallya who had arrived in his hometown during this time, on coming to know about the problem, summoned the engineer who explained the fact. As soon as Mallya returned to Delhi he approached the Secretary of the Finance Department and arranged for release of sufficient funds and ensured transportation of two wagons of cement on priority basis and directed the officials to go ahead with the works.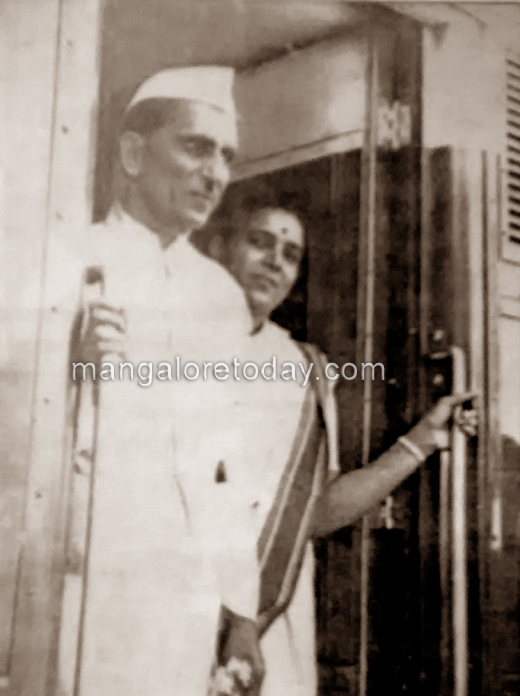 U. S. Mallya with his wife Indira

The end came rather suddenly on 19 December, 1965. On that fateful day, Mallya who was on way to the airport in Delhi to return to Mangalore, had suddenly developed chest pain. The car was immediately diverted and he was rushed to Ram Manohar Lohia Hospital where despite the best efforts doctors could not save his life. Prime Minister and Mallya's close friend Lal Bahadur Shastri who was in Uttar Pradesh cut short his visit and rushed to Delhi to pay his last respects to Mallya. Shastri even arranged his personal jet 'Megha Dhoot' gifted to him by the then USSR government to take the mortal remains of Mallya to his home town.

As the flight landed at the airport a vehicle owned by Mallya's close friend and owner of Taj Mahal Group Kudpi Srinivas Shenoy had arrived to take his mortal remains to his residence. A sea of humanity including a host of friends and admirers of Mallya had gathered and took part in the funeral procession which began from his residence and reached Bolur crematorium via Urva, Lalbagh, KS Rao Road, Light House Market Road and Car Street. The slogan 'Srinivas Mallya Amar Rahe' reverberated and touched the skies. Tears rolled down many cheeks as the mortal remains of the great son of the soil were consigned to flames, thus bringing to end a glorious life which was dedicated for the cause of the society.

A powerful Congressman and a close aide of late Prime Ministers Jawaharlal Nehru and Lal Bahadur Shastri, US Mallya had evolved as a great political statesman who was popular throughout the length and breadth of the country. He placed the interests of the people and his district above his personal interests and this was evident from the fact that he had nothing which he could say was his own property till his last except the ten acre land which the government had sanctioned at Haripadavu in Mangalore on the grounds that he was a freedom fighter. Apart from that he had a few shares which he had purchased out of his savings.

If US Mallya ranks high today, it is mainly because of his hallmark qualities like his simplicity, his far sightedness, his vision for the district and his total lack of appetite for cheap publicity. He worked, he toiled and he struggled to get infrastructural projects for his home district. He fought till he realised his vision. That was the spirit of Mallya, which sadly the present day leaders miserably lack. Exorbitant funds are spent towards grand inaugurals, huge cut outs and flex boards carrying photographs of leaders claiming credit for the projects are put up, press meets are convened and due publicity is sought well in advance. After all our leaders have every right to keep the public informed about their achievements. Mallya hardly did any of these, still he managed to win the hearts of the people.

It is often considered a great privilege rather than a tremendous responsibility to be a MP. And true to the belief, most MPs best enjoy all privileges that come along with their position, and do the least as far as the rest is concerned. But, US Mallya was an MP of rare genre who stood the test of times and emerged the winner in every respect. He had considered being an MP as a great responsibility rather than a privilege and remains the Best MP of the region for all times, thanks to his farsighted vision that had gifted worthy projects that shaped the destiny of the region.

Indeed none can match the stature of late US Mallya who undoubtedly is the Best MP and the true harbinger of development of the district. His life and works are a standing testimony to the farsightedness of this one man who was an institution in himself. His was the indomitable spirit that had successfully placed Dakshina Kannada firmly on the global map nearly six decades ago. He is truly our 'No.1 MP' of all times.

U. S. Mallya's colourful life is steeped in umpteen myths, all of which point out to a shrewd, determined and often cunning mind, which saw no scruples in bending the rules ... for the common good, of course!
Always a ready trick up his sleeve ...
Giving Firangs the slip!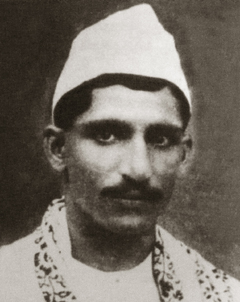 Mallya's earliest known escapade took place in the 1920s. One day, the CID in Bombay were on a mission to track down a youngster for participating in the freedom struggle. Their investigations lead them to the house of a South Indian government employee, where they presumed the lad to be hiding. But they had one problem: they had no any clue about his appearance. Upon entering the house, they found a slim youth in his twenties, wearing a thin country towel around his waist sweeping the floor. He welcomed the CID officers, asked them to be seated and went inside. When none appeared for a long time they looked about them and upon enquiry they were furious to know that the youth was the one whom they had come to arrest. But he had already given them the slip. He had quietly slipped out of the backdoor and melted into the shadows. The youth was none other than Mallya.

Shastri's Long Ride
In 1962, while on a official visit to the coastal region, Lal Bahadur Shastri, the then Transport Minister along with Raj Bahaddur, then Tourism Minister were taken by Mallya on a road trip from Mangalore to the pilgrim town of Kollur.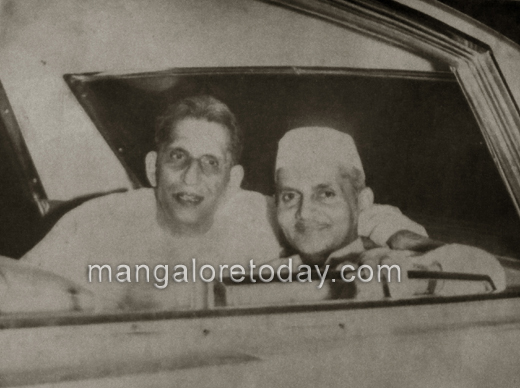 The tiresome travel took exactly ten hours for them as they had to cross five rivers en route, in the absence of bridges. When they finally reached Kollur it was 10 pm and the temple had closed its doors. The leaders offered prayers to the Goddess the next morning and returned by the Karkala route to Mangalore, which took just two hours. Shastri was taken aback and he questioned Mallya as to why he took him on the long route when a shorter one was available. Mallya's reply was sarcastic: "Sir, you might have faced this hardship just once, but the people here have to endure this every day. It was just my humble effort to make you understand their plight in the absence of bridges." That was it. All five bridges were immediately sanctioned. If three of the bridges were constructed when Mallya was alive, the rest two were completed later.

Prayer begets riches
Once it so happened that a pious and deeply religious man from Bantwal who led an ascetic life had been to Delhi and had stayed with Mallya. His wife treated her guest with great hospitality and even arranged for sightseeing in Delhi. By the time the man visited other pilgrim places like Kashi, Mathura and Haridwar and returned to Delhi, he had spent even his last penny. When Mallya learned about this, he came up with a master plan to help the man.
The next day when the man was in deep meditation in front of the Lord's idol, a shrewd man that he was, Mallya on noticing that several politicians were at his residence, immediately addressed them: "A very great sanyasin is presently staying with us. Please seek his blessings." Saying so he prostrated before the man and placed a Rs 100 note on the plate in front of him. Soon all leaders followed suit and made their contributions. By the time the man from Bantwal opened his eyes, he could not believe himself. Upon returning to his hometown, he always remembered Mallya couple for the help they extended to him when he needed it the most.

KREC deal cracked
A popular legend has it that at a particular juncture, U. S. Mallya was taken into confidence regarding some upcoming projects. He was offered two projects on the menu – he would have to choose one for his hometown and the other would go to Mysore. One project was an elite Regional Engineering College; the other, a modern sea port. This was clearly a no brainer for Mallya, who promptly chose the REC (KREC, now NITK). He knew that the other would automatically come to Mangalore as Mysore has no sea to build a port! Of course, this could only be no more than just a silly myth used for illustrating his cunning personality.

A more factual account of KREC's genesis holds that when Lal Bahadur Shastri was the Education Minister, he had proposed setting up of 17 RECs across the nation including one at Bagalkot. Getting wind of this, Mallya approached Shastri and demanded a REC for Mangalore instead of Bagalkot, citing that the district had several meritorious students who had to migrate elsewhere for higher education. Shastri agreed to the demand. The same night Srinivas Mallya is said to have telephoned ML Shrestha, the PWD engineer in Mangalore and asked him to inspect a vacant land at Suratkal for the proposed engineering college. He even instructed the engineer to get a temporary shed constructed at the site with the help of VS Kudva, a leading industrialist. As promised, Mallya got the KREC, now one of the prestigious engineering colleges, which was inaugurated by Lal Bahadur Shastri. And what's more Mallya even proved his words when the first batch of the students bagged 105 out of the total 109 ranks given by the Mysore University.

Mangalore-Hassan line
The Mangalore-Hassan railway line was awaiting clearance for some time when Lal Bahadur Shastri was the Railway Minister. Though Mallya had appealed to Shastri several times to approve the project, the latter took some time mainly owing to the refusal of the railway officials to permit it. Finally as a last weapon, Mallya threatened to sit on a hunger strike in front of the Parliament if the project was not approved. On hearing this, Shastri approved the project immediately. That was Mallya's style of functioning which ensured vital projects and infrastructure for his home district.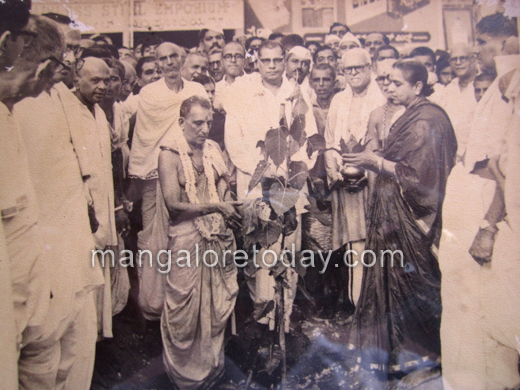 US Mallya planting a sapling in Car Street on the occasion of his 60th Birthday


Not even 60 words ...!
In 1963 when Mallya completed 60 years, his admirers arranged a celebration at the KMC Auditorium. Dignitaries like veteran freedom fighters KK Shetty, Dr K Nagappa Alva, SD Samrajya and Shanker Alva were the speakers on the occasion. Admirers from Kundapur to Kasargod gave a patient hearing to their speeches and were eagerly waiting to hear their leader speak. When his turn came, Mallya stood up and gave a smile and said humbly: "Please do not ask me to give a speech any time. Please let me know if you want me to work for development of your town and area. Namaskar." The crowd was dumb struck by the anticlimax, but was nevertheless impressed by the simplicity and sincerity of the man.