Transnational Narcotics Threat and National Security
Mangalore Today News Network
By Dr.G. Shreekumar Menon, Former Director General, National Academy of Customs, Indirect Taxes & Narcotics

Mangaluru, Nov 3, 2022: Indian policymakers today confront a wide range of national security challenges, notably narco-trafficking, Chinese aggression, continuing reverberations from the global pandemic, money laundering, religious fundamentalism and conversions sponsored and abetted by foreign agencies, cyberterrorism and innumerable domestic divisions and vulnerabilities. Internet and social media platforms have become potent instruments in the "toolkit" of terror groups, which are misusing technologies like encrypted messaging and cryptocurrencies to inflict damage and destabilization.To navigate them, India must draw on its enduring strengths to energize its economic, military, and technological edges, promote its international relationships, and balance a national security portfolio across regions and issues.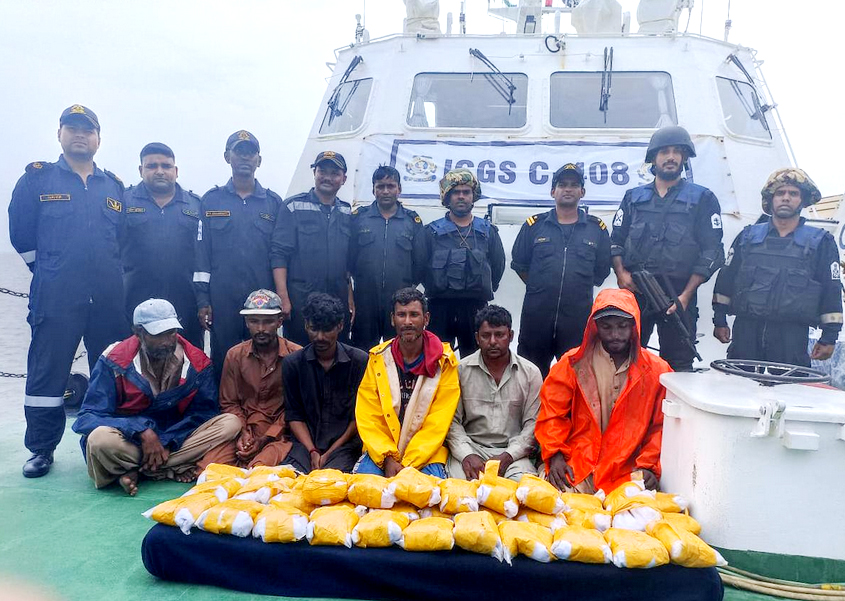 Gujarat's Anti-Terrorist Squad in a joint operation with Indian Coast Guard has seized 40KG heroin worth Rs.200 crore from a Pakistani fishing boat in the Arabian Sea off the Gujarat coast in September 2022.


The concept of national security, keeps evolving and changing, bringing new threats and challenges, which are transnational in nature and has the innate ability to worsen.In the past, national security meant, safeguarding the country's borders. In its current form, it has enlarged to include political, economic and social security, which is a direct consequence of globalization. Three dimensions of globalization identified are – economic dimensions- flow of goods, services and capital over long distances; political dimensions- international consequences of policies and decisions; social dimension – dissemination of information, ideas and images. In a globalized world international physical borders have diminished importance. Globalization has reduced the capacity of nations to interdict transnational challenges, and disrupt the balance between state actors and non-state actors, and has made security into a complex and multidimensional concept.

Traditionally, national security meant military security and balance of power in terms of military capability. Globalization has created a whole range of non-traditional threats directed against individuals inside the state by non-state actors, who come in the garb of NGO's, MNC's, human rights organizations, religious conversion groups, media houses, social service organizations, new political parties, Naxalite organizations, Urban Naxals and terror outfits. Many are secretly funded by foreign intelligence agencies to bring about powerful forces of social fragmentation, sowing conflict and discord, and enmity between communities and States using language, religion, social customs, status, food habits, dress regulations and even love affairs, as tools to create social unrest and create discord and irreconcilable animosities. The speedy upward thrust in drug trafficking and consumption, cybercrimes, money laundering, human trafficking, engineered infiltration of Bangladeshis, terrorism in Kashmir, and,fake news circulation, are all the aftermath of globalization.

The term 'transnational' means a phenomenon that emanates from across the national borders and not directly controllable by any government.


'Threat' comes in many forms, as a result of globalization, and it can be held out by countries, groups and individuals. The many dimensions of globalization requires a new way of visualizing security perspectives for the future.Countries live with each other in a context of international anarchy, without any central authority to control or restrain them. The challenge arises in how countries perceive the problem differently, hence unwilling to extend cooperation to control the problem, and the different judicial systems, that interpret these problems differently. Lack of cooperation and collaboration between different countries, remains the biggest obstacle in combating transnational crimes.

Drug trafficking is a global shared phenomenon, that brings threat to every country and society. The threat gets more enhanced by its close association with terrorism and money laundering. This trinity can destabilize any society and country. Drug traffickers are now targeting India as its extensive land and sea borders make it very porous, regional and cross border cooperation with countries like Pakistan and China is not feasible in the present circumstances, and the poor judicial systems cannot ensure quick and deterrent punishment.
The Narcotics Control Bureau seized over 763 kg of drugs, worth about Rs. 2,000 crore from the high seas on the western flank of the country in a joint operation with the Navy in February 2022.


In July 2022, a conference on Drug Trafficking and National Security was conducted at Chandigarh. In August 2022, a National Security Strategies Conference was held at New Delhi. In October 2022 a Regional Meeting on Drug Trafficking and National Security, was held in Gandhinagar, Gujarat. In all these conferences the hot topic of discussion was about the increasing role of Narco-terrorism in destabilizing the country. These types of conferences enable the government, bureaucracy, and intelligence agencies to wake up to assess the extent and destructive impact of organized drug trafficking, in the country. Trafficking in Heroin is at an all-time high, especially by the sea-route, indicating large scale consumption within the country. All indications therefore point to greater volumes being trafficked into the country in the coming days.

One of the dangers of transnational organized drug trafficking is that, if it is not controlled, it can cause the country to slide in the direction of becoming a captured and criminalized state. When a state can be said to have become criminalized is difficult to define or stipulate. Hence, in these conferences it is necessary to deliberate on instituting far-reaching interventions by the government to interdict future trafficking manoeuvres. The international community has hardly responded to the alarming influx of Heroin consignments that is being thrust into Indian ports. Although the warning lights are flashing, Government has a business-as-usual approach and continues to regard the appointment of special police task forces to investigate drug trafficking, or the issuing of dire threats of action against those involved in corruption, as sufficient.The United Nations Security Council has recognized that "drug trafficking and transnational organized crime contribute to undermine the authority of the state." This is of direct relevance to India. The global, regional, and domestic reach of transnational organized crime requires responses at global, regional, and domestic levels if it is to be countered effectively. Purely national solutions will not suffice. They will have to be augmented by international and regional responses. These are major and complex tasks that go well beyond lawenforcement activities.Any serious conference about combating transnational organized drug-trafficking need to take heed of the statement made by formerGerman Chancellor Angela Merkel that "the greatest consequence of globalization is that there aren't any purely national solutions to global challenges."

Another seriousissue is that there are a plethora of agencies, both Central and State that are engaged in interdiction of narcotics trafficking, leading to intense rivalry and turf battles, that could border on even non-cooperation. Further, there are puerile issues of imagined service superiority, seniority, rank and designation that continue to rattle smooth relations between competing law enforcement agencies.This results in many agencies being excluded from attending such conferences, including the Defence Forces! The political leadership needs to intervene to correct this lacunae. These conferences need to be enlarged in scope by inviting participation from judiciary, especially from the lower judiciary, students from law universities, different defence think tanks, retired experts from different services, and even nominees from recognized political parties. Security is not the prerogative of any single service or organization, it is a collective national responsibility.

Although the Central Government has set up a specialized Narcotics Control Bureau (NCB), transnational organized crimes, is often intertwined with terrorism and money laundering. These crimes are presently being investigated by different specialized agencies like DRI, NIA, ED, CBI, apart from Special Task Forces set up by Police organizations of different States. Many recent mega drug seizures have not been cracked as different agencies are engaged in exploring different aspects of the trafficking. Fresh new cases means the investigation into the earlier seizures slowdown, because of paucity of manpower, equipment and funds. Therefore,there is a need for establishment of an exclusive Transnational Organized Crime Agency (TOCA) to only handle investigation into cases that exceed over Rupees five hundred crores.This will be an elite force with expertise from different domestic law-enforcement sectors pooled in one unit. They will be trained and equipped to fightonly transnational organized crime and act as the focal point for domestic and international interaction relating to such organized crime. Law-enforcement responses should only constitute one element in a wider range of tools and strategies used to counter transnational organized crime. USA has an excellent practice of regularly coming out with aNational Drug Threat Assessment (NDTA) report. This is prepared in partnership with local, state, tribal, and federal agencies, and integrating the most recently available reporting from law enforcement, intelligence, and public health agencies, this annual assessment provides in-depth strategic drug-related intelligence to inform counterdrug policies, establish priorities, and allocate resources.The National Drug Threat Assessment (NDTA) is a comprehensive strategic assessment of the threat posed to the United States by domestic and international drug trafficking and the abuse of both licit and illicit drugs. The report combines federal, state, local, and tribal law enforcement reporting; public health data; open source reporting; and intelligence from other government agencies to determine which substances and criminal organizations represent the greatest threat to the United States. India needs to adopt this practice immediately.Enforcement action against drug trafficking has to have a wider and far-reaching disruptive impact on organized crime.
---

Dr. G. Shreekumar Menon IRS (Rtd) Ph.D: Former Director General of National Academy of Customs Indirect Taxes and Narcotics & Multi-Disciplinary School Of Economic Intelligence India; Fellow, James Martin Centre For Non Proliferation Studies, USA; Fellow, Centre for International Trade & Security, University of Georgia, USA; Public Administration, Maxwell School of Public Administration, Syracuse University, U.S.A.; AOTS Scholar, Japan. He can be contacted at shreemenon48@gmail.com