To save humans, save earth now
Mangalore Today News Network
By Gauri G. Prabhu

Mangaluru, Dec 9, 2017: When the last tree is cut, the last fish caught and the last river poisoned; when breathing air is sickening, you will realize, too late, that wealth is not a bank account and you can't stay alive on money - Alanis Obomsawin.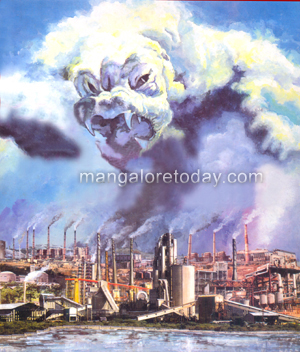 Humanity is the cause of 'mass destruction' on our planet - EARTH. People fail to give proper value and place to short term happiness Vs the effects long term choices. It's no secret that the world population of humans inhabiting the earth are putting pressure on the earth's natural resources. Unfortunately we are destroying our own habitat. There's a considerable disparity between what we should do and what our doings result in. We are destroying remaining resources left on the earth at a rate faster than ever, which makes restoration impossible. We have nonchalantly polluted the air and created air purifiers for commercial profits, we loved bubble bath so much that we made lakes toxic with foam, lands face deforestation, our ecosystem is in a big mess. We are like cruel parasitic mites draining the life from our host.

As knowledgeable humans do we have to wait for our governments to enforce Eco-friendly policies? Change starts from within - we are the ones who form Governments. The health of our planet is our responsibility. When it comes to our planet, we collectively need an effort, and a very serious one at that, to get us all on board to effect positive behavioral change. Each one of us can do our bit to save our planet and pass it on to our future generations. Laws and regulations in books are of no use if we humans cannot implement them in time.

Setting up solar panels, use of jute products, support farmers by buying more fresh produce than relying completely on the supermarkets. Plant and /or care for trees and vegetation. Do more for the environment in a better way. Limit your water wastage. If everyone saved just one gallon, it would be two times more water saved than is currently drawn daily from water resources. Another important thing is how we dispose our waste. We should ensure that we do not dump our harmful wastes into the air or the drains, where it contaminates the ecosystem in a way which is irreversible. Recycling should be the jargon with reusing; discouraging creation of waste which is beyond human power of management. We must do our best to convert our waste products to useful matter within our habitats, as much as possible. These simple things can make a big difference. Taking care of the Earth is not just a responsibility – It is a privilege. Try to join a group which helps with ecology and even does cleaning up the area on holidays. It will bring happiness and health to us as well as all those who will come after us.