Tigers of the Concrete Jungle
Mangalore Today News Network
By MAHESH NAYAK | Photos by ROHIT S. RAO

Mangalore, October 24, 2015: Karnataka at last count had a tiger population of 406 in the wild. Come Navarathri, and approximately twice as many of their human counterparts will be vying for people's attention on the streets of Mangalore.

The fabled 'Tiger Dance' or 'Pili Vesha' is the icon of Coastal Karnataka's folk culture. During the ceremonial processions on the concluding day of the festival, it is a must see attraction. The dance is performed to mesmerizing drum beats by hot blooded young men sporting vibrant body paint and a bushy headgear.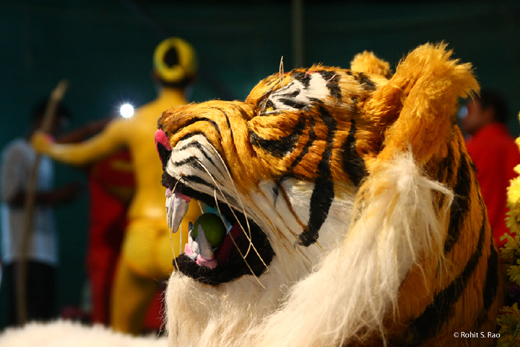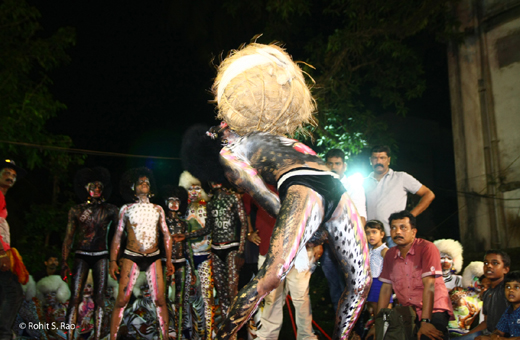 Tossing Rice Mudi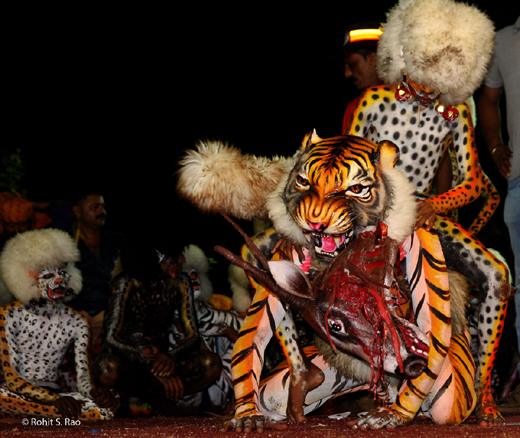 Deer Hunt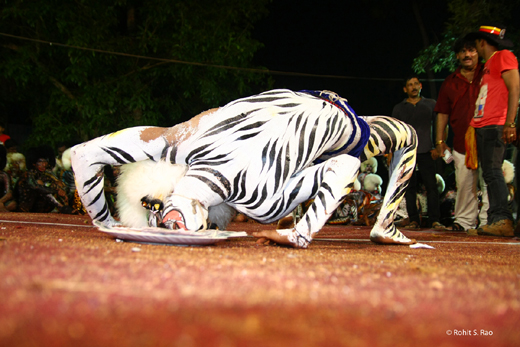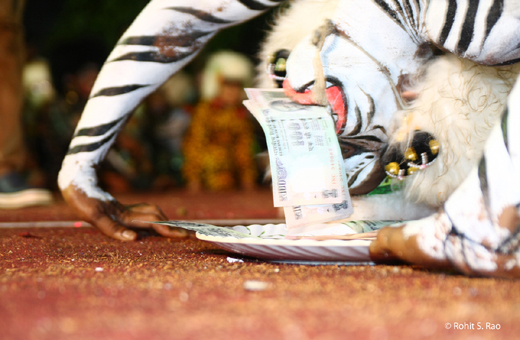 Picking Cash


Skilled tiger dancers are able to perform amazing physical and acrobatic feats like pole walk and tossing a 25-kilo rice pack with their bare teeth (This is substitute for a live sheep kill manoeuvre, which is now banned due to cruelty inflicted upon the animal).

Even as all other 'veshas' of Navarathri have gone into oblivion, the tiger dance alone has made a comeback. It is the only vesha which is still well and alive and kicking. Presently there are about 70 dance troupes and nearly 1000 artistes don the head gear. Typically each troupe consists of 10-15 performers plus the drummers and back up.

The most famous troupes of the city are Barke Friends with 100 performers headed by Yajneshwar Barke, who's better known as Barke Yaddu and Kesari Friends Circle of Bajilkeri Kamalaksh. A stalwart in this field, Bajilkeri Kamalaksh is an old man now but he still commands a wide fan following.

The spirit of resurgence of tiger dance is best seen in Uday Poojary, an ambitious newcomer. This year he is making a grand entry into the scene with Biruver Kudla Ballal Bagh, a troupe with an unprecedented 110 dancers. Says he calmly: "Tiger dance is no more a dying art. Every year it is getting more impetus."

The Making of a Tiger
It is no easy day for the young men who wear the vesha. While the dance performance itself is physically demanding, an even greater ordeal is suffering the body paint.

Before the painting session begins, the aspirant is shaved of all body hair. Then experienced artists apply automotive acrylic paint on which tiger stripes and leopard spots are finally drawn. The chest and stomach portions are reserved for decorations like pictures of tiger, lion, peacock or images of gods. These are over painted by an expert artist.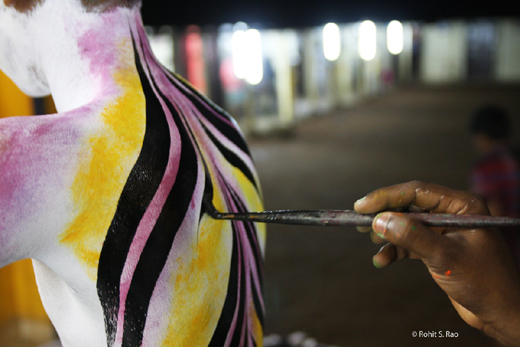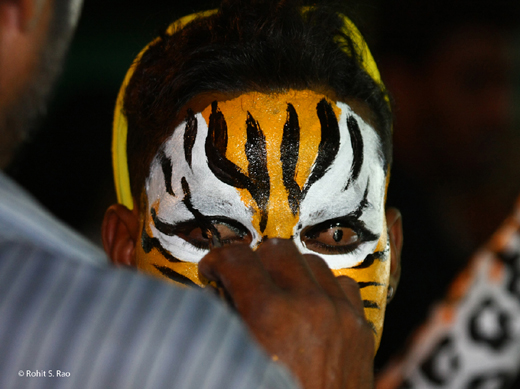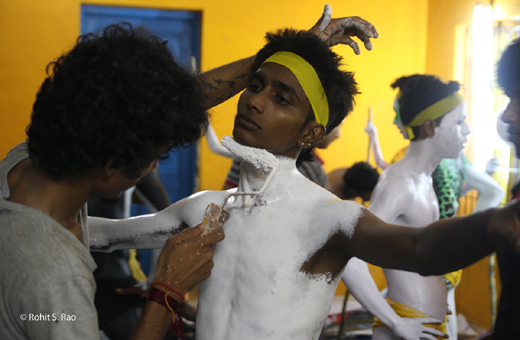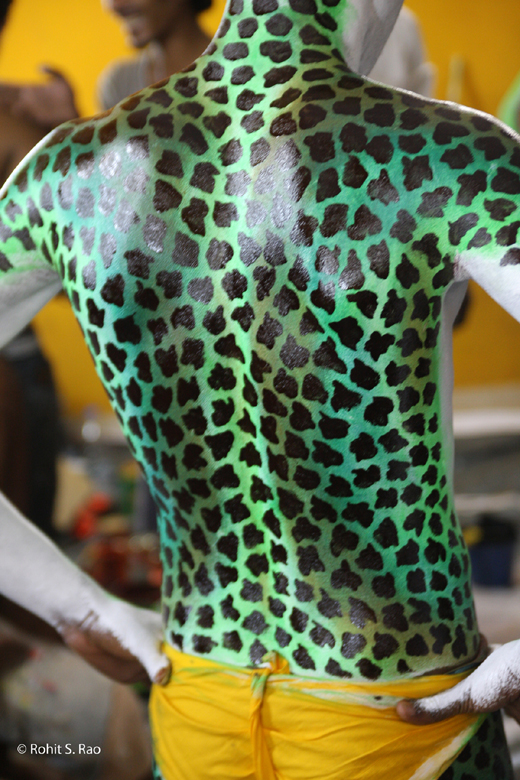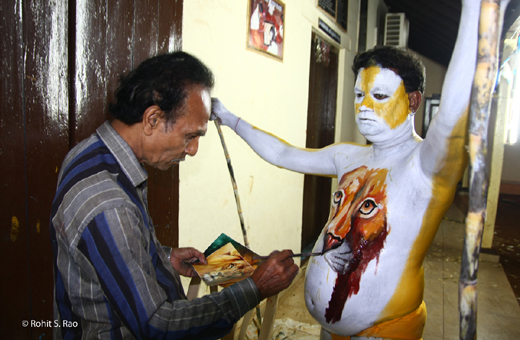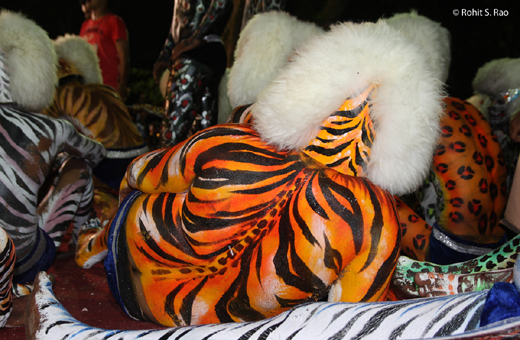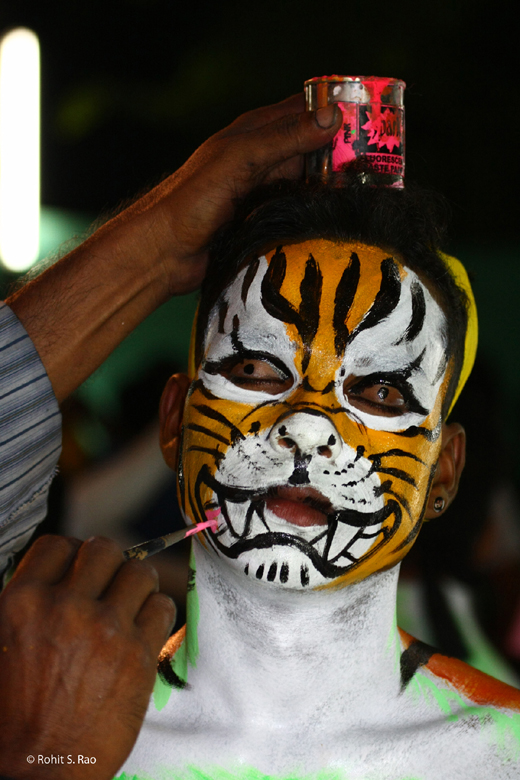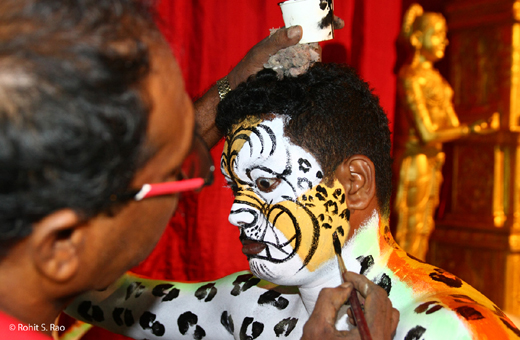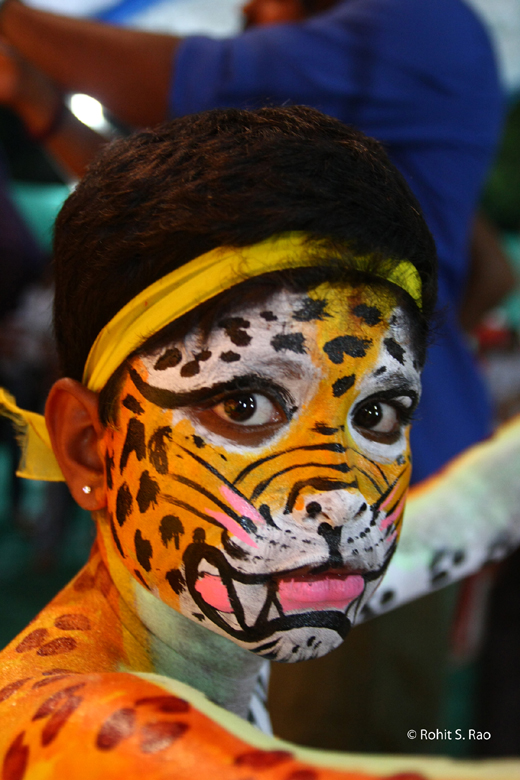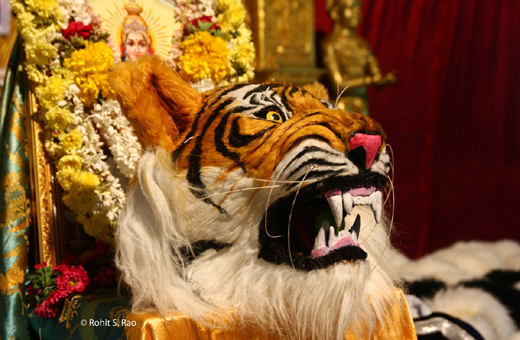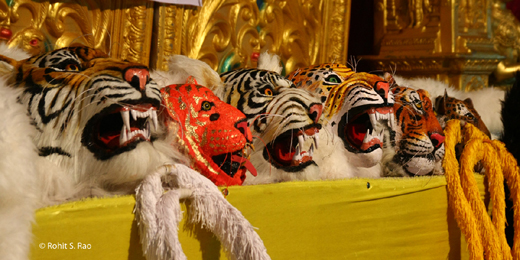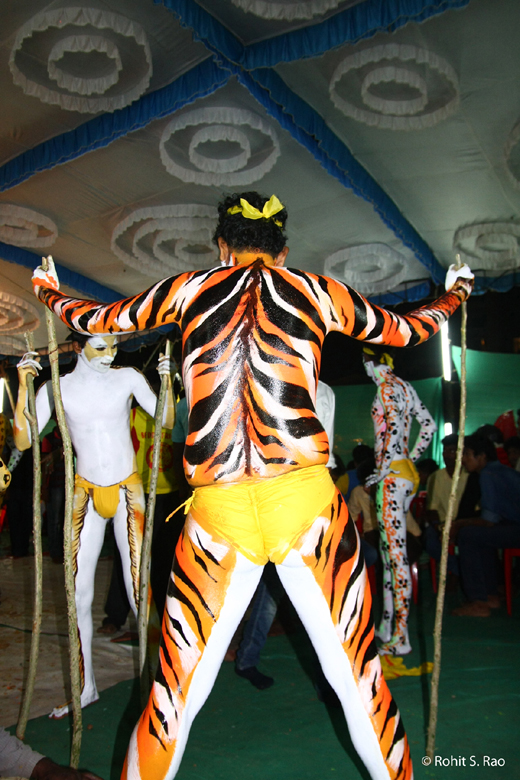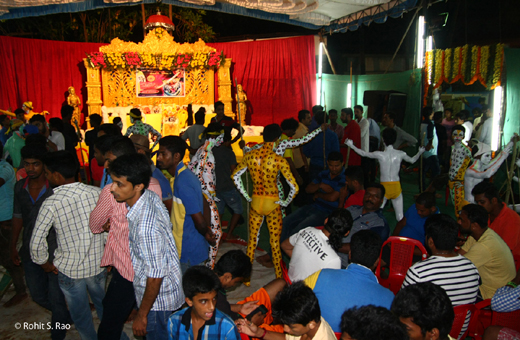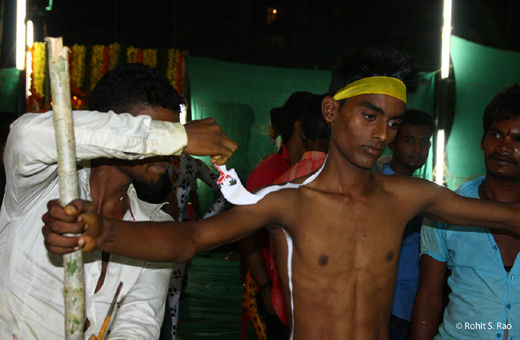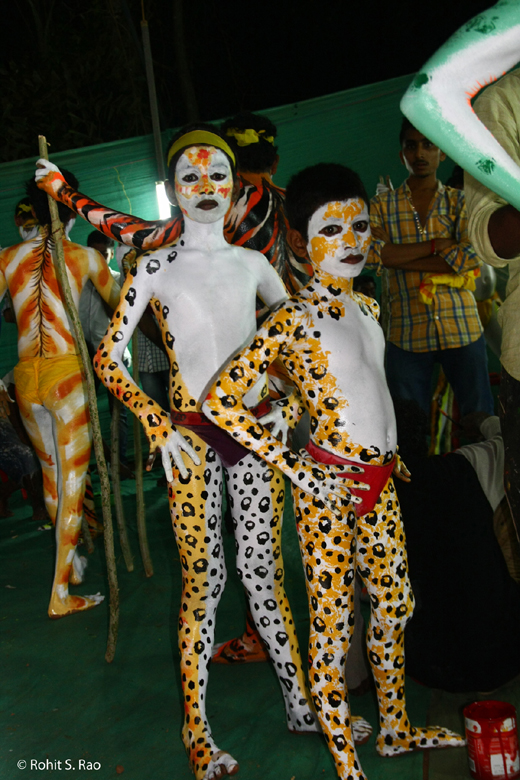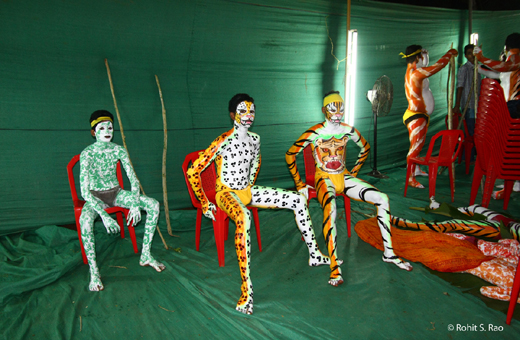 All the while the dancer, who is the subject of the paint job, has to stand still holding on to a stick or a sugarcane in either hand, waiting for the paint to dry. This could go on up to 4-5 hours. The eyes and face are the last to be worked on. The paint does not allow the skin to breathe and causes irritation too.

A helmet made of sheep wool and a specially designed velvet underwear completes the look and attire of the artiste. During the few days when they put on the vesha, the artistes hardly get to sleep. The little time allowed for rest is to be spent reclining on a banana leaf or huge colocacia leaf, to cool the body.

The troupes also indulge a few of the tigers in unnatural colours like green or blue. Purists and tiger lovers may find this practice off-putting, but for the tiger troupe, uniformity is monotony; variety is spice. Tiger dance is after all an entertainment extravaganza - the more colourful the vesha, the better its crowd appeal.

A few child artistes and a pot bellied performer are a standard fixture in every troupe as they are a big hit with the crowds. Many of the performers are there just to fulfill a promise made to the gods for wishes fulfilled.
Automotive paint is meant for doing up cars and trucks and not for human body painting. It is high on lead content and is said to be hazardous to health.

For this reason Barke Yaddu says he has been exploring the option of trying out other safer paints. "A few years back doctors from a medical college visited us and told us this paint is bad for the body. They collected blood samples from our artistes both before and after the event and it seems they concluded that there was no harm. We have faith in god and god has been protecting us," he says.

Yet his quest for an alternative paint continues and he is hopeful that he will be able to introduce it in the future. He says some special paints are available abroad, but they are expensive and require trained men to apply them.

The Tiger Bounces Back
Many factors have led to the resurgence of the Tiger Dance, a la Tulu movie industry. Tiger is the 'Vahana' or the official mount of Goddess Sharada. Tiger dance symbolizes raw energy, native machismo and glamour. Its distinctive flavour is embedded in the psyche of the people and it enjoys a special place in the traditional feudal social structure. Hence rich, aristocratic people take pride in patronizing it.

Barke Yaddu with a Head Mask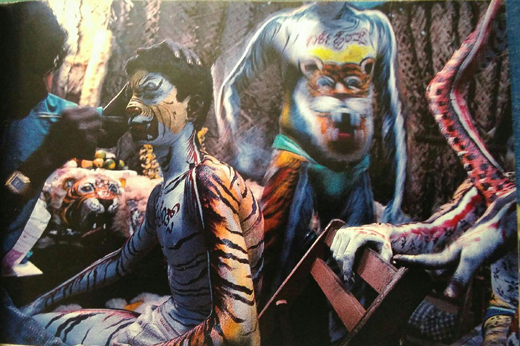 Barke Friends photo which was published in December 1997 issue of National Geographic magazine


Leading a tiger dance troupe is an expensive affair. The cost of running a 100 member troupe for three days could be anywhere up to Rs. 20 lakhs or more.

Well connected local strongmen who have fan following among the home grown youth usually take it upon themselves to form dance troupes. They are able to use their social connections to mobilize the capital, and the very mention of leading a tiger troupe also earns them respect and recognition in the community.

Says Barke Yaddu, who has been running his troupe for 23 years: "It is impossible to run a tiger dance troupe without public support. We have been successful only because people have given us their support all these years."

Barke Yaddu is credited with giving Tiger Dance a new lease of life by giving it a professional touch. His troupe does not make cold calls and only visits select patrons on prior appointment. There too, a full show of half hour or one hour is given.

His team was featured in National Geographic magazine in its December 1997 issue. This year his troupe has put up seven tableaus as part of the Sharadotsava procession of Kudroli Sri Gokarnanatheshwara Temple.

Since last year Youth Congress leader Mithun Rai has been organizing 'Pili Nalike', a competition between tiger dance troupes with a jackpot of Rs. 2 lakhs for the top team. The contest is televised in capsule format on NammaTV. This competition has become a new challenge for the performers to live up to.

Now with everything going for it the Tiger Dance looks all set to hog the limelight in its new innings and endear itself to the new generation.