The quest for good health
Mangalore Today News Network
By V Mohan Rao

Mangaluru, Dec 5, 2015: It is reported that an appreciable 70 per cent of Indians are of the notion that they do have a control over their health. It is said men are from Mars and women are from Venus. This is exemplified by dramatically different attitudes the two genders exhibit towards illness and advanced age. In these days of stress Indian men are prone to worrying about life style diseases whereas women are more concerned with being obese, osteoporosis, dementia, breast cancer, depression, arthritis etc. A report from Max Bupas Health Insurance plan indicates that the younger generation (18-24 years) are most worried about falling prey to heart diseases, followed by diabetes (24%) and cancer (16%). In contrast 67 per cent people in the world still feel they are healthy. The report said that people across the globe continue to feel young at heart during their 70's and 80s.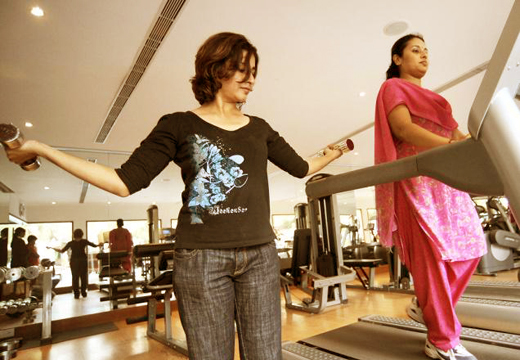 'All sorts of bodily diseases are caused by half used minds - George Bernard Shaw'. It is reported in the media that leading behavioural researchers have told us that as much as 77 per cent of everything we think is negative, counter productive and works against us. Medical researchers have said that as much as 75 per cent of all illness are self induced. Our feelings will directly influence our action. Your life style needs to be food for thought for a deeper transformation to healthy life. The body is always linked to the mind. Anxiety or a stressed mind is vulnerable and is linked to life style diseases like diabetes, obesity, heart diseases, cancers , split personalities, mental disability, arthritis etc. A World Health Organisation reports that some of these diseases kill 16 millions prematurely around the globe every year.

The human body which comprises of several trillion cells wear out as a person ages. These cells are also prone to stress or external factors like UV light from the sun. Our health is also vulnerable to unhealthy foods like pizzas, burgers, aerated drinks, consumption of alcohol and smoking which culminates in abuse of our body. Abuse of body needs to be prevented from younger age by moderating in consumption of fast foods, consumption of alcohol, fried foods and limiting ourselves to home foods.

All cognitive fitness are directly or indirectly connected to physical and mental upkeep. A healthy mind in a healthy body should be the motto. To this end regular exercise and keeping the mind alert by keeping the stress at bay and resorting to mental work would go a long way in keeping oneself fit. Mental soundness cannot be achieved with a frail body. Stress can be confronted with a positive thinking and patience and taking every stressful situation with a pinch of salt. Life is a roller coaster and it is imperative that one needs to adapt well within the given circumstances. Prevention is better than cure. This adage has assumed importance in the wake of exorbitant price medicines. All that talk of affordable medicines is a hog wash. These are not caliberated monographic expectations, nor imaginative vignettes; but facts that cannot be disputed.

The high cost of medical facilities like hospitalisation has added fuel to the fire. Hence it is incumbent to go in for a mediclaim policy. Through the premium on such policies are also exhorbitant for common man, it is nevertheless necessary, taking into consideration the sky rocketing medical costs and also the grim reality that disparities between the well to do minority and the poor masses / common man is getting wider and is not acceptable in any democratic society.

In a lighter vein it is said that a man suffered a massive heart attack and had to undergo an emergency heart surgery. On convalescing from the surgery he was surprised to find himelf in the care of nuns at a Catholic hospital. The nun asked him the mode of payment of hospital bills. She enquired whether he was covered by health insurance. He replied in a grumpy voice 'No'. The nun further enquired if he had funds in his bank account to meet the medical bills. The patient replied that he had no money in the bank. The nun who was apprehensive still asked him if any of his relatives could pay the bills; to which he replied " I have a spinster sister who is a nun". The nun was upset and said that nuns are not spinsters. Nuns are married to God. The patient was quick to reply and said "in that case send the bills to my brother-in-law" (Vipen Bucksy)

It is said health is wealth and if health is lost everything is lost. Life style modifications of the present generation has manifested in alarming number of deaths around the world; as diseases like hypertension, liver diseases , kidney ailments, diabetes and a host of other diseases are on a increase consistently. The World Health Organisation has defined health as a state of physical, mental and social being. Non communicable diseases which are age related leading to millions of death across the world is now catching up with people below the age of 65 years. The number of people living longer due to technological revolution in the medical fields is in contrast to their ancestors; but unfortunately their death is preceded by consistent chronic communicable and non communicable diseases.

Cancer is the most dreaded disease next to heart disease. However if it is treated in the initial stages survival chances are very high. Men are prone to cancer of the lungs, prostrate, colon, oral cavity etc. Women are mostly prone to breast cancer and cervical cancer. It is estimated that there are 142000, new cases every year and 77000 women succumb to cervical cancer. (Source: 'The Week- health' dated July 14, 2013). The cancer treatment centre of America has recommended consumption of food rich in fibre like greens, vegetables whole grains, fruits, unpolished rice, legumes, lentils and avocado that will reduce certain type of cancer that includes breast, mouth, ovary, stomach, colon and prostate. As fibre is of solid nature drinking adequate water will prevent constipation. It is admissible not to drink water with food. Water needs to be taken half an hour before food or half an hour after intake of food. This will facilitate easy digestion. Omega 3 fatty oil founded in certain fish like salmon, mackerel, sardines are helpful in preventing cardiovascular disease. It is also said that nuts like almonds, walnut and groundnuts enhance health benefits, drinking alcohol like red wine in moderation may help in longevity. Red wine contains antioxidant properties known as RESVERATOL, that protects body against risk of cancer and heart diseases. It is found in the skin of red grapes.

Heart diseases is the main cause for death among men and women. It is incumbent on individuals above 50 years of age to undergo a comprehensive medical check up. The check up which is otherwise known as Health Care Check up or executive health check up is very important. It will indicate the position of your health based on which necessary remedial measures can be taken if warranted. Remember a stitch in time saves nine.

World heart day was observed on 29th September 2015, to enlighten public on the increase in heart disease due to changes in life style. Heart disease is the major cause for death all over the world. As per the available data there is 42 per cent rise in the death caused by it from 1990 to 2013 and most of these deaths are from developing countries. As per the World Health Organisation data, heart disease apart from diabetes, stroke and road injury attribute to Indians being inflicted with disability and is the cause for premature death.

Individuals suffering from high cholesterol or otherwise need to undergo lipid profile test which is based on his / her blood test. The test will indicate the position of blood suger (Fasting), post Prandial, total cholesterol, HDL (good cholesterol), LDL (Bad cholesterol), triglycerides, total cholesterol / HDL Cholesterol ratio. The total cholesterol should be between 140-200 mg/dl, triglycerides should be within range of 60-150 mg/dl; HDL cholesterol need to be within the range of 40-65 mg/dl and LDL cholesterol should be between 50-130 mg/dl. Total cholesterol / HDL cholesterol ration needs to be less than 5. A ratio of 3.5 is ideal. Besides the lipid profile test check of blood pressure is a necessity. The ideal blood pressure is 120/80 but it varies with age and your health condition. It is important to keep a check on blood pressure which is the stepping stone for heart disease. Keep a tab on the intake of salt and consumption of excess alcohol. Blood sugar test is necessary as it indicates your vulnerability to diabetics which is the major cause for alarming deaths world over. Maintaining a healthy weight is one of the milestones to a good health. Men need to restrict their waist measurement to 40 inches and women should not have a waist measurement more than 36 inches.

Last but not the least smoking or using other tobacco products should be avoided as it not only triggers heart disease but is also responsible for lung cancer. It is said that even passive smoking is injurious to the health of the smoker.
According to a study conducted by an international consortium of researchers led by Institute of Health Metrics and Evacuation at the University of Washington, the Indian male on an average lives upto 64 years but nearly 8 years of his life are spent in ill health. In comparison Indian women is expected to live a healthy life upto 60 years. However the life expectancy of Indian when compared to their counter parts in South Asian countries appears to be below expectations. The life expectancy in Bangaldesh, Bhutan, Nepal and Pakistan is reported to be 68.29 years, 69.10 years and 64.33 years respectively.

Stress management with time management can pave way for a healthy and long life.