The Pumpwell concretisation scam: Who is to be blamed?
Mangalore Today News Network
Mangaluru, April 13, 2016: This is a classic case of daylight robbery about which Dakshina Kannada Deputy Commissioner A.B. Ibrahim ought to complain to the Anti Corruption Bureau. It is nothing but draining down of public money at Pumpwell.

Vehicular traffic on the Padil-Pumpwell Road was made one-way recently stating that a 150 meter stretch on the Padil-Garodi-Pumpwell Road would be widened to put an end to frequent traffic snarls. As per the alternate arrangement made vehicles heading towards Bantwal from the city had to pass through Nantur and Padil. Meanwhile, the 150 meter road has been partially concretized. But, MCC Commissioner Gopalakrishna states that there was no plan as of now to concretize the rest of the stretch and both side of the road.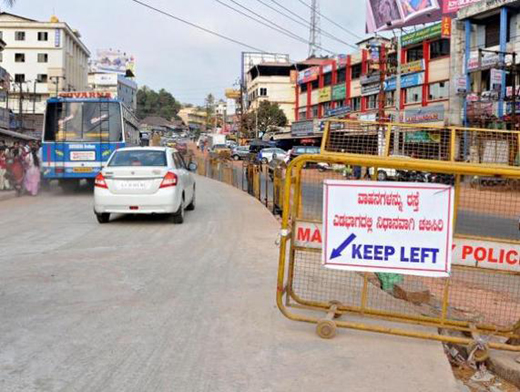 Then, what are the facts here? The allegation now heard is that the project was initiated by the authorities just to facilitate a private architect and contractor. Accordingly, an elevated platform was raised across a storm water drain in between the stretch from Pumpwell Circle towards Padil. None of the authorities including the MCC as well as the contractor knew the purpose behind this construction. It is said when the DC blatantly refused to release funds for the same, there came up a 150 meter long road. The road is uneven for 150 meter from Pumpwell Junction with one side having concrete road at a higher level and the other side having a tar road at a lower level.

The bus shelter at Pumpwell Circle which was used by many people has been demolished. Presently, people are forced to stand on the side of road waiting for buses on the newly laid concrete stretch where two vehicles cannot pass through simultaneously.

It was just recently that a young woman had lost her life on this partially concretized road for want of kerbs on the edge of the concrete road. Public are questioning how the Pumpwell-Padil road was opened for two-way traffic on Monday, Without laying kerbs on the edge of the concrete road, the Mangaluru City Corporation has put barricades there.

In reality, the Mangaluru City Corporation ought to have taken this link road works after the four-lane Highway and Flyover project at Pumpwell was completed by National Highway Authority of India. It is nothing but a bitter truth that this project was implemented mainly to waste public funds.