The Mangaluru Smart City Doodle - PROTEST ZONE KUDLA 2020
Mangalore Today News Network
The One Stop Spot for All types of Protests in Mangaluru

A Concept Paper By Mahesh Nayak

Mangaluru, Jan 10, 2020: Mangaluru City Police is admittedly out of its depth in handling citizens' protest and also trigger happy these days. Hence I have come up with this concept paper for establishing 'Protest Zone Kudla 2020' to enable the authorities to efficiently uphold democratic ideals despite their busy schedules and other professional worries. Also presented here is a doodle I've drawn depicting this concept. Since I'm not within revolver range, I hope my skin is safe.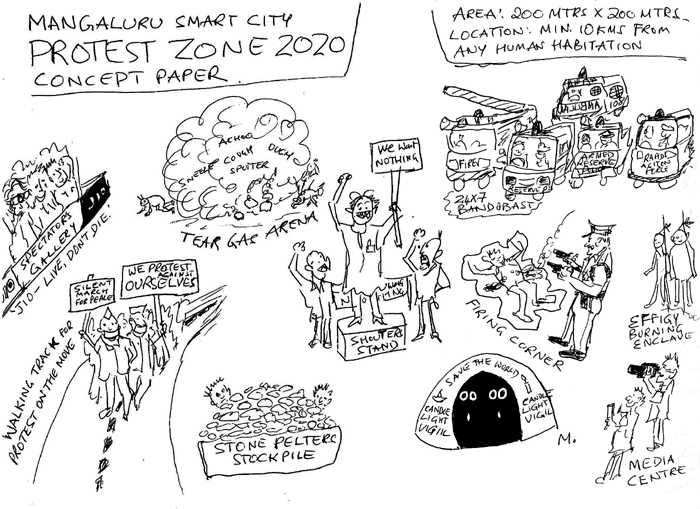 PROJECT RATIONALE
The right to protest peacefully is enshrined in the Indian Constitution—Article 19(1)(a) guarantees the freedom of speech and expression; Article 19(1)(b) assures citizens the right to assemble peaceably and without arms. Remember Mayor Harinath who had memorably constructed a flea market at Nehru Maidan to let all the street vendors to sell stuff under one roof? Well, it's time for Mangaluru Smart City to up the ante. It's time to build Protest Zone Kudla 2020 and let our venerable antagonistic citizens to voice their agony in a hassle free manner.

Area: 200 metres X 200 Metres

Venue: A suitable piece of land situated at a distance of at least 10 kms from any human or bovine habitation. This is to avoid inconvenience to general public, safeguard law and order, avoid traffic disruption etc.

FACILITIES
Protest Zone Kudla 2020 will be managed by the Karnataka State Protest Development Authority (KSPDA). Thirty minute slots will be provided between 10:00 AM and 01:00 PM and 02:00 PM and 05:00 PM every day except on government holidays for citizens to protest against any cause of their choice. Citizens have to pay a nominal rent of Rs. 2020/- per slot. Only one slot will be allowed to be hired per cause. All protestors have to be Indian nationals bearing proper ID proof.

The protest venue will be designed by achitects who are experienced in dealing with public spaces. Lush green landscaping will be maintained to lend a welcome ambience. Adequate parking areas will be provided.

Special areas are designated, such a 'Shouter's Stand', 'Walking Track' so that citizens may protest as per their desired mode of protest. An igloo type domed and darkened enclosure will be provided for 'Candle Light Vigil'. Protesters should sit inside the dark tent and light their candles (scientific ventilation will be provided to prevent carbon monoxide accumulation). 'Effigy Burning Enclave' is provided where effigy may be purchased at nominal price and burned (effigy may not resemble any real national, state or local leader). Real donkey, dog, frog etc will be available for hire for the purpose of display during protest. The animals shall be deployed as per the provisos of Prevention of Cruelty to Animals Act 1960. One day's food ration should be donated by the protestors to avail the animal's services.

Stone pelters will be provided with stockpile (the rubber 'stones' should be hurled only against a brick wall specially provided for the purpose. After the protest, the stones should be gathered and replaced in the stockpile by the protestors themselves). 'Tear Gas' and 'Lathi Charge' areas are designated for more vibrant forms of protest. Theatre grade smog screen will be used for creating tear gas effect and Glycerin drops may be applied to induce tears. Soft rubber batons will be used for lathi charge so that no one's backside will get burned.

The really 'violent' protesters may avail 'Firing Corner', where a uniformed police officer of not less than sub-inspector rank will fire blank bullets using real service issue automatic weapon. The protestors may soak themselves in tomato ketchup (which will be provided at cost price) and pretend to lie dead for the photo op. Movie set 'police station' may be arranged on request (at cost price) for the purpose of simulating 'attack' on police station.

Spectators' gallery will be provided for the protestors' loved ones as well as the interested public to get a ringside view of the action (seat booking charges apply). 'Media Centre' is designated to ensure that protestors get adequate news coverage. 'Arrest' of protestors may be faked at nominal extra cost using real police vans and uniformed police personnel to physically drag the screaming protestors.

SECURITY
The entire Protest Zone Kudla 2020 shall be covered in barbed wire fence to protect the peaceful citizens of the rest of the country from any untoward incident. 24x7 security bandobast shall be arranged with standby contingents of the police forces, reserve police, armed reserve police, Rapid Action Force, fire tenders and ambulance being in attendance. Hotlines will also be established with army, navy and air force, BSF, CRPF, CISF, NSG and SPG for dealing with any contingency. These can be availed as props for photo op too (at nominal charge).

FINANCIAL VIABILITY
The capital investment will be made via government grant as per its bounden constitutional duty to provide legitimate avenues for citizens' protest against real or imaginary grievances. The regular maintenance expenses may be met through reasonable fees imposed for availing the facilities provided. In view of abundant media coverage that can be expected for protest, supplementary revenues may be raised through suitable advertising opportunities within the venue. E.g. 'Jio – Live, Don't Die.'

CONDITIONS APPLY
Protestors may demonstrate for or against any cause which is consistent with the law and provided their slogans are not deemed to be communal, anti-social, anti-national or hurtful to any person, caste, creed, language, religion, community, ideology or government policy as mandated by law. Protest is allowed, but no specific demand may be made. Students may not use the facility during college hours. Any form of violence other than by the authorized security forces is strictly prohibited. Using real weapons including sticks, stones, pebbles other than those provided in the venue facility and used in a regulated manner is strictly prohibited. In the unlikely event of security forces resorting to harsh force, the protestors – even if deceased and already reached heaven / hell – are liable to be prosecuted. Slogan shouting shall not exceed the speed of sound (Mach 1) as it will be deemed harmful to the ears.

Stern action will be taken against any user party that violates the terms and conditions. All disputes pertaining to use of Protest Zone Kudla 2020 shall be subject to jurisdiction of competent.n

DIS/CLAIMER: This is parody / satire. Any resemblance to actual persons, events or entities is not a coincidence.