The Love of a Nation
Mangalore Today News Network
By Sumith S. Rao

Mangaluru, September 23, 2016: India or Bharat has always been a melting pot of diverse faiths and philosophies. This cocktail of religious activity has been a defining factor of India. Through the ages, the citizenry of India have been ruled by Muslims, Hindus, Buddhists, Catholics and Christians. But the people have always lived in harmony with each other. It was the rulers of dynasties who would wage war against each other, not the people.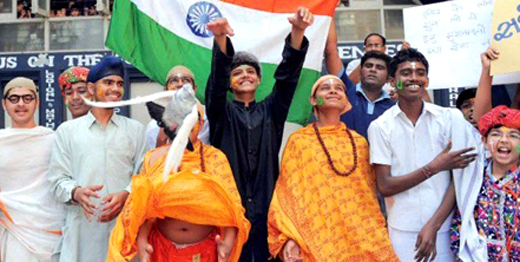 The surging mass of India's population has been at peace with each other through generations. The Indian way has always been a very congenial society where festivals of each religion have been celebrated by all. The normal tendency of people has always been to invite some neighbor of another religion while celebrating a feast at home.

Although the political hierarchy has been at loggerheads with each other over the practice of a faith, the general populace has lived a peaceful co-existence throughout the generations.

There have been aberrations to the above at certain points in time. But if you carefully observe, these aberrations have been a result of some political overtures. The two most recent incidents that come to my mind in vivid detail are the Babri Masjid / Ram Mandir incident and the Godhra Massacre.

Even today, it is not unusual for a Hindu traders and his Muslim counterpart to share a cup of tea at 11 in the morning. Most people never discriminate between Hindus, Muslims or Christians while going to a department store or a white goods store to make a purchase. No one has ever questioned the ownership of a cinema theatre before seeing a movie. The Muslim family visits a Brahmin run restaurant to eat the tasty idlis and vadas and the Christian family goes to the Mughlai restaurant to feast on Dum Biryani. We all wear ethnic dresses and sarees, Kurthas and Pathan suits without questioning the origin of these apparel.

India has always spread love and happiness among people of all faiths, but today the cyberspace seems to have changed all that. The age of instant news with graphic videos, misconstrued view points, baseless allegations, rumours, false and fake statements, morphed videos and altered voices has started spreading the message of hate.

Mature men and women are teaching children the message of 'Hate Thy Neighbor' rather than the age old phrase 'Love Thy Neighbor'. Educated youth and corporate executives are talking of hating and destroying one community or the other. Student groups, civic bodies, political parties and even intelligentsia and educationists are either for or against religion.

Where is this nation heading? Isn't it high time that we learn to forget and forgive? Is there no way we can ignore or verify the WhatsApp message or the email defining people to be 'perpetrators of hate' which happens to be misconstrued. There is no way India can move forward with hate. It is very easy to find love and bonding among the young if only the elders in a family can create an atmosphere of tolerance, friendship and bonding between different faiths in a community.

The feeling of being an Indian should be as an Indian and not as a Hindu, Muslim, Christian or a Sikh. There is only one way India can move forward economically, socially, culturally and philosophically. We have to be an Indian first. Let us put aside our religion for a little while and think about the progress of our nation in this ever changing world.

After all we did not choose our religion. We were born into it. The religions of the world have never propagated hate. The teachings across religious of all denominations have only spread the magic of love, forgiveness, honesty, integrity and tolerance. Who are we to change this world from a caring one into one filled with hate?

---
Sumith S. Rao is a well known city based businessman and a former President of the District Small Scale Industries Association.
---