The Coral Hysteria!
Mangalore Today News Network
By Narendra Nayak

Mangaluru, July 5, 2017: I had been on a tour of Bellary district of Karnataka last week and had addressed quite a number of people in various places there. But it looks like it that it is the school children who take us the most seriously! Yesterday early morning I had a call from a school boy at 4 am asking me why coral should not be worn. Before I could ask for more details the call got cut. Today again I had two missed calls early in the morning and when I called back none replied. Later on I got a call from one of these asking why I had called. Then the person who called me said that it was his son who had by then gone to school had called about a superstition about women wearing coral in their necklaces. It was claimed by some TV channel that wearing this causes ill health and many women had died because of that. Our activists told me that there was a hue and cry over there and women were going to jewelers to get the coral stones removed from their necklaces! But the problem was it was in their mangalastura which was teid around the enck by the husband at the time of marriage and it was considered inauspicious not to wear one or remove it! So, they broke it with implement or stones without removing it from their necks!


But I kept wondering why coral is associated with cancer and here was the answer:
Methodology of building up and validation of models for carcinogenic potentials of drugs by means of the CORAL software is described.

It is that some half baked TV personality must have read this coral+ carcinogenic and come to the conclusion that this means that coral causes cancer! We cannot expect these people to have any extra intelligence but at least those who heard this should have had enough sense to verify that! Since the so called evidence they offer is anecdotal, the counter can be also so!

Let us take a look at what coral is from Wikipedia:
Corals are marine invertebrates in the class Anthozoa of phylum Cnidaria. They typically live in compact colonies of many identical individual polyps. The group includes the important reef builders that inhabit tropical oceans and secrete calcium carbonate to form a hard skeleton.

Going back to the same for its use as jewelry:
Corals' many colors give it appeal for necklaces and other jewelry. Intensely red coral is prized as a gemstone. Sometimes called fire coral, it is not the same as fire coral. Red coral is very rare because of overharvesting.[55]

Always considered a precious mineral, "the Chinese have long associated red coral with auspiciousness and longevity because of its color and its resemblance to deer antlers (so by association, virtue, long life, and high rank".[56] It reached its height of popularity during the Manchu or Qing Dynasty (1644-1911) when it was almost exclusively reserved for the emperor's use either in the form of coral beads (often combined with pearls) for court jewelry or as decorativePenjing (decorative miniature mineral trees). Coral was known as shanhu in Chinese. The "early-modern 'coral network' [began in] the Mediterranean Sea [and found its way] to Qing China via the English East India Company".[57] There were strict rules regarding its use in a code established by the Qianlong Emperor in 1759.

Again going back to it used as so called medicine, here is what the same source says but since the coral used for jewellery is the hardened calcium carbonate deposit these may not be present in the form used for jewellery purposes.

In medicine, chemical compounds from corals are used to treat cancer, AIDS and pain, and for other uses. Coral skeletons, e.g. Isididae are also used for bone grafting in humans.[59] Coral Calx, known as Praval Bhasma inSanskrit, is widely used in traditional system of Indian medicine as a supplement in the treatment of a variety of bone metabolic disorders associated with calcium deficiency.[60] In classical times ingestion of pulverized coral, which consists mainly of the weak base calcium carbonate, was recommended for calming stomach ulcers by Galen and Dioscorides.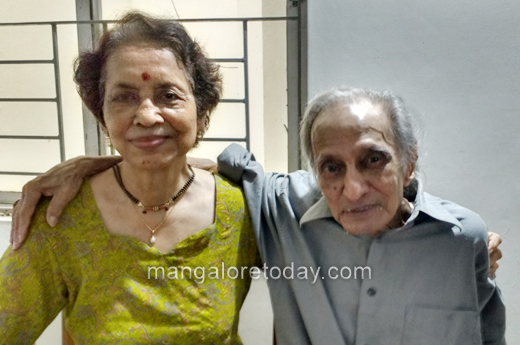 Prema with her 86 year old husband Ganapathi Hegde


Since the TV prophets and doom sayers go by their so called anecdotal evidence here I have the photo of my cousin Prema who has been wearing coral since birth! Before marriage she used to wear a necklace made of coral belonging to her mother and after that the mangalsutra presented by her husband and tied around her neck during marriage. She is slim, does not look her age( which is going to be 80 on her next birthday) and has no problems with her health except the usual age related osteoporosis! She has no blood pressure, diabetes or cancer so far. Her husband Ganapathi Hegde is 86 and a cancer survivor. She still does her own cooking, shopping, looks after all the affairs of the home and goes around actively.

I am sure there must be many more women like her and women who have not worn any coral in their life time but have had health issues. So, I request our women to think about these things before accepting all sorts of nonsense dished out as health advice by the idiotic astrologers of TV channels! Looks like people desperately need something stupid to believe in!
---
Narendra Nayak, President, Federation of Indian Rationalist Associations

---