Take a break - Have a ride in the backwaters
Mangalore Today News Network
Mangaluru: A break from the hectic profession and home was a dream for a long time. More than me, my wife needed a break from the tiresome home affairs. I was postponing every time whenever there was an opportunity. We had planned a day out in a houseboat in a location not very far from Mangalore, a few months ago. Everything was streamlined- the date, travel arrangements, even the houseboat booking. However, we had to call off the trip in the last minute due to some domestic crisis. This was not the first time, anyway.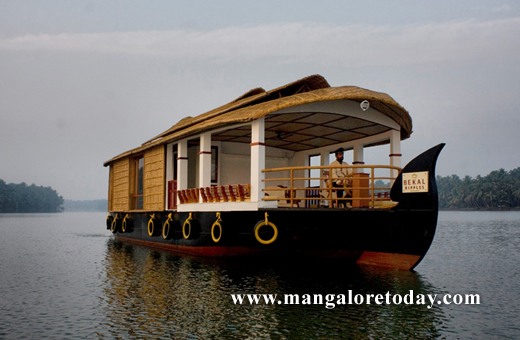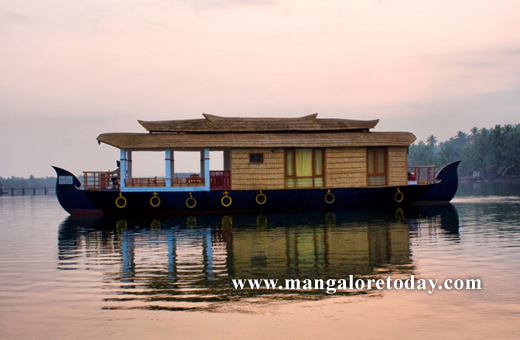 Well, it did happen last month. On June 7. Monsoon had already arrived and a cruise in the houseboat seemed to be impractical to my partner. We were hoping against all odds to make it happen. We took the 7.20 train to Nileshwaram, a beautiful scenic town in north Kerala, about 100 kms away from Mangalore. The train journey was very pleasant and we were there in less than two hours. It was raining when we reached Nileshwaram which had dampened our hopes. The escort received us at the railway station and took us straight to the boat jetty where the houseboat crew were waiting for us.

'Bekal Ripples' (the houseboat) was ready for the day's cruise. We settled in and had our welcome drinks. The houseboat moved out of the jetty and the cruise commenced. It was exactly what we were looking for, just the two of us together after a long time; away from the hectic business schedules and home affairs. A single bedroom house floating in the calm waters with a nice living area and a terrace with lounging chairs on the deck. The bedroom and the bath could be compared to that of a five star hotel. The houseboat was tastefully designed for comfortable cruise in the backwaters. While it contained all of the first class amenities that anybody could ask for, it did not go overboard with gaudy decorations. If that is not enough, the scenic beauty of Nileshwaram is sure to make you speechless and you are bound to take the cruising experience again and again.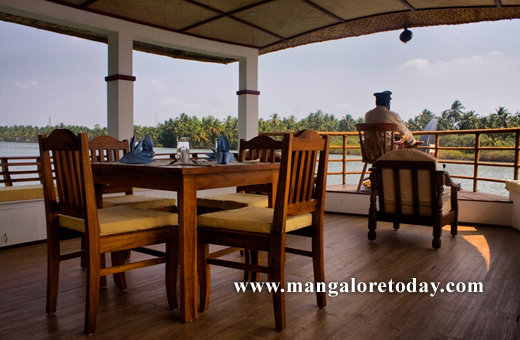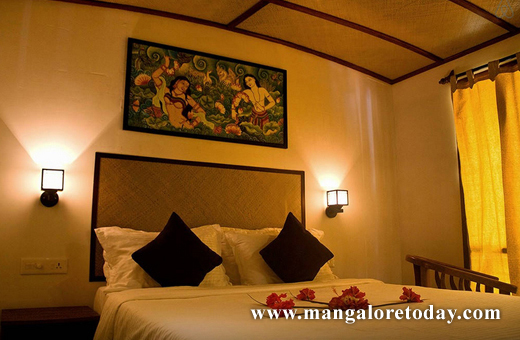 The long stretch of backwaters at Nileshwaram is quite unlike that of Aleppy. It is not as much of wide but long enough, much cleaner and less crowded. It has a special charm of serenity unlike Aleppy. Rain or shine, Nileshwaram gives a relaxing mood. Imagine what could be the scenic charm when over half a dozen rivers flows down the coastal town.

It was raining off and on. But it did not affect our cruise. In fact, it was fun. We were excited but relaxed thinking about nothing, enjoying life in a different world altogether. We spent the day gazing the silver sky floating over the calm waters, watching the birds, chatting with the crew, eating some awesome food but most of all dreaming. We took some lovely photos to preserve. We watched the swaying coconut trees on the banks as if we have never seen them before. We watched people swimming, washing cloths and utensils, fishing with nets and strings. Occasionally we would bump into fishermen on small boats pursuing their daily earning. They waved at us when we passed through and we reciprocated.

All these scenes are nothing new to both of us for we have lived our childhood days on similar surroundings. But it was nostalgic when we thought of those days and some interesting incidents in our life. Like how we used to go for swimming and fishing in the river, going to the school crossing the river on commuter boats, waiting for the boat to come to our bank and more.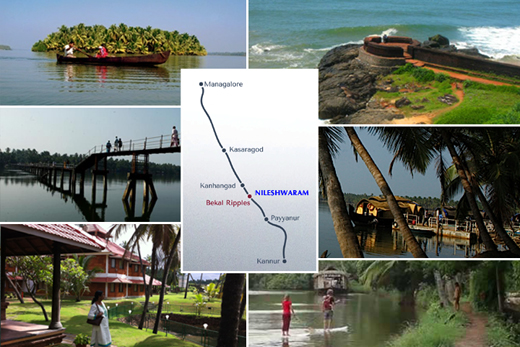 The cruise in 'Bekal Ripples' was really fun. The whole day from 10 AM to 5 PM, we did not realize how the time passed by. The captain and the crew were very friendly and cordial. They were always there to answer any questions and were accommodative about our food preferences. We wanted some typical Kerala food items like tapioca and fish curry, deep fried silver fish, Mutton Chops, Parotha, Avial and Chicken Malabari Biriyani. Wah! Everything was special and sumptuous. We could have stayed back in the house boat overnight which I was told is more fun and relaxing especially on Moony nights.

As the inevitable end to the wonderful day drew closer with every minute, we felt sorry to say goodbye to the Bekal Ripple crews. We promised that we will come back in December along with our children. We were dropped back at the railway station in time to board the Mangalore Express. We were home by 7.30 PM.

If I could describe this experience in one word it would be - 'blissful'. It was indeed blissful. We couldn't just explain how amazing, relaxing and peaceful it was. It was an experience I honestly think everyone should experience at least once in his or her life. I am also happy that I had the chance to do so with my better half alone and glad that I was able to make it this time. Indubitably it was a special day in our life.