Seeking Justice for Kavya
Mangalore Today News Network
Mangaluru, August 30, 2017: Kavya's parents want a fair and impartial probe into the case of suspicious death of their daughter. While they are adamant that it is a murder, the police insist it is a case of suicide.

The death of Kavya Poojary, a class X student from Alva's High School in Moodbidri has stirred a hornet's nest in Dakshina Kannada. With speculations and accusations flying thick and fast, it is necessary to take an objective view of the situation so far. While family members claim there is a major cover-up going on, police and investigators feel the case is on the right track and before long, they should have clear answers. Strongly suspecting it to be a case of murder, the parents and many students' organisations have been demanding a thorough probe into it.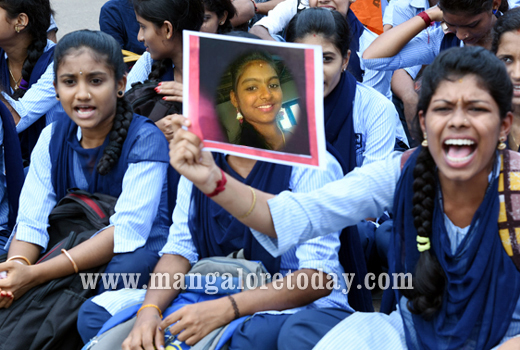 In fact, their demands are justified for there are many unanswered questions and the cloud surrounding Kavya's death. It is surprising that even after twenty days, the police have not been able to establish clarity in the tragedy.

They say that Kavya was found hanging in her hostel room on July 20 by her friends. Thinking they could save her, they entered the room by another route, brought her down and took her to the hospital. She was declared dead on arrival. The hostel warden did not notify her parents. Instead, it was Praveen Poojary, the PE teacher who called the parents. The shocked parents, who rushed to the hostel, found that her body had already been shifted to the hospital mortuary. Reports claim they were not allowed to see her body immediately and this has given rise to further suspicions about her death.

Dr. Mohan Alva, the Chairman of Alva's institutions allegedly informed that Kavya used a sari to hang herself. However, Kavya's mother vehemently denied this stating that Kavya never had a sari at all. Members of Biruver Kudla, a local organisation are also unhappy that the police first claimed the sari belonged to a roommate and then said it belonged to her family member.This vital clue has still not been considered important by the police.

Another bone of contention is that in the last phone call to her mother, Kavya had mentioned that she had been called for practice at 4:15 am by her Badminton Coach. The coach Praveen Poojary and Dr. Mohan Alva have flatly denied this, saying the institution has no rules for early morning practice.Oddly, in CCTV footage taken on the day of her death, Kavya is seen leaving the hostel and entering the practice grounds but not even seen entering the hostel.The parents of Kavya, Lokesh and Baby Poojary are of the opinion that the PE teacher, Praveen Poojary is in some way linked to their daughter's death.

The school authorities feel that Kavya may have taken this extreme step because she got low marks in a Hindi exam paper. The parents however feel it would have been very uncharacteristic of their daughter as she was a sportsperson and was mentally strong and would never have buckled under any sort of pressure- academic or otherwise.

What is angering the people is the fact that standard practices in the cases of unnatural death have not been followed by the institution and the police.The public feel this issue is not just about Kavya, but the fact that a few years ago, in a case of rape and murder, it was only when the public demanded a fair probe that the case was taken up by the CBI.

While the controversy rages on, the Chairman of Alva's Education Foundation, Dr. Mohan Alva says that he is prepared to face any enquiry. Police Commissioner T R Suresh has said the investigation is on track and once the post mortem report is received, the facts of the case will be made clear.

Adding to the confusion is the number of local groups who have joined the fray. Biruver Kudla, the Karnataka Rakshana Vedike, ABVP and many other social organizations are mounting pressure on the state to come up with clear answers.

While these vital questions lie unanswered, one is forced to wonder whether parents will still consider sending their girls to Dakshina Kannada - a hub of education. For, Kavya's is not a lone case of a mysterious death being reported from this district.Such incidents in prestigious institutions known for their quality education certainly is a serious concern for parents. Will the State government take a note of it?