Reversing Diabetes - Yes, Positively
Mangalore Today News Network
By Dr. Raghavendra Bhat

Mangaluru, Nov 10, 2018: Diabetes mellitus is generally seen as an age old permanent, irreversible malady. Egyptian physician Hesy-Ra in 1552 BC was the first to mention it. There are 2 well known types of Diabetes - type 1 where the patients have no enough insulin production and so require insulin regularly for survival. Type 2 where though there is insulin it does not seem to work efficiently -a state called insulin resistance. The effects of this disease are a great trail and prolonged painful suffering worse than death.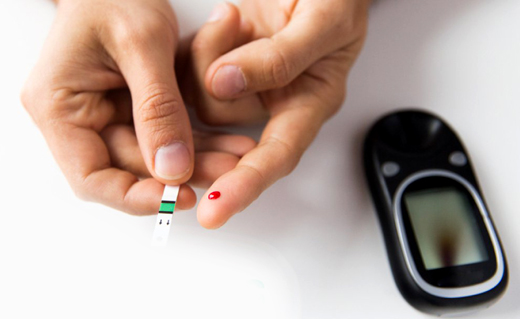 The new research results:
Here, essentially we will examine and tackle type 2 diabetes mellitus. Diabetes is often believed to be a life long illness with no cure. Most of us are familiar with the common symptoms associated with high blood sugar - the classic triad of Polydipsia (drinking water frequently), Polyphagia (eating much food often), and Polyuria (passing a lot of urine frequently). Loss of weight despite increased hunger is the hallmark of diabetes. Diabetes can damage our eyes, kidneys, brain, heart and blood vessels sometimes leading to drastic complications like heart failure, heart attack, stroke and limb gangrene leading to amputation of limbs. Wounds heal very slowly and the patients are prone to infections. Some can sink into a coma (unconsciousness) with too high or too low sugar levels. Diabetics often feel distraught and depressed and think it is not worth living, when they get to know they have diabetes and are unaware of the facts. They often believe they are in for lifelong illness with risk of complications requiring constant medical treatment.

There is good news:
Can this depressing scenario change? I am very happy to carry the good news here, diabetes is reversible! Before I continue I must clarify some basics/fundamentals. Our food consists of proteins, fat, carbohydrates, vitamins and minerals. Glucose is the main and preferred energy fuel. Our brain needs energy from glucose every minute - even when we sleep. This is provided by the liver by breaking down stored carbohydrate and fat into glucose. To be able to do this liver needs to be sensitive to the hormone Insulin produced by the pancreas. In type 2 diabetes we are looking at, Insulin is produced but does not work efficiently any more - this state is called Insulin Resistance and is characterized by fluctuating fasting blood sugar levels, obesity and increased fat stored in liver (identified by imaging) and sometimes high blood pressure. A situation called 'Metabolic syndrome'. This could be the fore-runner of frank diabetes – situation like Impaired Glucose tolerance - known as pre diabetic states. Soon the fasting sugar levels increase consistently high but the after food sugar (post prandial sugar) values are still normal. Obviously liver is not performing its metabolic function well because of Insulin resistance.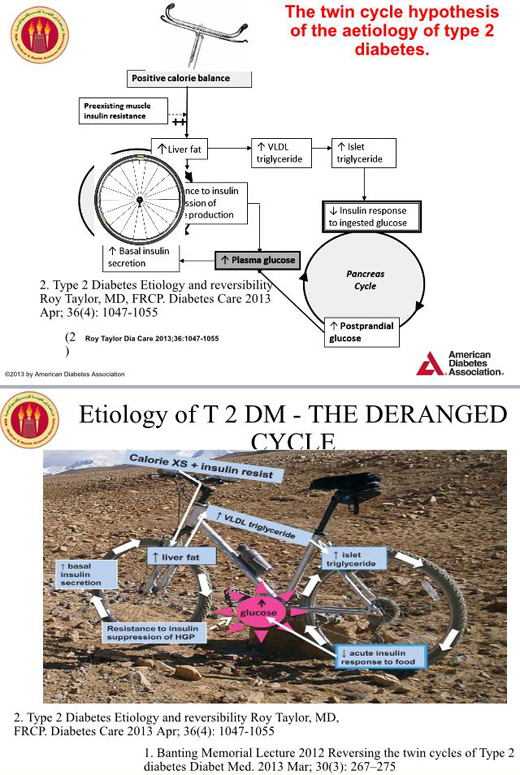 Imagine a new beautiful bicycle with a gleaming handlebar and 2 wheels - the front and the back wheel. Normal metabolic state is comparable to a new perfectly working bicycle - handle bar indicating the metabolic load provided by the daily food intake, the front wheel being the normally functioning liver and the back wheel being the normally functioning pancreas. Overeating that in taking in too many calories produces excessive load over the wheels. It is like a bicycle with a handlebar and two wheels. We understood how the front liver wheel malfunctions producing high fasting sugar levels. Soon even fat triglyceride levels rise in blood because liver wheel cannot burn fats efficiently resulting in high fat levels in the liver which results in excessive fat storage in the liver (which can be picked up by imaging studies as 'fatty liver') and high triglyceride levels in blood which are exported through blood to various organs including the pancreas. In response to exposure to high levels of triglyceride fat in blood the pancreatic beta cells which produce insulin die of a process called apoptosis or programmed cell death. Soon the post prandial sugar also rises to abnormal levels resulting in full fledged diabetes - the hind wheel (pancreatic wheel) is also damaged!

Process of 'Reversal':
The first clues for reversal came with weight loss, Bariatric surgeries which were followed by drastic weight loss and normalization of blood sugar in majority of patients. Bariatric surgeries are surgeries done to reduce size of the stomach or artificially reduce the length of intestine by connecting portions of intestine bypassing the absorptive surface of food. We can well understand the gross weight loss over a period of time. It came as a surprise that though significant weight loss took 8 weeks the normalization of blood sugar took only 1 week! Obviously this was due to drastic reduction in food intake /absorption of food, following the surgery - not the weight loss alone.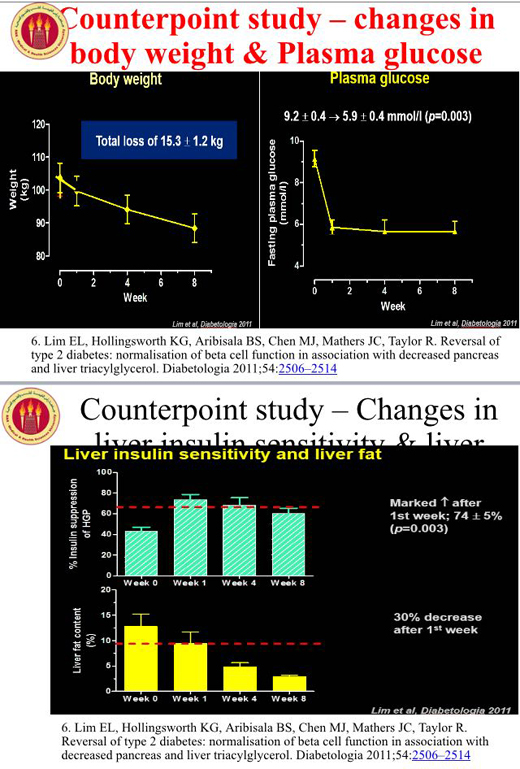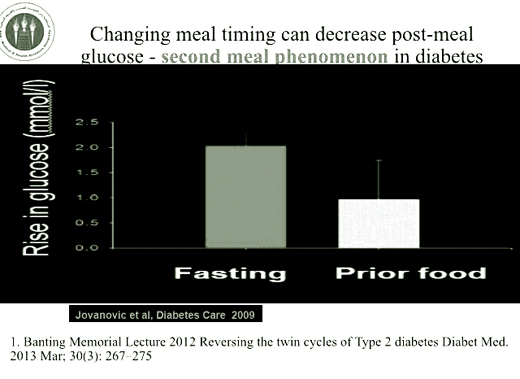 Therefore it was decided to try the effect of drastic calorie reduction alone without surgery. We were in for a happy observation - Even experimental evidence revealed that insulin sensitivity improved reversing the state of insulin resistance - liver and muscle responded very well to insulin once again normalizing the front wheel - liver wheel. The fasting blood sugars now became normal! This was promptly followed by reduced blood triglyceride fat levels. The insulin producing beta cells of pancreas woke up and started to work again - proving not all cells were dead. We were wrong in thinking that liver cells were not functioning because they had died. In reality some were put in to a sleep like state from which they woke up normalizing the hind wheel - pancreatic wheel and post prandial sugar was normalized too - in fact, both the wheels were now normal and diabetes had reversed!

What are the key requirements for this magic? Drastic reduction in calorie intake to around 850 calories per day and sustained substantial weight loss of about 15 Kgs. Because of a phenomenoncalled fat threshold even thinner type 2 diabetics can reverse to normal. Has this concept been scientifically proved? A reputed study called Counterpoint study was the first one to prove it though it had only 11 patients. It opened our eyes to a new reality and taught us a lot about diabetes reversal. This meticulous study provided a lot of answers to our pertinent questions. A later trial reported in medical journal Lancet called 'Direct trial' involving more patients gave greater and more convincing evidence. Many more studies are being reported. Some researchers are trying little higher calories and find sugars coming down significantly though not to normal levels. Using this approach in the state of 'pre diabetes' may well prevent diabetes - a great boon!

I agree it is hard to drastically reduce the food intake but the motivation of reversing diabetes seems to help the patients do it. Yes, most of those who do it successfully recover with normal levels if fasting and post prandial sugar levels!

Many more studies are being done to study the possibility of reversing diabetes of longer duration. Possibilities of reversing diabetes even after getting complications are being studied. One thing is certain - we are possibly finding a solution to a chronic disease believed to be incurable - and it is worth it!

Of course this will involve allot of hard work and team work involving doctors, dietitian, support from family and friends and most important the motivated patient willing to give it a try! After all the reward is a gleaming new bicycle in the form of a healthy normally functioning body, if this is well implemented for a better quality of life - for life is not a matter of longevity it is the quality of life that really matters!