Remembering Indira Gandhi
Mangalore Today News Network
Mangaluru, Nov 18, 2017: If indira Gandhi had been alive, she would have turned 100 on the 19th of November. Love her or hate her, she always left a strong impression on those who came in contact with her. One Mangalorean fondly remembers the time he unexpectedly spent 10 days as the former PM's chauffeur!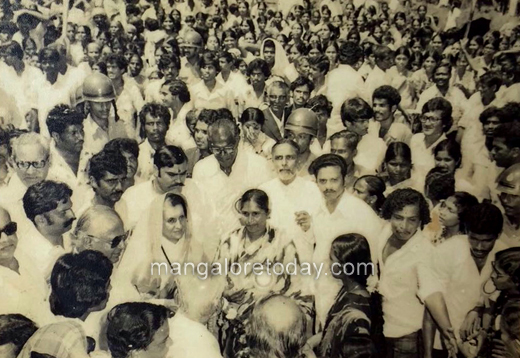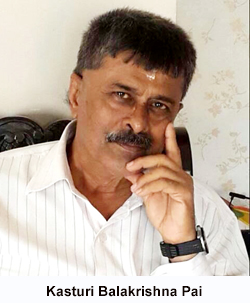 Kasturi Balakrishna Pai was just an impressionable 20 year old lad in 1978 when Indira Gandhi landed in his lap. Well, not exactly in his lap but definitely in the Ambassador car he was driving. She was a seasoned politician on a mission and it was Mr. Pai's job (foisted on him by his father, Kasturi Devdas Pai) to drive around the 61 year old former Prime Minister for 10 days as she toured Dakshina Kannada for the by-election to the Chikmagalur parliamentary seat. A year earlier, she had lost the general election, a deeply humiliating defeat thanks to her and Sanjay Gandhi's shenanigans during the '75-'77 Emergency. So here she was in '78, trying to claw her way back to power, supposedly to escape political witchunting.

The plan was simple. D B Chandre Gowda was expected to vacate his seat in Chikmagalur. Mrs. Gandhi then came, saw, conquered and in the 1980 Parliamentary Elections, this 'Chikmagalurina Magalu" (daughter of Chikmagalur) surged back to power with a thumping 2/3rd majority and became Prime Minister of India for the second time.

Driving this Daisy in '78 was not what Mr.Pai had intended. He had written a few entrance exams and was awaiting his results. Mrs. Gandhi's entourage, including her pilots and personal bodyguards- Nathu Ram and Narendra Singh- were staying in the Pai family's Moti Mahal Hotel- the first 5-star hotel in Mangalore. So a car was ordered from Bamson & Co. (the official Mercedes had broken down) and the young Pai was sent off to Calicut to pick up the disgraced politician and her political pal, K. Karunakaran.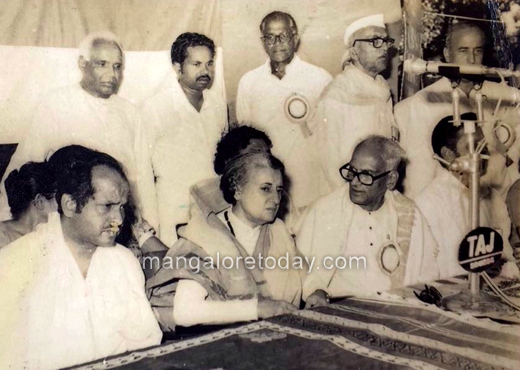 From Calicut, Mr. Pai drove Mrs. Gandhi and Karunakaran to Mangalore. The latter was ill with fever and shivering. Mr. Pai remembers Mrs. Gandhi unhesitatingly offered Karunakaran her shawl. Once in Mangalore, Mrs. Gandhi was whisked off to Hassan by helicopter while Mr. Pai drove to Hassan to meet up with her. "As my name is Balakrishna, I asked her to call me 'Balu'. I don't think she heard me because she kept calling me 'Babu' all through the trip!" reminisces Mr. Pai with a laugh.

In the middle of the electioneering, Mr. Pai managed to squeeze in a quick trip to the Sringeri Sharada Peetham on the banks of the Tunga river, for the soon to be PM. He also remembers she was very fond of his sandwiches, cashewnut (bibbe) upkari and buttermilk.

Mr. Pai had first seen Mrs. Gandhi in 1971, shortly after her success in the Bangladesh Liberation War. Rather than take in millions of Bangladeshi refugees, she had decided to fight West Pakistan in their own East Pakistan backyard. With India's (and Gandhi's) robust support, Bangladesh was liberated. "I was a fan of hers since 1971!" says Mr. Pai.

The other thing he remembers her for are her saris. "…Wonderful, silk handloom saris!I still remember the way she held up her sari and ran up the steps of the Sringeri Peetham! There was no lady in her entourage to help her. There was not much make-up, just her pinkish complexion!"
By Satya Reddy