Public health dimension of the world narcotics drug problem
Mangalore Today News Network
Dr. G. Shreekumar Menon

Manipal, June 25, 2019: International Day against Drug Abuse and Illicit Trafficking is observed on June 26th. This was mandated by Resolution of 7 December 1987, of the General Assembly of the United Nations. Supported each year by individuals, communities and various organizations all over the world, this global observance aims to raise awareness of the major problem that illicit drugs represent to society.This year's theme highlights that justice and health are two sides of the same coin when it comes to addressing drug problems.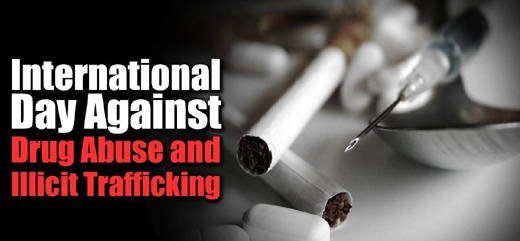 The year 2019 is important because in the 2009 Political Declaration and Action Plan the target date of 2019 was set 'for States to eliminate or reduce significantly and measurably' illicit drug supply and demand, the diversion and trafficking of precursors and money laundering. Evidence from the UN itself shows that these targets are unachievable and in the 2017 World Drug Report, UNODC states clearly that the 'drug market is thriving'.

Both, the range of drugs and drug markets are expanding and diversifying as never before. Alcohol and tobacco apart, the most used drugs globally were cannabis, MDMA (or Ecstasy), cocaine, amphetamines, LSD (or 'acid'), magic mushrooms, benzodiazepines, prescription opioids, ketamine, nitrous oxide.Non-medical use of prescription drugs has reached epidemic proportions in manyparts of the world. The opioid crisis in North America, resulted in the Commission on Narcotic Drugs scheduling six analogues of fentanyl, including carfentanil, which are contributing to the deadly toll. This builds on the decision by the Commission at its sixtieth session, in 2017, to place two precursor chemicals used in the manufacture of fentanyl and an analogue under international control. At the same time, more new psychoactive substances are being synthesized and more are available than ever, with increasing reports of associated harm and fatalities.

A global survey of recreational drug-use, which for the first time polled respondents from India, has found that Indians — more than from other nationalities — are seeking help to reduce their alcohol intake.

Alcohol, tobacco and cannabis were the most common stimulants used by Indians. Of the nearly 1,00,000 respondents from 30 countries, Indians reported 'being drunk' on an average of 41 times in the last 12 months — behind the U.K., the U.S., Canada, Australia and Denmark in that order but well above the global average of 33 times.

Indian respondents to the survey, conducted online in October-December 2018, appeared more than other nationalities eager for help with reducing their alcohol intake. According to the 2019 GDS, 51% of the respondents wanted to 'drink less' in the following year and 41% 'wanted help to do so' — again the highest percentage among other countries.

The survey also found that globally approximately 14% reported being taken advantage of sexually while intoxicated in their lifetime and 4% in the last 12 months. There were no figures from India available.

About 6% of the female Indians surveyed reported seeking 'emergency medical treatment' in the last 12 months. The global female average was about 13%.

Indians said they 'enjoyed being drunk' on 71% of the occasions — close to the global average of 74% and 15 spots below world leader Portugal, whose respondents enjoyed 82% of the occasions.

The above concern is also reflected in the report submitted by the National Drug Dependence Treatment Centre (NDDTC) of the All India Institute of Medical Sciences (AIIMS), New Delhi, entitled "Magnitude of Substance Use in India". This survey was sponsored by the Ministry of Social Justice and Empowerment.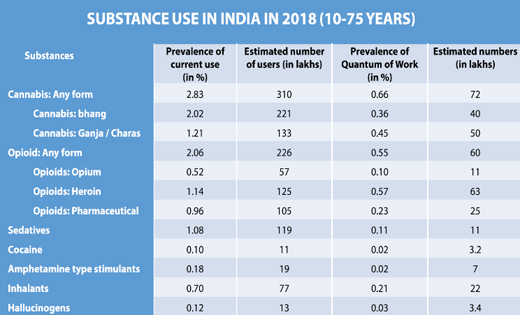 NDDTC and AIIMS Survey report


The point of deep concern is that the report highlights that treatment facilities for people affected by substance use disorders is grossly inadequate. Just about one in 38 people with alcohol dependence report get any treatment. Only about one in 180 people with alcohol dependence reported getting inpatient treatment / hospitalization for help with alcohol problems. Amongpeople suffering from dependence on illicit drugs, one among 20 people only received inpatient treatment/ hospitalization for help with drug problems.

Key findings and highlights of the survey are:
1. "India is home to six crore alcohol addicts, more than the population of 172 world nations including Italy.
2. Alcoholism is a condition that requires medical attention, but unfortunately only less than 3% of the people with drinking problem get any treatment.
3. There are a large number of people in the country addicted to various drugs. More than 3.1 crore Indians (2.8%) have reported using cannabis products, Bhang, Ganja, Charas, Heroin and Opium, in last one year. Unfortunately only one in 20 drug addicts gets treatment at a hospital.
4. Country liquor accounts for 30% of the total liquor consumption, and Indian made foreign liquor also account for the same amount.
5. In Punjab and Sikkim, the prevalence of cannabis use disorders is considerably higher (more than thrice) than the national average.
6. At the national level, Heroin is most commonly used substance followed by pharmaceutical opioids, followed by opium (Afeem).
7. Prevalence of drug abuse is high among children and adolescents. This problem of addiction of children is more prevalent in Uttar Pradesh, Madhya Pradesh, Maharashtra, Delhi and Haryana.
8. Cocaine (0.10%) Amphetamine Type Stimulants (0.18%) and Hallucinogens (0.12%) are the categories with lowest prevalence of current use in the country.

The Special Session of the United Nations General Assembly on the World Drug Problem (UNGASS) expressed concern that access to essential medicines for the treatment of pain, palliative care, surgery, substance use disorder and mental and neurological conditions, is one of the least recognized and most egregious tragedies in global health. National and international drug control policies have historically put the focus on restricting access to controlled substances. Unduly restrictive national regulations leave the vast majority of the most vulnerable and marginalized patients in agonizing pain and distress. Untreated pain traumatises families, caregivers, and providers, who must often stand by helplessly and witness what is in fact very treatable suffering. 75% of the world's population lack access to controlled substances for medical and scientific requirements.

Drug addiction is a serious issue and families are often left to fend for themselves due to a lack of government support and inadequate addiction treatment and rehabilitation services. Alcohol addiction is also a problem. A large number of persons are involved in providing care to subjects with substance use disorder. They include general physicians, mental health specialists, social workers, nurses, lay volunteers, spiritual and religious leaders, self-help organizations and even recovered patients (ex-addicts). There is considerable difference of opinion among them on 'models' of dependence and how best to treat them. However, treatment facilities are woefully inadequate to meet the requirements of the growing drug consuming population.

In the above context the Punjab Chief Minister Amarinder Singh has sought personal intervention of PM Narendra Modi for the formulation of a national drug policy on all three components -- Enforcement, De-addiction, and Prevention of drug abuse in the country.Singh said a national policy would enable all states to follow a similar, if not the same, approach on drug abuse, which, he said, "has substantially hampered the health of the people, particularly the youth". He also announced creation of a separate Drug Division under the Health Department to centralize and synergise the de-addiction efforts of the state government and private centres.

What India needs is a policy like what Sweden has promulgated. Swedish drugs policy is part of the public health policy, which aims to reduce health inequalities in the population. The drugs policy relies on a balanced strategy in which restricting supply and reducing demand are equally important components. The model focuses on preventive efforts, care and treatment, social measures and measures to improve the health of individuals with substance abuse and addiction problems. Action in the area is guided by a coordinated national strategy on alcohol, drugs, doping and tobacco. Preventive work against drugs has developed from small-scale projects and campaigns to structured local work using methods that are continuously evaluated and adjusted over time. This preventive work has resulted in a relatively stable and low level of drug use among young people. Preventive work is often based on cross-cutting measures in schools, clubs and associations, social services, health and medical services, psychiatric services, etc. The objective is to strengthen protective factors around children and adults. This work is supplemented by targeted interventions aimed at individuals and groups in risk zones. To limit drug use, the police and social services also collaborate to offer social support at an early stage.

Swedish drug policy has grown from the bottom up, from social workers, the police and civil society, and today has broad popular support. According to surveys, it is not socially acceptable to use drugs in Sweden. This is an important aspect to prevent people from using drugs, or developing substance use disorders, and is therefore important to maintain. Sweden operates and sets great store by a balanced policy based on restricting both supply and demand. The overall objective of Swedish drug policy is a drug-free society. Sweden has also signed conventions on human rights and within the framework of the vision of a drug-free society, people with drug abuse problems must be entitled to effective and humane treatment, initiatives to protect them against infection and other psychosocial initiatives. A broad strategy against drugs Sweden's zero vision, a drug-free society, is the umbrella for all drug policy initiatives in whatever policy area they may be carried out. There is a broad strategy for alcohol, narcotics, doping and tobacco (ANDT strategy). Regarding narcotics, the strategy contains concrete targets set by the Riksdag (Swedish Parliament) in terms of limiting access to drugs, protecting children and young people from drugs, reducing the number of young people who use drugs and develop medical interventions for substance use disorders, increasing access to treatment and care for people with substance use disorders, limiting drug-related deaths and driving health-based public health policy in the international arena. The targets are monitored annually by the Government and resources are earmarked for initiatives. The Swedish ANDT strategy has attracted a great deal of attention and appreciation internationally precisely because it is a balanced and broad approach with several cross-sectorial initiatives, strategic and ongoing monitoring and an appropriate structure.

India could benefit a lot by formulating a similar National Drugs Policy, on the lines of the Swedish policy. There are lots of expectations that the present Modi government will frame a National Drugs Policy to eliminate the scourge of illicit drug abuse, and bring about major public health initiatives.
---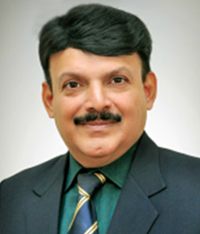 Dr G Shreekumar Menon, IRS (Rtd) Ph.D. (Narcotics),
Former Director General
National Academy of Customs Excise and Narcotics,
& Multi-Disciplinary School Of Economic Intelligence, India,
Fellow, James Martin Center For Non Proliferation Studies, USA.
Public Administration, Maxwell School of Public Administration, Syracuse University, U.S.A.
AOTS Scholar, Japan

He can be reached at www.shreekumarmenon.com